2019 INEOS 1:59 Challenge
Kipchoge Or Kosgei: Which Marathon Performance Is More Impressive?
Kipchoge Or Kosgei: Which Marathon Performance Is More Impressive?
Eliud Kipchoge and Brigid Kosgei ran marathons over the weekend that signaled a new era in the event. But which performance was best?
Oct 14, 2019
by Lincoln Shryack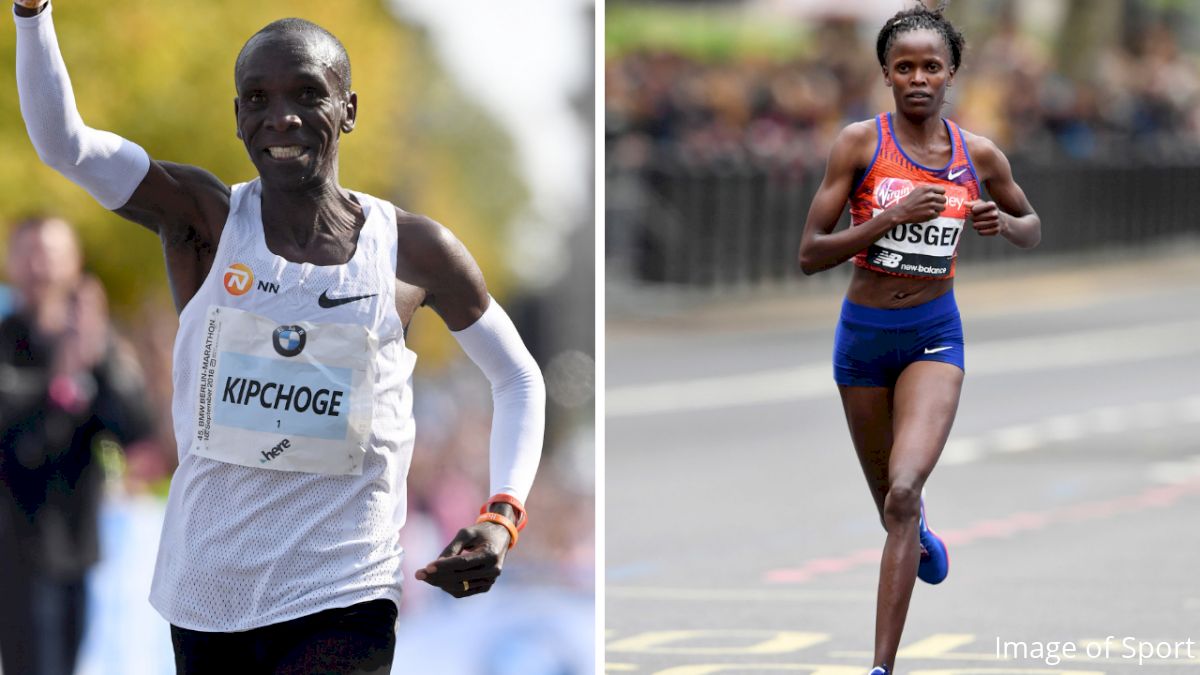 Unlock this article, live events, and more with a subscription!
Get Started
Already a subscriber? Log In
In the span of a little over 30 hours this weekend, professional marathoning radically changed forever.
That would be true even if just one of Eliud Kipchoge's 1:59:40 in Vienna-- the first-ever sub-two, albeit in a hyper-controlled environment-- or Brigid Kosgei's 2:14:04 women's world record in Chicago had occurred. But these performances happening on consecutive days have put the highly-funded scientific plot to defeat the distance on full display for a mainstream audience.
The casual fan who would otherwise not even be able to pick out Kipchoge or Kosgei from a crowd is suddenly being bombarded with expert takes that their Nike contracts give them an unfair footwear advantage. For a sport that traffics in controversy, the distance running catnip was in extra supply on Saturday and Sunday.
But aside from inquiries about the shoes on their feet-- both Kipchoge and Kosgei wore Nike Vaporfly Next%, although Kipchoge's kicks appeared to be a slightly different prototype-- the historic results begged the question of which performance was more impressive, Kipchoge's rule-ignoring 1:59 or Kosgei's 81-second improvement on a previously untouchable women's record?
Kosgei destroys the women's world record. 2:14:04
Takes over one minute off Paula Radcliffe's record.

To put this in perspective, besides Radcliffe, the next closest performer is 2:57 behind.

You could argue that this is a better performance than Kipchoge's sub 2hrs

— Steve Magness (@stevemagness) October 13, 2019
My own knee-jerk reaction is that the world's first-ever sub-two hour marathon, despite being done outside the normal parameters of the sport, is superior to Kosgei's drastic lowering of Paula Radcliffe's 2:15:25. The mythical component of running a marathon under two hours has transcended the sport to become an achievement symbolic of stretching the human mind, body and spirit to an unimaginable limit. The fact that only one man has displayed the ability and willingness to eclipse the barrier in such a competitive event is surely beyond anything done within the constraints of the rules.
And yet, Kosgei has put herself in Kipchoge's orbit with a time that similarly defied all else before it. In the 16 years after Radcliffe ran 2:15:25 in 2003, her mark had gone unchallenged leading up to Sunday; the next-fastest clocking before the 2019 Chicago Marathon was 2:17:01. Then Kosgei buried the old record under 81 seconds of carnage, a larger margin than Kipchoge himself improved the men's world record in 2018 with his 2:01:39 in Berlin.
Of course, Kosgei also notched her record within the boundaries of "normal" marathoning, with no interchangeable pacers and hydration from an aid station as opposed to it being handed to her on the go. The exact quantifiable benefits to Kipchoge relying on these methods can be debated, but Kosgei's run can be justifiably measured against other performances where Kipchoge's cannot. There's little doubt that no other human could run 1:59:40 regardless of circumstances right now, but Kosgei at least has an equal playing field to gauge her supremacy.
There's also this: Using the Mercier Scoring Tables, a tool developed to compare performances across different distances and genders, Kosgei's 2:14:04 equates to a 1:58:56 marathon by a man. This is an imperfect science to be sure, but it certainly helps to put Kosgei's huge outlier in perspective relative to a more-easily digestible barrier.
So who comes out on top after a sport-altering weekend for distance running? My take is still Kipchoge when factoring in his undeniable legacy as the greatest of all time and the cultural significance of breaking a barrier once thought to be decades away. But Kosgei has given him a run for his money with a marathon that, like Kipchoge's, wasn't thought to be realistic before her arrival.