2019 New York City Marathon
Debutant Joyciline Jepkosgei Wins Women's New York City Marathon Title
Debutant Joyciline Jepkosgei Wins Women's New York City Marathon Title
In her marathon debut, Joyciline Jepkosgei of Kenya won the TCS New York City Marathon over defending champion Mary Keitany.
Nov 3, 2019
by Joe Battaglia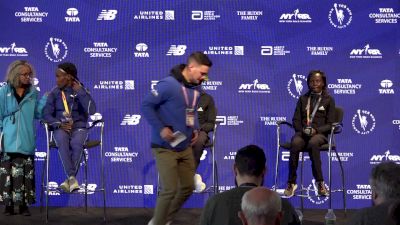 NEW YORK -- As Joyceline Jepkosgei strode up West Drive in Central Park, fans cheering and her vanquished competitors nowhere in camera view, the world bore witness, on the biggest stage in the sport, to a changing of the guard.
The 25-year-old Kenyan, already one of the most accomplished road racers in history at shorter distances, made her marathon debut a triumphant one, and emphatically so, pulling away from four-time and defending champion Mary Keitany over the final four miles to win the 49th TCS New York City Marathon.
Jepkosgei finished in 2:22:38, just seven seconds off the course record, and faster than Paula Radcliffe's debut record of 2:23:10 in 2004. 37-year-old Keitany finished runner up in 2:23:32. Ruti Aga of Ethiopia, the Tokyo Marathon champion, finished third in 2:25:51.
"I didn't have any pressure at all," Jepkosgei said after the race. "I didn't actually know I could win because of my friend Mary."
Jepkosgei took the world by storm in 2017 when she blasted to a world record 64:52 at the Prague Half Marathon, setting world records en route for 10K (30:04), 15K (45:37) and 20K (61:25). She returned to the Czech capital in September of that year and lowered the 10K world record to 29:43. A month after that, at the Valencia Half Marathon, she took another second off her world record at the 13.1-mile distance.
Her marathon debut has been long awaited. It was initially supposed to come at the Honolulu Marathon in 2018, but she picked up an injury in training and had to withdraw from the race. Her debut at the distance was then scheduled for Hamburg this spring but she again opted not to race there, and instead paced the London Marathon.
That she finally committed to run her first marathon here should not be taken lightly. Not only is it the largest marathon in the world, but standing between her and the top step of the podium would be Keitany, who has had so much success in this race – four victories, a runner-up finish and two third-place finishes in seven prior races – she has been dubbed "Queen Mary" in the Big Apple.
Interestingly, the two had squared off in the Ras Al Khaimah Half Marathon in both 2018 and 2017 with Keitany winning both times.
It was almost karmic that on this pristine racing day – sunshine, mild wind and temperature in the low 50s – that the race boiled down to these two Kenyans over the back half of the race.
"She has run, she has more experience in marathons, and has won a few years here in New York," Jepkosgei said of Keitany. "So, I was very happy to run with her and compete with major marathoners here."
Coming off the Pulaski Bridge just passed the halfway point, the two had managed to shake Kenyan Nancy Kiprop and top American Desiree Linden, but still had to contend with Aga. The three women ran side by side as they navigated the streets of Long Island City, crossed the East River and Roosevelt Island over the Ed Koch Queensboro Bridge, and spilled into Manhattan.
Jepkosgei and Keitany used a 5:20 mile to finally shake Aga in the Mott Haven section of the Bronx. As the two made their way back into Manhattan, there were zero signs of flinching by either runner. Keitany kept her rhythm on the inside of the road while Jepkosgei matched her stride for stride to her right.
Joyciline Jepkosgei and Mary Keitany were neck-and-neck at Mile 20 in the Bronx. #TCSNYCMarathon pic.twitter.com/yQGU1IAwbt

— TCS New York City Marathon (@nycmarathon) November 3, 2019
"I know I tried my best level since the race was tough," Keitany said. "I always say a race is a race so anything can happen."
You could sense Jepkosgei getting a little antsy as they hit "Museum Mile," and just as Fifth Avenue began to climb, she put her foot on the gas. As she hammered the uphill, Keitany finally broke, quickly slipping four seconds back. By Mile 24, the gap between them swelled to 15 seconds. By the time Jepkosgei got to Central Park South and headed toward Columbus circle, she had a 27-second advantage and her sights set on victory.
"My strategy which I had planned was to finish the race strong," Jepkosgei said. "But in some kilometers, last kilometers, I see that I'm approaching the finish line, and I was capable to win, and I am happy."
In the early going, Jepkosgei and Keitany were content to sit back and let others set the tempo. Coming off the Verrazano Narrows Bridge, the elite field had already formed a clearly defined lead pack of 12 runners, with 42-year-old Australian Sinead Diver, who finished fifth in 2:25:11, handling most of the leading duties.
As the group made their way through Williamsburg, Linden looked most spry and she began asserting herself. Just before Fort Green, the 35-year-old darted to a three-second lead with a 5:25 mile. She followed with another 5:17 mile to double her advantage and by the time the race spilled off Lafayette Avenue in Mile 11, she had a 13-second lead and splintered the pack to nine runners.
"I've always run (even splits), so it was about trying something new," Linden said of leading early. "Again, you're not going to have a breakthrough doing the same thing over and over, being really conservative and really cautious. It wasn't about running stupid or dumb, it was just going with the flow of the race. The conditions were great early are and taking the swing and hopefully having a little bit of a breakthrough.
"It was a super nice day. Even standing on the bridge, you could feel that it was light wind, and when we started, it was at our back. Walt (Dreneth) always says, if you can't run fast on a day like this, you might as well go bowling. So, it was a good day to take a big swing."
Mantra for today's #TCSNYCMarathon: Swing away.

Mission accomplished. I died ... but also I didn't actually die and that's valuable.

— des_linden (@des_linden) November 3, 2019
Linden continued to lead the race through Mile 12 and it wasn't until the ascent to the Pulaski Bridge that she was reeled back in by Keitany, Jepkosgei, Aga and Kiprop. She said that she definitely paid the price for that early ambition later in the race, but she managed to finish sixth in 2:26:46 and was proud of her finish and that she was able to hold off fellow American Kellyn Taylor by six seconds at the finish. Their times are the fourth- and fifth-fastest by Americans in race history.
"The really good thing was I held it together reasonably well," Linden said. "I held off Kellyn Taylor, who's running great right now, and I held off a pretty good field and was still able to compete and dig deep when it got hard. Even though I was going backwards to a degree, it was like, 'Okay, I'm going to fight for one more spot and look up and close the gap, whatever it may be.' It was good to just test mental toughness and to know that you're not going to die physically if you do it a different way. It might hurt a little bit more, but the upside could be fantastic."
The changing of the guard we have witnessed in women's wheelchair racing over the last year continued to pick up steam as Switzerland's Manuela Schar extended her unbelievable recent string by winning her third consecutive title by almost four minutes over American great Tatyana McFadden in 1:44:20.
"It's incredible," Schar said. "It was a really great day out there. We lucked out with the weather. There was good wind in the beginning. I'm really proud of how I handled the bridges. I'm always trying to pull away and go for a fast time. The course record wasn't on my mind until maybe 30K, and then I realized it was possible. But then I just had a difficult time and I had to slow down for a while."
Schar has now won nine consecutive World Marathon Majors competitions and will go into 2020 as the proverbial favorite in every World Marathon Majors race, the World Championships and Tokyo Paralympics.
"It's been incredible the last 12 months and it's still going on," she said. "It's just – I don't know. I'm speechless."
Your 2019 #TCSNYCMarathon champion in the women's wheelchair division - @manuelaschaer??with her third consecutive #TCSNYCMarathon victory! pic.twitter.com/NY4s8fYnbo

— TCS New York City Marathon (@nycmarathon) November 3, 2019