2019 New York City Marathon
Kamworor Uses Big Surge To Regain Men's Title At The New York City Marathon
Kamworor Uses Big Surge To Regain Men's Title At The New York City Marathon
Kamworor Regains Men's Title At The New York City Marathon
Nov 3, 2019
by Jim Lambert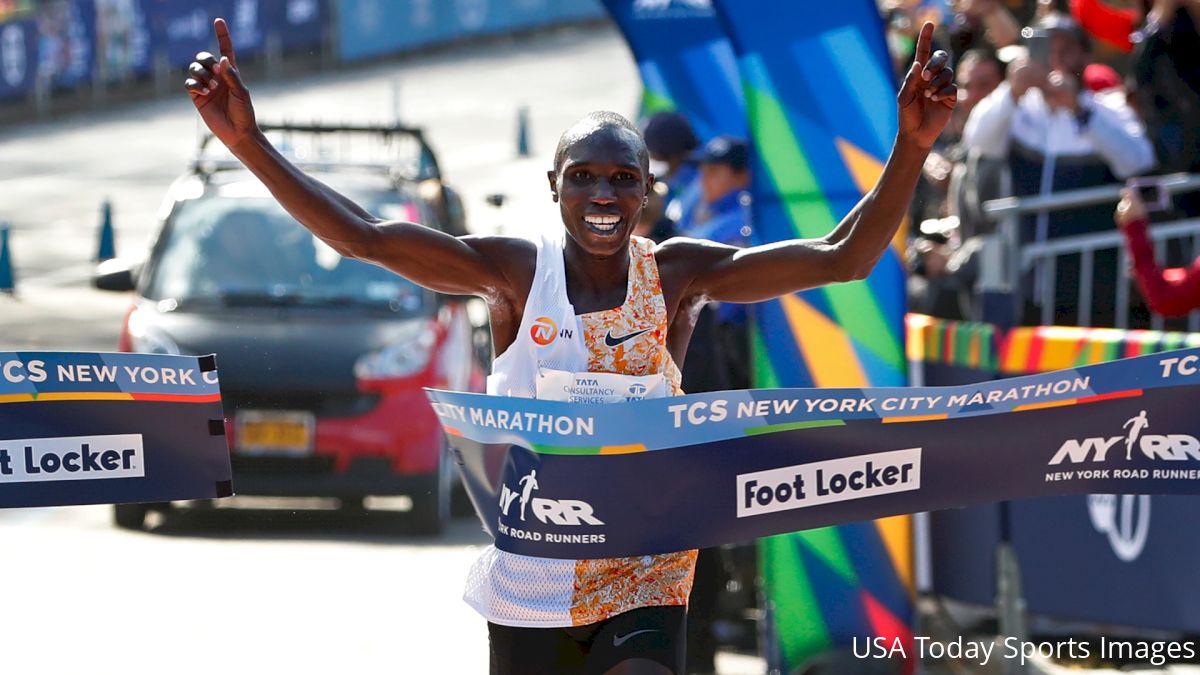 Geoffrey Kamworor broke away from fellow Kenyan Albert Korir over the final two miles and blasted through Central Park to regain his men's title at Sunday's 49th TCS New York City Marathon
Kamworor, who won the 2017 title here, and Korir were side-by-side when Kamworor made a huge surge and dropped a 4:40 split in the 24th mile, which includes a hill, to open a six second gap on Korir.
The 26 year-old Kamworor continued to pour it on with a 4:31 25th mile, the fastest split of the race, to put the race away, and then followed with 4:42 26th mile before crossing the line first in 2:08.13. Korir was second in 2:08.36, and Girma Bekele Gebre of Ethiopia, who has competed locally for New York's West Side Runners, placed third with a massive five-minute personal best of 2:08.38.
Defending champion Lelisa Desisa of Ethiopia, who won the marathon at the IAAF World Championship in Doha just 29 days ago in 2:10.40, dropped out at mile seven. Desisa won here last year in 2:09.59, the second-fastest time in event history.
With his victory, Kamworor, who also finished second here in 2015, became the 10th multiple champion in the men's division, and gave Kenya the outright record with 15 NYC Marathon men's titles, breaking a tie with the US.
"After I won in 2017 I was hoping to win again last year,'' said Kamworor, who took 17 seconds off the half-marathon world record when he won the Copenhagen Half Marathon in September in 58:01. "But when I got third last year it made me work even harder to get my title back this year.''
Right after Kamworor finished he was congratulated by training partner Eliud Kipchoge, who ran the first sub two-hour marathon ever when he went a once unfathomable 1:59.40 in Vienna last month. Kamworor was part of the team that paced Kipchoge in that race.
Kipchoge's presence fueled Kamworor while he pounded his way through the five boroughs.
"I knew Eliud was at the finish line,'' said Kamworor. "He is my training partner and and my mentor. "I was very confident and determined for a good result because I didn't want to disappoint him, and that gave me a lot of motivation. He inspired me a lot during the race.''
Kamworor said his race plan was to wait until the last few miles to pull the trigger and unleash his wicked kick.
"The strategy was to wait until near the end and then go,'' said Kamworor. "Throughout the last few meters, the pace was somewhat high, and it wasn't a problem for me and I was feeling really strong. That's when I decided to pull away. I knew I could finish strong.' To get my title back is such a great feeling. I prepared very well to win this marathon again.''
Kamworer said winning in New York always has special meaning to him.
"The New York City Marathon is a really special one,'' he said. "It's really amazing because of the large crowds along the course. From the start to the finish, there are a lot of crowds cheering, and it's a lot of morale along the race.
As for the Americans, Jared Ward finished as the top American for the second straight year and was sixth for the second year in a row in 2:10.45, a drop of nearly two minutes off his previous best on this course.
How about the races by four-time Olympian Abdi Abdirahman and Connor McMillan!
The 42 year-old Abdirahman, who already had an Olympic Trials qualifying time in the marathon, shattered the US Masters Record by running 2:11.34 to finish second among Americans and ninth overall. He broke the Masters record of 2:12.10 set by Bernard Lagat at the Gold Coast Marathon in July.
And the 23-year-old McMillan chopped 12 minutes of his PR and was the third American and 10th overall in 2:12.07, which qualifies him for the U.S. Olympic Trials in Atlanta.
The 31-year-old Ward, sixth in the marathon at the 2016 Olympics in Rio, was aiming for a podium finish. While he didn't quite get that, he was still thrilled with how he ran.
"Yeah, I am happy with it,'' said Ward. "I'm going to keep shooting for that podium, and I hope one day things fall together for it, but the reality is, looking outside in, I'm a long shot for a podium in a field like this. I feel fortunate to have been able to run with those guys for so long, and maybe next time I hang on two miles longer and next time two miles longer. But I'm happy with the race.''
Ward said he wanted to validate his personal best of 2:09:25 that he ran when he finished eighth at the Boston Marathon earlier this year.
"I wanted something today that solidified the breakthrough that I had in Boston and establish to myself that I'm a different marathoner going into this Olympic Trial cycle than I was in the last one,'' said Ward. "So I'm happy with my performance in that way. I think running a little bit faster and being in the race certainly longer validated that for me. So it was a validating performance. I'm going to keep that stretch goal, but I would say I was validated today.''
Next up for Ward is the Olympic Marathon Trials.
"I don't know that I'll go into the race looking at myself as a favorite, but I will go into the race with some confidence that I can make the team,'' said Ward. "I'm a stats guy, so I wrote up this piece for myself before the 2016 trials, and I gave myself a 35 percent chance of making that Olympic team, and I felt fortunate to have ended up on that team. I don't know what my chances are this time. I think they're better, but I'm excited to transition and look towards Tokyo.''
The men's race, which began under picture perfect conditions with the temperature at 45 degrees, opened with 2018 runner-up Shura Kitata of Ethiopia charging out to big lead up the Verrazano Bridge, hitting the mile mark in 5:02.
He was quickly reeled right in when Desisa led a huge pack through the second mile in 4:43.
Kitata, who finished just two seconds behind Desisa last year, took control again with a 4:53 fifth mile and after a 10-K split of 30:35, Desisa dropped out as Kitata was still working hard out front with 4:53 mile.
Kitata opened a six-second lead with a 5:04 11th mile as he was stalked by a pack of 16, that included Kamworor, Ward, Korir and Gebre, Tamirat Tola of Ethiopia, and Brett Robinson of Australia.
Just after they hit the half in 1:04.47, Robinson, a finalist in the 5K in Rio, ran 5:01 for the 14th mile and 4:57 for the 15th mile as he took the lead to the 25K mark (1:17.02).
Korir and Gebre then took the lead from Robinson with a 4:56 16th mile with a pack of 12 bunched closely together.
The lead pack thinned out when Korir led a 5-man break with a 4:48 20th mile with Kamworor, Kitata, Tola, and Gebre going right with him.
It stayed that way until Tola cranked out a 4:36 22nd mile, which dropped Kitata. By the middle of the 23rd mile, Kamworor and Korir waged a two-man battle before Kamworor dropped the hammer.
While the 1-2 finish by Kamworor and Korir didn't come as a surprise, the third-place finish by Gebre turned a lot of heads.
But Gebre said he expected to run well.
"My personal best was 2:13 that I ran that in Pittsburgh,'' said Gebre. "At that point, I had been living here, but this time, because I prepared at home at altitude, I was very well prepared, and I expected to run a better time. I'm very happy to have improved my personal best.''
What's next for Gebre?
"I don't have a sponsor or an agent, but I would like to get one so I can gave someone to arrange races for me,'' said Gebre. "I just compete individually, so I don't know what I'll be running next?
In the men's wheelchair division, 21-year-old Daniel Romanchuk who became the first American and youngest athlete in race history to win last year, held off Marcel Hug of Switzerland to repeat as champion in 1:37:24, just ahead of Hug (1:37.25). David Weir of Great Britain was third in 1:37.28 and Aaron Pike of the U.S. was third in 1:37.33.
"It was a very tight finish with a group of four,'' said Romanchuck. "It was just a very fast and tactical race, and it was anyone's race and I really had know idea I was going to win until we got right to the finish. It was a great race and it's a great accomplishment to win this race for a second time.''
The victory by Romanchuck added to his remarkable 2019 resume.
After starting off the the year with a runner-up finish at the Tokyo Marathon and his first win at the United Airlines NYC Half, he followed that by becoming the first men's American wheelchair racer to win both the Boston and Virgin Money London marathons.
He then broke the course record for his second consecutive title at the AJC Peachtree Road Race in Atlanta and recently defended his title at the Chicago Marathon, where he qualified for the Tokyo 2020 Paralympics.