Unlock this article, live events, and more with a subscription!
Get Started
Already a subscriber? Log In
Between more Mondo Duplantis' theatrics in Glasgow, a ridiculous road 5k world record in Monaco and plenty of excitement stateside, there was a lot to get excited about this past weekend in track and field.
Here were the 10 best performances:
1. Mondo Duplantis' 6.18m Pole Vault World Record In Glasgow
I think I could get used to seeing this version of Mondo Duplantis on the regular: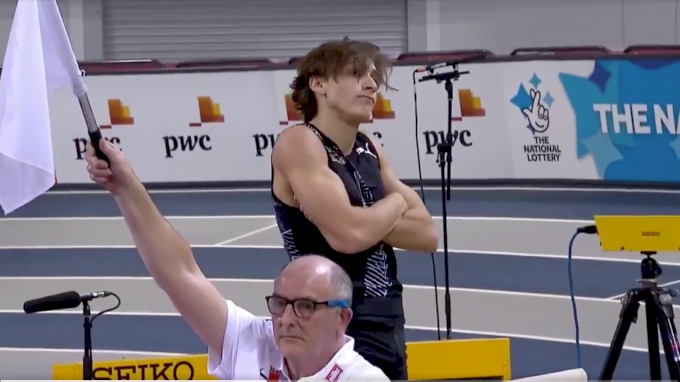 This strikes me as the perfect reaction for a 20-year-old after breaking his second world record in as many weeks. This 6.18m clearance in Glasgow came with ample room to spare, suggesting that Duplantis isn't close to being done this indoor season. As Michael Jordan would say: the ceiling is the roof.
A new world record clearance by THAT MUCH ?pic.twitter.com/QLXb6mk579

— FloTrack (@FloTrack) February 15, 2020
2. Joshua Cheptegei's 12:51 Road 5k World Record In Monaco
Like Rhonex Kipruto did before him by running 26:24 in a road 10k, Joshua Cheptegei has now lowered the road 5k record to a time that would win most Diamond League 5,000m races. In fact, the fastest time in the world last season on the oval was 12:52.98.
FLASH - @joshuacheptege1 runs 12:51* to break the world 5km record in Monaco?.

?:https://t.co/mKrNi30x6F pic.twitter.com/DQo4wTXnJ5

— World Athletics (@WorldAthletics) February 16, 2020
12:51 on pavement will certainly galvanize the anti-Vaporfly community into spewing more flames online, which, great.
3. Christian Coleman's 6.37 60m At USAs
Christian Coleman probably breaks his own 6.34 world record on Saturday with even a decent start, as the 23-year-old erupted from 20 meters to the finish to record his third career 6.37 clocking. Coleman now owns the four fastest 60m times ever.
Just look at how much ground Coleman made up after lagging out of the blocks:
Now you see me…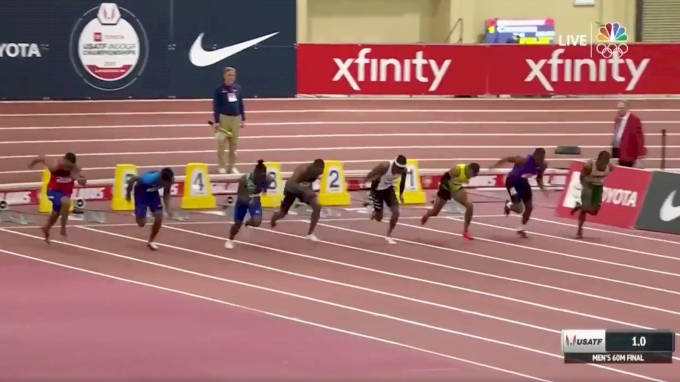 Now you see my back...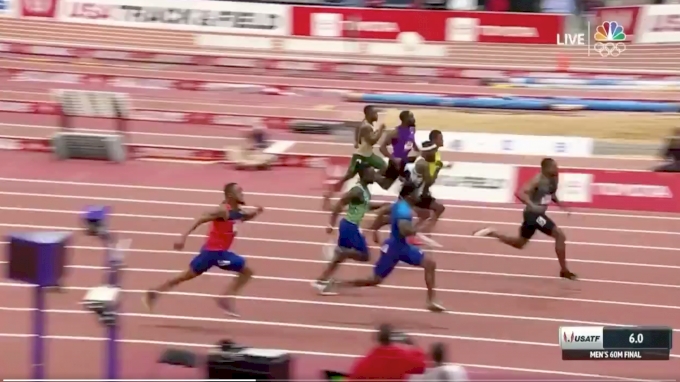 4. Shelby Houlihan's 3k/1500m Double At USAs
Shelby Houlihan is rapidly becoming one of the most dominant distance runners in U.S. history, and the 27-year-old completed her fifth career two-event sweep at a U.S. Championship over the weekend in Albuquerque. Houlihan used her punishing kick on Friday (3,000m) and Saturday (1,500m) to win national titles No. 12 and 13, closing in under 30 seconds in both races.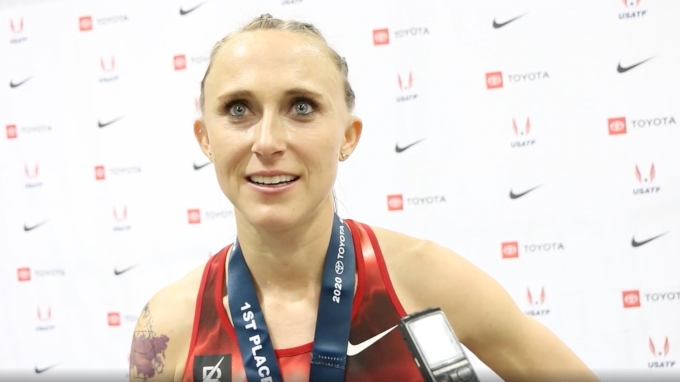 Unlock this video, live events, and more with a subscription!
Get Started
Already a subscriber? Log In
In the wake of Elle Purrier's 4:16 indoor mile U.S. record at Millrose, there appeared to be at least a chance that Houlihan would be seriously tested on Friday and Saturday. Instead, the 1500m U.S. record holder dominated so thoroughly (Purrier was fourth in the 3k, then scratched the 1500m) that any suggestion of Houlihan having a domestic peer in the 1500m/mile has quickly evaporated.
5. Ryan Crouser's 22.60m Shot Put At USAs
Reigning Olympic champion Ryan Crouser's fourth throw at U.S. Indoors on Saturday sailed to 22.60m, the furthest indoor throw in 31 years and the second-best of all-time. Afterwards, he spoke about his patented cowboy hat look and his epic throw in Albuquerque.


6. Nia Akins' 2:00.71 800m At BU
After two runner-up finishes indoors and out at the 2019 NCAA Championships, Nia Akins enjoyed a breakout season last year that perhaps didn't get proper credit. The Penn senior should receive her due now after running 2:00.71 on Friday in Boston, the second-fastest indoor 800m performance in NCAA history.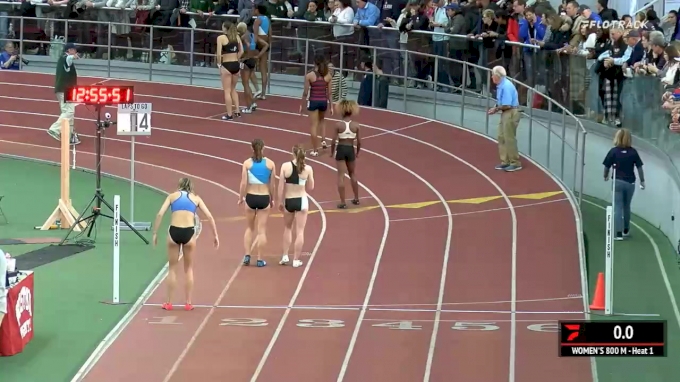 Unlock this video, live events, and more with a subscription!
Get Started
Already a subscriber? Log In
Akins' time is a slim 0.02 seconds behind Jazmine Fray's 2:00.69 record from 2017.
7. Jenny Simpson's 14:58 5k At BU
Jenny Simpson running the Olympic 5k standard is just a backup plan in the unlikely scenario that she fails to finish top three in the 1500m at the Trials, but the 33-year-old secured her safety net in a very entertaining fashion on Friday at BU as she ran the third-fastest U.S. indoor 5k ever in 14:58.67.
The 2011 1500m world champ sits behind Shalane Flanagan (14:47.62) and Molly Huddle (14:57.31) in the U.S. depth chart.
8. Luis Grijalva's 7:43 3k At BU
NAU's Luis Grijalva won an incredibly deep Boston 3,000m (13 guys under 7:50!) in 7:43.73 on Saturday, and he now sits sixth on the all-time NCAA indoor list. Teammate Geordie Beamish ran 7:44.67 and is a spot below Grijalva in the record books.
Unlock this video, live events, and more with a subscription!
Get Started
Already a subscriber? Log In
Here are the only NCAA men faster than the Lumberjack pair:
Alistair Cragg (7:38.59)
Edward Cheserek (7:40.51)
Grant Fisher (7:42.62)
Morgan McDonald (7:42.76)
Lawi Lalang (7:42.79)
Of course, proximity to these greats doesn't guarantee that Grijalva and Beamish will live up to that billing at NCAAs, especially against Joe Klecker and Edwin Kurgat, but the 3k could bring an avalanche of points for NAU as they now own the top three times in the NCAA between Grijalva, Beamish and Tyler Day (7:45.70). It's tough to rely on distance runners alone at NCAAs, but the cross country juggernaut is going to give it their best shot as they currently have 10 names in qualifying position between the mile, 3k and 5k.
9. Anavia Battle's 22.66 200m At Clemson
Ohio State junior Anavia Battle won a crucial pre-NCAA showdown at the Tiger Paw Invitational in running a nation-leading 22.66 200m on Saturday. Battle soundly defeated Kentucky's Abby Steiner (22.86) and Julien Alfred of Texas (22.99) in a heat featuring three of the six fastest women currently in the NCAA.
?NATIONAL LEADER ALERT? (again?)

Anavia Battle wins the women's 200-meter dash with a facility record time of 2️⃣2️⃣.6️⃣6️⃣‼️#GoBucks pic.twitter.com/36kHff5Xrl

— Ohio State T&F/XC (@OhioStateTFXC) February 15, 2020
And although they ran in separate heats, Battle's clocking was well ahead of fellow Tiger Paw competitors Kynnedy Flannel (22.93), Lanae-Tava Thomas (23.23) and Ka'Tia Seymour (23.34). Based on the results at Clemson, Battle has the inside track for the indoor 200m NCAA title.
10. Tori Franklin > Keturah Orji Triple Jump American Record At USAs
Tori Franklin came up clutch in an excellent women's triple jump competition at USAs as she not only landed a 14.64m U.S. record in her final jump of the competition, but she did so after Keturah Orji set a 14.60m U.S. record earlier in the event. Orji's jumped initially trumped Franklin's 14.57m mark from 2019, but Franklin snatched it back with this walk-off homer on Friday:
1 ... 2 ... 3 ... JUMP@LIVE_happie reclaims the American record in the women's triple jump at #ToyotaUSATFIndoors. pic.twitter.com/hbWyGeRDoD

— #TokyoOlympics (@NBCOlympics) February 15, 2020