2020 U.S. Olympic Marathon Trials
Aliphine Tuliamuk, Molly Seidel Team-Up To Pull Trials Upset
Aliphine Tuliamuk, Molly Seidel Team-Up To Pull Trials Upset
Aliphine Tuliamuk, Molly Seidel and Sally Kipyego combined to produce a U.S. women's marathon team that no one could have predicted.
Mar 1, 2020
by Kevin Sully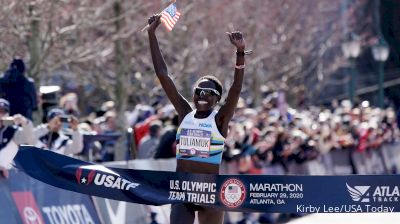 Unlock this video, live events, and more with a subscription!
Get Started
Already a subscriber? Log In
Around 21 miles into the U.S. Olympic Marathon Trials, Aliphine Tuliamuk found kinship with a woman who been running with her for the past two hours on a windy Atlanta day. Tuliamuk and Molly Seidel don't have the same coaches, aren't sponsored by the same shoe company and traveled vastly different paths in the sport. But when they broke away from the pack with around five miles remaining, there was a common cause.
"I kept looking back and saying, 'Molly we are going to do this together,'" Tuliamuk said.
It was a bold move from the pair, but by that point they had already upended conventional wisdom. Jordan Hasay, the fastest woman in the field, fell from contention at the halfway point. Molly Huddle and Emily Sisson, two other pre-race favorites, dropped out of the race in the 22nd mile. Two-time Olympian Des Liden was reeling, outside of the top three.
"If we went down, we were going down together," Seidel said.
The two weren't strangers. They did some training runs together in the build-up in Flagstaff, Arizona. Seidel, 25, was running her first marathon and looked up to Tuliamuk, five years older and with several marathons under her belt.
Tuliamuk had actual teammates in the race--Steph Bruce and Kellyn Taylor, but the two hadn't been able to keep pace. Seidel was now her de facto teammate, their success linked as they tried to survive the distance and hold off the deepest field in the history of the U.S. Olympic Trials. When the hilly Atlanta course was at it's hardest, and the stakes at their highest, Seidel leaned on Tuliamuk.
Tuliamuk offered encouragement and Seidel responded with "I'm with you, I'm with you." The wind, that was blowing ponytails sideways all afternoon, was directly in their face as they ran uphill in the final three miles.
"I wouldn't have been as calm in that breakaway with anyone else," Seidel said.
Tuliamuk came to the United States 10 years ago, attending school and running, first at Iowa State, and then Wichita State. One of 32 children in her family raised in rural Kenya, she relished the opportunity to get an education in the United States. Tuliamuk ran her first marathon in 2015. In 2016, she received her U.S. citizenship. She didn't break 2:30 in a marathon until last year, when she took third in Rotterdam. Last fall, she placed 12th in New York, finishing behind two other Americans.
The cold temperatures at the start meant she wore one of the red, white and blue beanies she crocheted herself.
"If I hadn't come to America don't know where I would be today," Tuliamuk said.
Seidel was a star as a high schooler in Wisconsin, winning the Foot Locker Cross Country Championships in her senior year. Four years later at Notre Dame, she won the NCAA Cross Country Championships, becoming the first woman to complete the Foot Locker/NCAA Cross Country double. But her career was halted by an eating disorder and her professional running took a backseat to personal health. Ann Seidel, Molly's mother, thought her daughter would quit running at several points during her career.
"She's been through a lot. She's a tough kid," Ann Seidel said.
On Saturday, Ann brought six giant signs with Molly's face on them and, for good luck, wore the same Notre Dame jacket she wore when Molly won the NCAA Cross Country Championships five years ago.
To prepare for this race, Seidel ran 1:09:35 at the Houston Half Marathon in January. She had no expectations of making the team on Saturday, calling the whole experience a "moonshot." She started in the third wave and at the start line she tried to pretend she didn't know who she was racing against.
In the group that remained after a modest, but still solid, first half of 1:14:28, Tuliamuk and Seidel were still underdogs. And when the field shrunk even more after 20 miles, the pair was still surrounded by women with better personal bests and major marathon finishes.
After a 22nd mile of 5:17, Tuliamuk and Seidel put some distance on Sally Kipyego. There was another gap back to Taylor, Laura Thweatt and Linden.
"All of a sudden it was just the two of us," Seidel said.
Kipyego was also outperforming expectations in third, at least as much as an Olympic silver medalist can outperform expectations. After a second-place finish in the 10,000m in London while representing Kenya, Kipyego didn't make it back to the podium. She finished second at the 2016 New York City Marathon. 2017 was a busy year, she gave birth and became a US citizen. She struggled in subsequent races. It wasn't until last fall in Berlin when she found her footing.
"I don't think anyone talked about me," Kipyego said. "I knew that I trained well."
Behind Kipyego, Linden was trying to conjure a response. Making up ground was difficult at this late stage on a course that she said was "unlike anything we've done before," Linden said.
"It was freaking hard. There's not a flat spot out there."
Linden told Thweatt and Taylor that if they wanted to close the gap, they needed to go now.
But Tuliamuk and Seidel never cracked. By the final miles, it was clear their spots were safe. Kipyego seemed to waver a bit, but her lead was too big for any serious challenge.
"Those last three miles, I was basically surviving. That was hell. It felt horrible," Kipyego said.
Tuliamuk finally separated from Seidel in the last mile, crossing the finish line in 2:27:23. Seidel finished in 2:27:31, making history as the first U.S. woman to qualify for an Olympic marathon team in her debut at the distance.
Kipyego weathered the hills and ran 2:28:32, completing a top three that nobody would have predicted. Linden, the only one of the pre-race favorites who was a factor in the race, finished 11 seconds behind Kipyego.
"I was fourth, not 17th. I thought I had a really great day. Three people were just better," Linden said.
In a field that good, with that many of the world's elite, how did a result like this happen? The challenging course and gusty winds certainly provided a dynamic that allowed for surprises. Linden attributed it to the current state of women's marathoning in the U.S.
"If we ran that race again in a year, it could look totally different just because there are so many good people right now," Linden said.
"In four years time, we will see Molly Seidel just crushing and we will say, oh yeah, of course,"
After the race, Tuliamuk and Seidel were still trying to come to grips with the result.
"It doesn't feel real," Tuliamuk said.
But they were clear on how it came about. When they were sitting in plush chairs in the press conference, finally off their feet and with a tent protecting them from the relentless wind, Seidel thanked Tuliamuk and Tuliamuk thanked Seidel.
"There's no one that I would rather get to share those miserable last five miles with," Seidel said.