Unlock this article, live events, and more with a subscription!
Get Started
Already a subscriber? Log In
Another dominant Galen Rupp performance, three first-time Olympians and the oldest U.S. Olympic track and field qualifier ever made for an entertaining race in Atlanta.
Here are the winners and losers from the 2020 U.S. Olympic Marathon Trials:
Winners
Healthy Galen Rupp
Even when Galen Rupp ran a successful half marathon tune-up three weeks before the Trials, the jury was still out on whether his surgically repaired achilles would be able to handle the rigors of Atlanta's hilly terrain. His 61:19 in Mesa on Feb. 8 came on a pancake flat course, nothing like what he was going to see at the Trials. His body wasn't right when he dropped out of Chicago last October, and this race would challenge whether he had made the necessary fixes while training under a new coach in Mike Smith.
His dominant win on Saturday proved, without a doubt, that the two-time Olympic medalist was back. Like, back back. Rupp jettisoned the field at will and had no trouble navigating the hills en route to a 2:09:20 that obscured how difficult the course truly was. A new physical therapist helped Rupp correct the imbalances he had in Chicago, and the result was that the best long distance runner in U.S. history was as good as new after a difficult last two years.
Feel Good Stories
There's always going to be comeback stories and tales of resilience from any marathon, especially one with as much riding on it as the Olympic Trials, but several of the qualifiers to the Olympic Games carried with them extraordinary journeys to reach the podium.
Women's champion Aliphine Tuliamuk became a U.S. citizen in 2016 after coming to the States from Kenya over a decade ago. Like almost any elite marathoner, she's had her share of injury woes as she was diagnosed with a femoral stress fracture last June, per NBC Sports. She didn't break 2:30 in the marathon until 2019. Tuliamuk, known for her homemade knitted hats, wore a red, white and blue beanie after the race and called her victory, "my American dream."
Both third place finishers, Abdi Abdirahman and Sally Kipyego, are also naturalized U.S. citizens, Abdirahman from Somalia and Kipyego Kenya. At 43, Abdi is the oldest U.S. track and field Olympian ever, while Kipyego, the 2012 10,000m Olympic silver medalist, had struggled to return to an elite level after having a baby in 2017. Saturday was just her second career top-three finish in a marathon.
The two runner-ups were arguably the biggest surprises of the race. Jake Riley didn't race for three years from 2016 to 2019 due to an achilles injury, and he's now run 2:10 in back-to-back marathons despite a previous best of just 2:13. And Molly Seidel, running her first ever marathon, was on no one's radar entering the race. She has overcome an eating disorder and works part-time at a coffee shop. That means we now know who the world's fastest barista is.
The Volunteer Who Gave Jake Riley A Tiny American Flag
It's not exactly clear when a race volunteer handed Jake Riley one of the tiny American flags typically reserved for those whose Olympic spot is a foregone conclusion (somewhere between 400m-600m to go), but it is clear that the gesture was extremely premature as Riley, Abdi Abdirahman and Leonard Korir were still fighting for the final two Olympic spots. Just look how close Korir is as Riley carries the flag: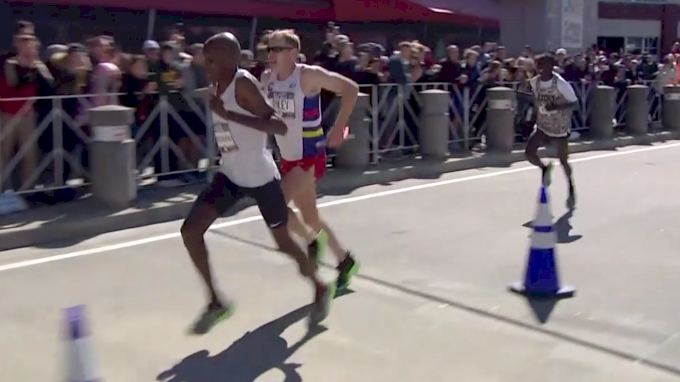 Can you even imagine how embarrassing that would've been for Riley had he finished fourth? Afterwards, he regretted grabbing the flag while calling it a "cocky move," but who can blame a guy in a split-second decision after he had run 26 miles? Perhaps we need to rethink this tradition or at least make sure that every volunteer in charge of the tiny flags knows when is appropriate to pass them out.
As it is, however, the race volunteer in Atlanta can breathe easy as Riley was able to hold on for second. That's a big win after such an ill-advised move.
Losers
Women's Favorites
No one could have predicted that of all the women's pre-race favorites-- Des Linden, Jordan Hasay, Emily Sisson, Molly Huddle and Sara Hall-- Linden's fourth place finish would be by far the best performance of that group.
Sure, it turned out that Hasay was not fully healthy entering the Trials, and Sisson, Huddle and Hall did not finish, but it's still remarkable that only Linden was close to making the team out of a quartet that included two two-time Olympians (Linden and Huddle), the second-fastest marathoner in U.S. history (Hasay), the fastest U.S. marathoner of 2019 (Hall), and a woman who ran 2:23 in her debut last April (Sisson).
In an event as unforgiving as the marathon on a course that was particularly brutal, pedigree mattered much less than simply having it on the right day. This told me two things: one, even the best runners will falter when numerous variables are thrown their way, and two, the U.S. is even deeper on the women's side than it appeared before.
The Three Guys Who Broke 2:10 In 2019
In a field that no one could mistake for being especially deep, the fact that none of the three fastest U.S. marathoners in 2019-- Leonard Korir (fourth), Scott Fauble (12th) and Jared Ward (27th)-- made the Olympic team was particularly stunning. Galen Rupp was obviously still the favorite despite not finishing a marathon last year, but the aforementioned trio each entered with times from 2019 that were over a minute better than the field ran last year.
Korir missed the team by just three seconds, so it's not like he ran a bad race in just his second career marathon. But I have to think that the hilly course had a role in him not making the team. His debut last October in Amsterdam (2:07:56) was the fastest ever by an American, but that race was nothing like what he faced in Atlanta. His leg speed is certainly superior to both Jacob Riley and Abdi Abdirahman, but he couldn't hang with those two in the race's final stretch despite being just one second down at 26 miles.
Women's 10,000m Competitors
Finishing top three in the 10,000m at the Olympic Trials became a lot harder once Molly Huddle and Emily Sisson dropped out of the marathon trials on Saturday, as the American record holder (Huddle) and third-fastest American (Sisson) will now target that distance in Eugene. Basically, three available spots had they made the team just became one.