Inside the Albuquerque Convention Center, everything appeared normal. Sprinters took practice starts, vaulters vaulted, batons were exchanged and coaches yelled to watch out in lane one.
When the PA system turned on, it wasn't to announce the meet was canceled, but to say practice on the high jump was ending shortly. It was how the day before a big track meet is supposed to look. As of mid-day on Thursday, the NCAA Indoor Championships were going to happen.
Outside, the world grappled with a different reality: the outbreak of the coronavirus. The NBA season was suspended. NCAA conference basketball tournaments were called off—some in the middle of the game. The Boston Marathon was postponed to September. Events were being canceled every time you hit refresh.
On Wednesday, the NCAA said these championships would take place, but with only families, teams and essential personnel. Then, on Thursday morning, that changed to no spectators at all.
But the center couldn't hold.
In the midst of the pre-race routine, two power conferences—the Big Ten and ACC—decided to pull their athletes. Then, individual schools got word that they were no longer competing. For a short period of time there was a strange dichotomy of schools packing up to head to the airport, while others were heading out to the track, ready to compete if the meet went forward. That dynamic also didn't last.
Before the press conference and coaches' meeting, the NCAA announced all winter and spring championships were canceled.
"Starting yesterday at 12:30, when we had made literally one change, and that was how the food was delivered, it then just started trickling. And it was literally something every hour, hour and a half, with another change being made, another change being made. Today, I sent a text to a kid on a team. [They said] 'What do you think?' I said, 'You know, this meet's not happening and I don't think outdoor is, either,'" New Mexico head coach Joe Franklin said.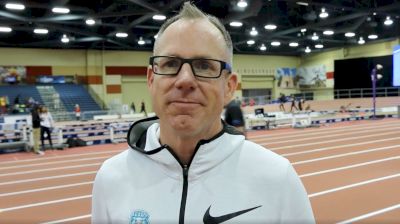 Unlock this video, live events, and more with a subscription!
Get Started
Already a subscriber? Log In
Word began to spread through the convention center that this was the end; not of this meet, but the season. For some, it was the conclusion of their careers—an outcome much worse than losing a race. There was really no precedent to what was happening.
Inside the convention center, there wasn't much criticism of the NCAA's decision (though that came later from Texas A&M's Pat Henry). One coach said he knew it would be canceled the moment Utah Jazz center Rudy Gobert tested positive for the coronavirus on Wednesday.
BYU coach Diljeet Taylor addressed her top-ranked women's distance medley relay team inside the track where she was trying to win her first NCAA title: "Just know that we came in here knowing that we were going to do something special and we don't know what that is right now. We can't feel it or see it, but we've got to think about the big picture."
The coaching isn't done even when the entire season has been canceled @ddosanjhtaylor @BYUTFXC #NCAATF pic.twitter.com/AsCRdgDg4x

— FloTrack (@FloTrack) March 12, 2020
A few feet away, Northern Arizona State's men's team was gathered. Their quest for a distance-only national title was supposed to be one of the biggest stories of the meet. Instead, they ran a threshold workout on the track.
"It's a privilege to have sport be the biggest thing in your world. So it's a good check on our priorities and what's most important to us. If we're worrying about games, our lives are pretty good," NAU coach Mike Smith said.
"That being said, we're competitors, and I'm here with a bunch of guys that came here to compete. We've got seniors that everything was about this day. It's hard for them."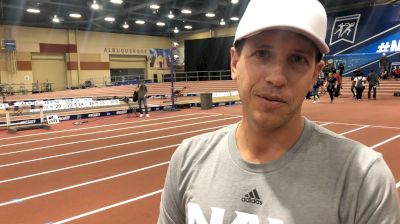 Unlock this video, live events, and more with a subscription!
Get Started
Already a subscriber? Log In
The grief was processed differently. Coaches tried to imagine a spring with no track meets. Athletes joked about setting up match-races. Taylor told Franklin that this was the year that BYU was going to win the DMR. There was an air of "what are we supposed to do now?" that extended far beyond this small part of the sports world.
"I feel like a kindergartener whose mom invited everyone to a birthday party and nobody showed up," Franklin said.
After the meet had been called, an impromptu 400m race broke out between two Virginia Tech runners. If you keep runners around a track long enough, it's inevitable that they will race. The remaining people in attendance cheered as they ran through the first 200m. On the final straightaway, Georgia's Matthew Boling jumped in the race and playfully sprinted past them both. It was a moment of levity. But it was also a reminder of what we will miss this weekend and into the spring. It was only a year ago when Boling's prep exploits made him a viral star.
The questions are many about what comes next.
Will athletes get another year of eligibility? When will practice resume? But there are more pressing issues. Some schools were still in the process of making announcements about shifting to online classes, putting students in limbo regarding what the remainder of their school year will look like.
"I just know there's a lot more at stake than this meet and this championship and our season. It's a public health crisis, so while individually I'm devastated on an athletic level, I know that my team has put in an unbelievable amount of training, I know that I've put in an unbelievable amount of training, I understand the logic behind it," said USC hurdler Anna Cockrell.
By 5:00 p.m., the venue virtually cleared out. A few athletes came out to take pictures. Others walked a lap of the track, still in disbelief. The video board displaying stats and trivia was now blank. Cable that had been placed down just a few hours before was picked up and taken out the back door.