2021 Olympic Games
Track And Field On Hold: What Hurts The Most In A Lost Year
Track And Field On Hold: What Hurts The Most In A Lost Year
The best of track and field is the hardest thing to give up with the Olympics postponed until 2021.
Mar 26, 2020
by Kevin Sully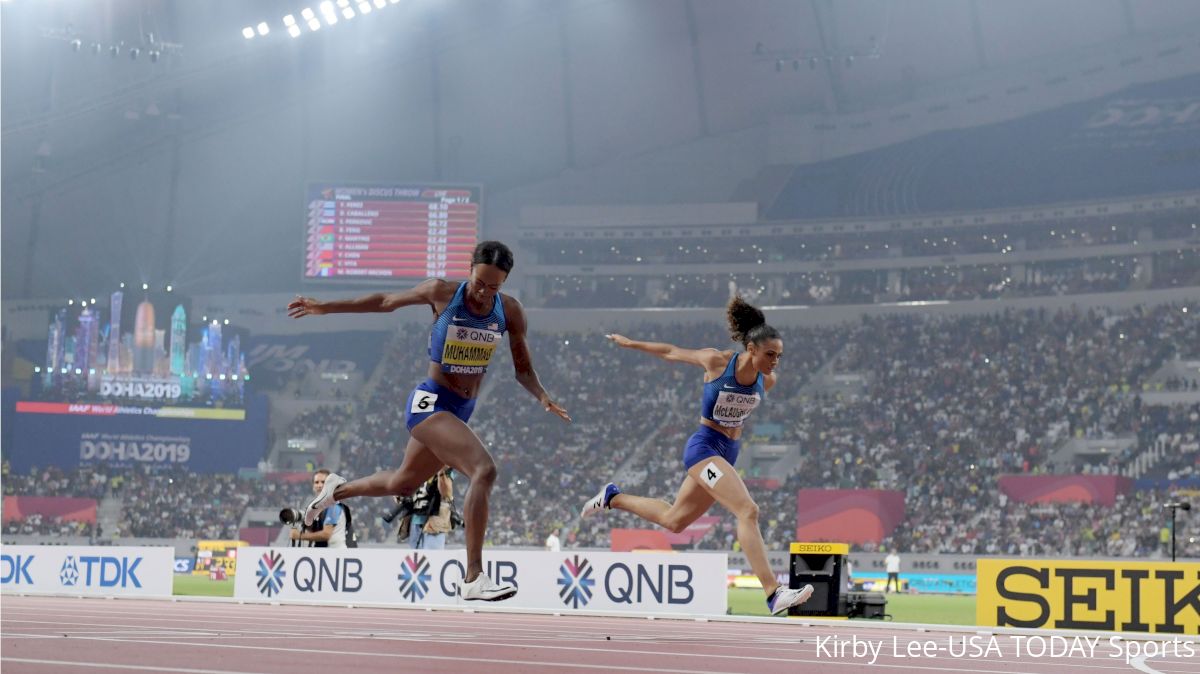 I miss track already.
In our current situation, this is inconsequential, but with all the disruptions to our routine, I think it's important to acknowledge what we took for granted before a global pandemic changed every part of our lives. There may still be meets in 2020, though the centerpiece of the season was removed when the Olympics were postponed on Tuesday.
This was, of course, the correct decision. We don't know what the world will look like in the end of July; however, it was very clear what the current circumstances were and why they were untenable. When the fastest man in the world has to jump a fence to use a track, that should be a pretty good gauge that it's time to pack it in for a while.
When it does return, I promise to take back every bad thing I ever said about it. I will celebrate the fourth heat of the 10,000m, see the good in rabbited races and welcome every debate about the impact of carbon plate and pebax foam on running shoes. I won't get frustrated when people who don't follow track have strong opinions about the false start rule or diving across the finish line.
The 2021 season might end up being better than what was going to happen in 2020. It might be worse. There's no way of knowing. What is certain is that whatever we get out of 2020 will be an afterthought without the Olympics on the schedule. So even though it's March, I felt I needed to record a list of just a few of the things that 2020 could have held.
I wanted to see Eliud Kipchoge race two more marathons. The Olympic postponement has sucked up all the headlines, but it was only a week (or two weeks, I've lost track of time) that all the spring marathons were moved to the fall. That means we are missing out on Kipchoge in London and Kipchoge at the Olympics. The first one really stings.
In London, he was supposed to race against Kenenisa Bekele—the only man right now who can mount a credible argument to beat the greatest marathoner of all time. Last fall, Bekele ran 2:01:41 in Berlin—two seconds off Kipchoge's world record. Soon after, Kipchoge ran the unofficial 1:59:40 in Austria and we forgot how close Bekele was to holding the 5000m, 10,000m and marathon world records at the same time. Kipchoge will have no problem dealing with postponement because literally nothing has disrupted Kipchoge's reign. Bekele's results have been mercurial. A near world record mixed in with DNFs, DNSs and a 2:08. His form, if the two meet again, is not guaranteed. All of these potential match-ups and milestones are about timing. The idea that two, or more, athletes' careers intersect at the exact moment, in the exact race to produce something special. This spring and summer looked to be that moment for Kipchoge and Bekele.
I wanted to see a rehashing of the women's 400m hurdles starring Dalilah Muhammad and Sydney McLaughlin. Last year, Muhammad broke the world record twice, the latter coming in Doha where she held off a late push by McLaughlin. But McLaughlin did beat Muhammad twice. Add in the fact that she's only 20 years old and the results could be reversed. A classic race between them in Eugene and again in Tokyo was inevitable. A time under 52 seconds even seemed possible. And both of them on the 4x400m with two other strong U.S. 400m runners and that world record could have gone as well.
I wanted to see if the women's 400m from Doha was an aberration. You remember that one, when Salwa Eid Naser not only upset Shaunae Miller-Uibo, but she ran 48.14 to do it. Miller-Uibo ran a stupidly fast 48.37 and was still not close at the finish. Every championship race with Miller-Uibo is interesting…..the dive vs. Allyson Felix in 2016, her stumble out of the medals in 2017 and then the 48.37 in a losing effort in Doha. Could the two have pushed each other to something under 48 seconds? Or, would it be the outlier race of this 400m, much like 2015 women's 200m in Beijing when Dafne Schippers and Elaine Thompson ran the race of their lives at the World Championships?
Speaking of Felix, I wanted to see if she would make her fifth Olympic team. The U.S. women's 400m field looked open enough that it seemed like a possibility. Another year gives her more time to prep after she missed most of the last two seasons after the birth of her daughter. But another year also gives more time for a new name, or names, to emerge in an event that skews young.
I wanted to see what events Sifan Hassan decided on racing. She took the crappy schedule last year and still managed to salvage a double out of it, winning the 10,000m and the 1500m. I had a feeling that she'd do the standard 5000m/10,000m this year, but even that would have been fun. Maybe she pulls an Almaz Ayana and breaks the world record in the Olympic 10,000m?
I wanted to see two possible races between Christian Coleman and Noah Lyles in the 100m and 200m. Both clearly have their specialty, but the Olympics have a way of encouraging people to venture outside their comfort zone. The rivalry that began in 2019, only increased in interest after the finish line stare by Lyles in Shanghai and the subsequent tweets. After they teamed up to win gold in the 4x100m in Doha, the two downplayed any conflict. But even if they are best buds, this was going to be fun to watch. Coleman ran precisely one meet during the indoor season and looked just as sharp as ever. Lyles has a firm grip on the 200m and had already made clear that 2020 was going to include both events.
I wanted to see how another young American sprinter, Michael Norman, dealt with the disappointment of last year. Norman's 2019 was strange. A 43.45 in April (the sixth fastest time in history), a loss at USAs to Fred Kerley, and then an injury at the World Championships. After his run at Mt.SAC, a world record was a more likely outcome than no medal. I expected to see the 43.45 version of Norman in 2020 and with an ascendent Steven Gardiner and a rehabbed Wayde Van Niekerk this event was going to produce something special. Or in the words of Kerley last year—"somethings gonna drop."
I wanted to see Caster Semenya reinvent herself as a 200m runner. It's not by choice, but Caster Semenya was attempting something unprecedented—making the Olympic team as a sprinter after winning a gold medal in the 800m. The decision wasn't by choice. The World Athletics regulations on DSD athletes meant Semenya couldn't run anything from the 400m to the mile (i.e. any event that she's elite at) unless she takes hormones to suppress her natural testosterone levels. That left her three choices—take the hormones, run in something longer than the mile, or run in something shorter than the 400m. She settled on the 200m. Her early season races were well off the Olympic qualifying mark, (her best is 23.49) but with a 400m PR of 49.62, it wouldn't be crazy for her to run faster than the required 22.80.
And if she did, World Athletics would have learned all about the law of unintended consequences. They still might.
I wanted to see Mondo Duplantis continue his amazing 2020. Yes, Duplantis is only 20-years-old. He will not be lacking for opportunities. But will he ever be on this much of a hot streak in his career? He broke the world record during the indoor season twice and looked primed for more.
I wanted to see the next iteration of the men's 400m hurdles with Karsten Warholm, Abderrahman Samba and Rai Benjamin all gunning for Kevin Young's world record. I wanted to see what Donavan Brazier did after a flawless 2019. I wanted to see if Shelby Houlihan could get a medal in the insanely deep women's 1500m. I wanted to see more obscure things, like whether Karissa Schweizer, Elinor Purrier or any other American could get the first American medal in the 5000m. I wanted to see if the men's shot put could replicate Doha in what was one of the greatest competitions of all-time. I wanted to see Shelly-Ann Fraser-Pryce try to end her career with another gold medal (just kidding, she's going to be running longer than Bernard Lagat).
I wanted to see track and all its quirks and flaws have its once-every-four-years moment. But we will have to wait one more year.