Unlock this article, live events, and more with a subscription!
Get Started
Already a subscriber? Log In
For a year in which both the world indoor championships and the Olympic Games were postponed, 2020 has seen its fair share of world records. (Of course, one could argue that those events being postponed aided in world record achievement, particularly in the cases of Joshua Cheptegei and Letesenbet Gidey.) A season with so much history has begged a question: which among these world records is the best?
Particularly on the men's side that question has been heavily debated as the sport tries to somehow decide an athlete of the year between the otherworldly exploits of Cheptegei and Mondo Duplantis. Fortunately, we have at our disposal an objective measuring stick in the form of the World Athletics scoring tables, which allow for comparison across events.
Here's how the tables broke down the world records from 2020. (Note: I did not include Cheptegei's 12:51 road 5k record or the hour run marks by Mo Farah and Sifan Hassan, as there are no tables for those events.)
1. Men's indoor pole vault ( Mondo Duplantis - 6.18m, 1317 points)
Not only is Mondo Duplantis's 6.18m pole vault world record from February the highest rated record of 2020, but his additional clearances of 6.17m (1314) and 6.15m (1308) are also worth more points than any other performance this season. As magnificent as Cheptegei has been, Mondo's case for athlete of the year is clear.
6.18m! Mondo Duplantis breaks the world record AGAIN pic.twitter.com/dnvxNOzAAx

— FloTrack (@FloTrack) February 15, 2020
2. Men's 10,000m (Joshua Cheptegei - 26:11.00, 1306 points)
At 1306 points, Cheptegei's 26:11.00 10,000m world record is, per the scoring tables, the greatest distance running world record ever. While an argument could be made that Rudisha's 1:40.91 (1302) is much more significant given the stage it was run on, the equivalent to Cheptegei's run would be 1:40.78 for 800m.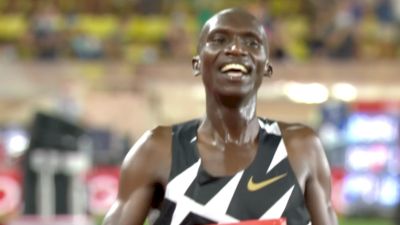 Unlock this video, live events, and more with a subscription!
Get Started
Already a subscriber? Log In
3. Men's 5,000m (Joshua Cheptegei - 12:35.36, 1302 points)
Although Paul Chelimo told us that he and Mo Farah once discussed the 5,000m world record as being tougher than the 10,000m, the scoring tables disagree, even after Joshua Cheptegei lowered both marks in 2020. It sure feels like 12:35.36 could last as long or longer than Bekele's 12:37.35 (16 years-plus), but the 10,000m may just outlive them both.
4. Women's Half Marathon (Ababel Yeshaneh - 64:31, 1283 points)
No person did more with just one performance in 2020 than Ethiopia's Ababel Yeshaneh, who beat Brigid Kosgei in smashing the women's half marathon world record in February in 64:31. The 29-year-old, who finished more than six minutes behind Kosgei in the Chicago Marathon last fall, got a dose of revenge when she beat the Kenyan by 18 seconds in Ras al Khaimah. The 1283 points from that performance equates to a 2:15:15 marathon-- a stretch to be sure, but certainly indicative of Yeshaneh's greater potential in the longer distance going forward.
5. Women's 5,000m (Letesenbet Gidey - 14:06.62, 1269 points )
Despite the fact that the women's 5,000m record lasted for more than 12 years, it's a relatively weak mark when compared to its steeplechase and 10,000m counterparts. At 1269 points, 14:06.65 equates to an 8:50 3,000m steeple and 29:37 10,000m, well behind the 8:44 and 29:17 world records.
6. Women's indoor triple jump (Yulimar Rojas - 15:43m, 1265 points)
Yulimar Rojas has set herself up to be an all-time great in the triple jump by winning four global titles before her 23rd birthday, and the Venezuelan's 15.43m world record jump indoors in February represented the best mark of her career. But the scoring tables view the women's triple jump record as comparatively weak relative to its 2020 female counterparts, as 1265 is equivalent to a 14:08.76 5,000m and a 65:13 half.
Yulimar Rojas has world record hops: 15.43m triple jump in Madrid pic.twitter.com/Hh0I93qG0T

— FloTrack (@FloTrack) February 21, 2020