Jepchirchir & Kiplimo Take World Half Titles In Fast Races
Jepchirchir & Kiplimo Take World Half Titles In Fast Races
A dramatic women's race and an upset win in the men's capped off Saturday's World Half Marathon Championships in Gdynia, Poland.
Oct 17, 2020
by David Monti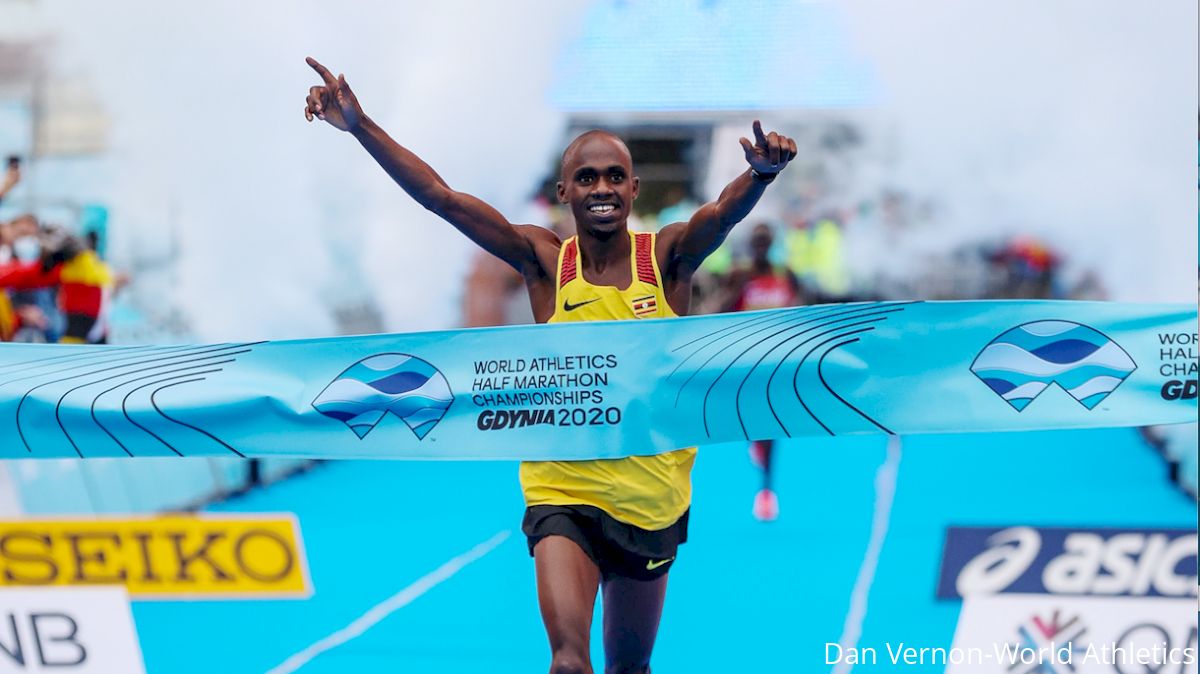 (c) 2020 Race Results Weekly, all rights reserved
(17-Oct) -- In what was decidedly a good day in a bad year for road running, Kenya's Peres Jepchirchir and Uganda's Jacob Kiplimo took the gold medals at today's World Athletics Half-Marathon Championships in the Polish seaside city of Gdynia about 21 kilometers north of Gdansk. Jepchirchir, 27, earned her second world title in the half-marathon discipline and broke her own women-only world record by 16 seconds in 1:05:18. Kiplimo, just 19, won his first global title setting a championships and Ugandan record of 58:49. The team titles went to Ethiopia (women) and Kenya (men), and both individual champions earned $30,000 in prize money (Jepchirchir also earned a $50,000 world record bonus).
WOMEN FAST FROM THE GUN
Reigning TCS New York City Marathon champion Joyciline Jepkosgei of Kenya bolted from the start and immediately set a fast pace for the women. Although the streets were a little wet from an early morning rain, Jepkosgei zipped through the first kilometer in 3:07, putting the field on pace to run sub-66:00. Another dozen women joined Jepkosgei, including her teammates Peres Jepchirchir, Dorcas Kimeli, Rosemary Wanjiru and Brillian Kipkoech, and the entire Ethiopian team of Zeineba Yimer, Netsanet Gudeta, Ababel Yeshaneh, Yalemzerf Yehualaw, and Sisay Gola. Yasmin Can of Turkey, Melat Kejeta of Germany, and Lonah Salpeter of Israel rounded out the leading group.
Jepkosgei kept the pace high, hitting the 5-kilometer mark in 15:20, and lowered the projected finish time to under 65 minutes, well inside the women's only world record of 1:05:34 set by Jepchirchir in Prague last month.
With such a fast pace, the pack soon began to thin. By the 8-kilometer mark three Kenyans --Kimeli, Kipkoech, and Wanjiru-- fell off the pace, as did Gola of Ethiopia and Salpeter of Israel. The leaders, however, remained bunched together (Jepchirchir kept gesturing to her Ethiopian rivals to stop clipping her heels), and soon the race saw its first accident. Running on the downhill section of the 5440-meter loop towards the water in the 9th kilometer, Gudeta tripped trying to make the sharp left turn to the road along the seafront. Gudeta, the defending champion, hit her left knee hard and scraped both her hands. Although she bounced up quickly, she had lost valuable time and was five seconds back when the leaders hit the 10-kilometer mark in a blistering 30:47.
Seven women now remained in contention for the podium: Can, Jepkosgei, Yeshaneh, Yimer, Jepkorir, Yehualaw, and Kejeta. The big surprise was that Kejeta, with only a 1:08:41 personal best, was still in contention. Her best 5000m track time was 16:06, and she just ran back-to-back 5-K's in 15:21 and 15:26, respectively.
In the 14th kilometer, Jepkosgei surged again but failed to drop a single rival. The group of seven came back together again and went through 15-K in 46:24. They had slowed to 15:38 for the last 5-kilometer section.
Moments later, disaster struck. In the 18th kilometer Jepkosgei and Yeshaneh tangled legs and both women fell to the pavement. Yeshaneh, the world record holder with a 1:04:31 personal best, fell hard landing on her right shoulder.
"That fall has just opened up the race completely," said Olympic marathoner Mara Yamauchi who was providing color commentary on the world feed.
Indeed, the lead pack fell apart leaving only Jepchirchir, Yehualaw and Kejeta in contention for the medals. The sun had come out, and as the trio headed towards the waterfront for the fourth and final time the finish order seemed settled: Jepchirchir followed by Yehualaw and Kejeta.
But as the three women made the slight right turn onto the carpeted finish straight built on a platform on the beach, Yehualaw lost traction due to the surface change and slipped. Although she did not fall, her momentum was interrupted just enough for Kejeta to pass her and take the silver medal in 1:05:18, a new European record for an all-women's race. Yehualaw got the bronze in a personal best 1:05:19.
"I'm feeling good," said Jepchirchir in her post-race interview. "I thank God for the energy he has given me today. It's unbelievable; I was not expecting it (a new world record) but God planned for me."
Yimer finished fourth (1:05:39) and Yeshaneh was fifth (1:05:41). With the top-3 from each team scoring on total time, that gave the Ethiopian women the team title in 3:16:39 ahead of the Kenyans (3:18:10) and Germany (3:28:42). Gudeta, the defending champion, ended up eighth. Jepkosgei, who had done so much of the leading, finished sixth. In all, 101 women finished the race.
MEN START SLOW BUT FINISH FAST
The men's race got off to a conservative start, with the first kilometer passing in just 2:54, slower than in the world's top marathons. Thirty-five men were within two seconds of the nominal leader, Aras Kaya of Turkey, at the 5-kilometer mark which was passed in 14:19. That put the field on pace to run about 60:30.
But the pace would heat up soon enough. Kibiwott Kandie of Kenya, the fastest man in the field with a 58:38 personal best, launched little breakaways in the sixth and eighth kilometers just to shake up the field. Those actions brought the pack down to a more manageable 23 at the 10-K mark (28:23). Kandie again pushed in the 12th kilometer, but this time it was different. This time the pace remained high and athletes began to fall out of contention. The group hit 15-K in 42:17, and with the third 5-K segment covered in 13:54 only 11 men remained in contention.
Among that group were two Ugandan track specialists, Joshua Cheptegei and Jacob Kiplimo. Cheptegei, who set world records this year at 5000m and 10,000m, was making his half-marathon debut today and was content to stay within the pack. Kiplimo, just 19, had only run one half-marathon, but it was only a national-class race in Uganda and he had never really been tested at the distance.
In the 16th kilometer, Kandie put in yet another surge and this time the pack was broken for good. Both Cheptegei and Kiplimo covered the move as did Ethiopia's Amedework Walelegn. Kiplimo looked confident and relaxed.
"He still looks cool as a cucumber," said commentator Tim Hutchings on the world feed.
About 50 minutes into the race, Kiplimo began to pull away from Kandie who would have to settle for second place. Cheptegei, who was in third, was passed by Walelegn and had to settle for fourth at the finish. Nobody else was close enough to catch up.
Running along the seafront to the finish, Kiplimo maintained his pace and cruised to the finish in 58:49, a new championship record. Kandie crossed second in 58:54 becoming the first man ever to run three sub-59:00 half-marathons in the same year. Third went to Walelegn in 59:08, a personal best.
"After five kilometers I know I was going to win," an elated Kiplimo said in his post-race interview while wearing a surgical mask. He continued: "It was great to win."
Down the finish order, Cheptegei made and excellent debut in 59:21, and Andamlak Belihu of Ethiopia (59:32) rounded out the top-5. The top European was Morhad Amdouni of France who set a national record of 59:40 in eighth place.
The team title went to Kenya in 2:58:10, a scant 15 seconds ahead of Ethiopia (2:58:25). Uganda was a close third in 2:58:39.
In all, 117 men finished the race.