Event Records Smashed At Delhi Half Marathon
Event Records Smashed At Delhi Half Marathon
Ethiopians Amdework Walelegn and Yalemzerf Yehualaw broke event records on Sunday in the Delhi Half Marathon.
Nov 29, 2020
by David Monti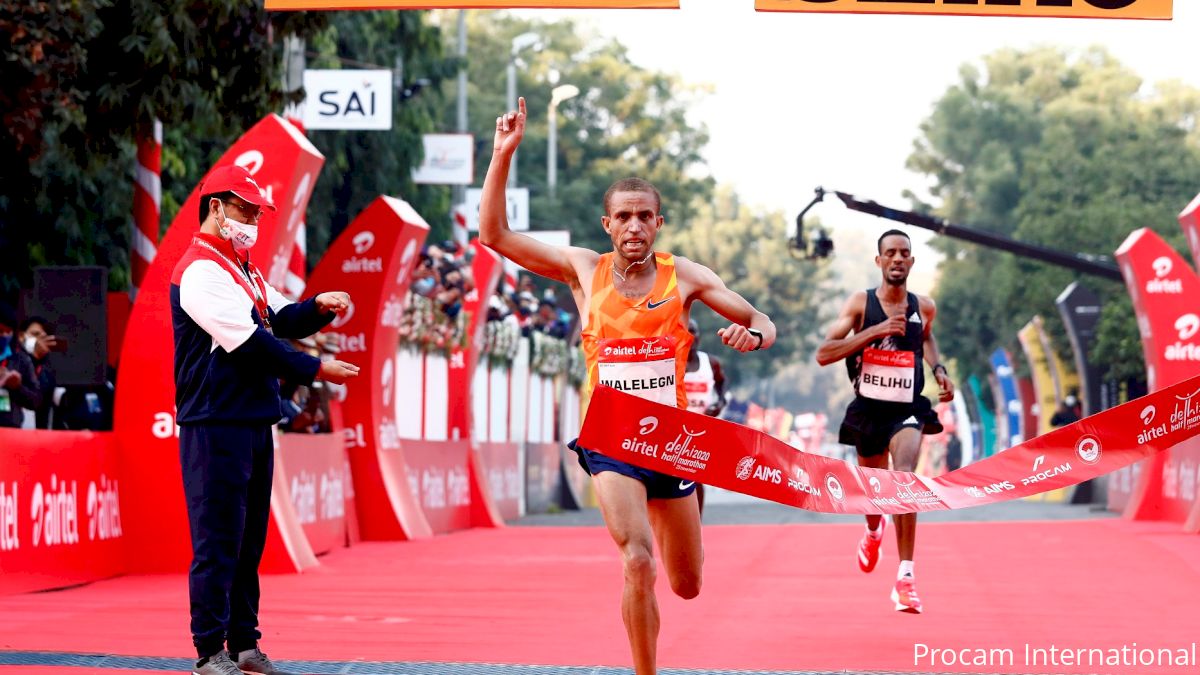 (c) 2020 Race Results Weekly, all rights reserved
(29-Nov) -- In exciting head-to-head races, today's 16th Airtel Delhi Half-Marathon saw the fastest times ever recorded in India, and some of the best half-marathon marks in history. Men's champion Amdework Walelegn of Ethiopia clocked 58:53, just one second up on compatriot and two-time defending champion Andamlak Belihu, while women's champion Yalemzerf Yehualaw, also from Ethiopia, clocked 1:04:46, the second-fastest half-marathon in history for a woman on a record-eligible course. Both winners earned USD 37,000 in prize money and course record bonuses.
The men's race went off first at this elite-only event (the mass race was virtual). Three pacemakers took the field through 3 km in 8:22 and then 5 km in 13:57, well under 59-minute pace. Belihu was always at the front. The strongest pacemaker, Uganda's Abel Sikowo, pushed the leaders through 8 km in 22:17 and then 10 km in 27:50 with eight men still in contention. After Sikowo dropped out at 12 km, Kenya's Leonard Barsoton was the de facto leader, and 15 km was reached in 42:00 with eight men still fighting for the win.
The pack would dwindle to six by 18 km: Belihu, Walelegn, Muktar Edris (ETH), Tesfahun Akalnew (ETH), Barsoton, and Stephen Kissa (UGA). By the 20-K checkpoint, only three were left: Belihu, Walelegn and Kissa. About 100 meters later, Walelegn made a hard surge, but neither Belihu nor Kissa would be dropped. In fact, Kissa put in his own surge and held the lead for about 300 meters, cutting between the two Ethiopians.
But Walelegn had more left in the tank. He pushed forward to catch Kissa and brought Belihu with him. Belihu, who hoped to "three-peat" here, could not catch Walelegn and had to settle for second, missing victory by only one second. Kissa finished third in 58:56, only seven seconds short of the Ugandan national record.
"I had a few bad patches, but in the final kilometer I felt strong," Walelegn told race organizers. "I was second in Delhi in 2018 and this is a much faster course which has less sharp turns.
Belihu was disappointed not to win.
"I have to be happy as I ran a personal best," he said. "After the pacemaker dropped out I pushed the pace but I think this might have left me with a bit less energy when we sprinted in the last kilometer."
The women's race came next and started at a blistering pace right from the gun with the benefit of male pacemaking. Six women – three Kenyans: Irene Cheptai, 2019 world marathon champion Ruth Chepngetich and marathon world record holder Brigid Kosgei; and three Ethiopians: two-time defending champion and event record holder Teshay Gemechu, world record holder Ababel Yeshaneh and Yalemzerf Yehualaw – followed the pacer through 5 km in 15:27.
Kosgei was the first casualty. The recently-crowned Virgin Money London Marathon champion was seen limping off of the course in the eighth kilometer holding her leg. She did not finish. Gemechu was next to lose contact, and would eventually finish fifth. That left Chepngetich, Cheptai, Yehualaw, and Yeshaneh together through 10 km in a very hot 30:49. Five kilometers later, Cheptai had fallen off leaving the three podium finishers established. But what would be the order of finish?
The male pacemaker, Alex Kibarus of Kenya, was still with the top women and the pace became too fast for Cheptai and Yeshaneh. Yehualaw stayed with Kibarus until he dropped out with about two kilometers to go, then she ran alone to the finish from there.
"My training since the world championships told me that maybe I could break the course record as I ran 65:19 there, but this was more than I expected," said Yehualaw who won the bronze medal at the World Athletics Half-Marathon Championships in Poland last month. "I hoped for a win here after just losing by a second a year ago."
Chepngetich got second in 1:05:06 and Yeshaneh third in 1:05:21.
The Airtel Delhi Half-Marathon is a World Athletics Gold Label Road Race, one of the few which has been contested since the onset of the global pandemic in March.