2021 Virgin Money London Marathon
Jepkosgei, Lemma Take Virgin Money London Marathon Wins
Jepkosgei, Lemma Take Virgin Money London Marathon Wins
Joyciline Jepkosgei and Sisay Lemma both won their first London Marathon on Sunday.
Oct 3, 2021
by David Monti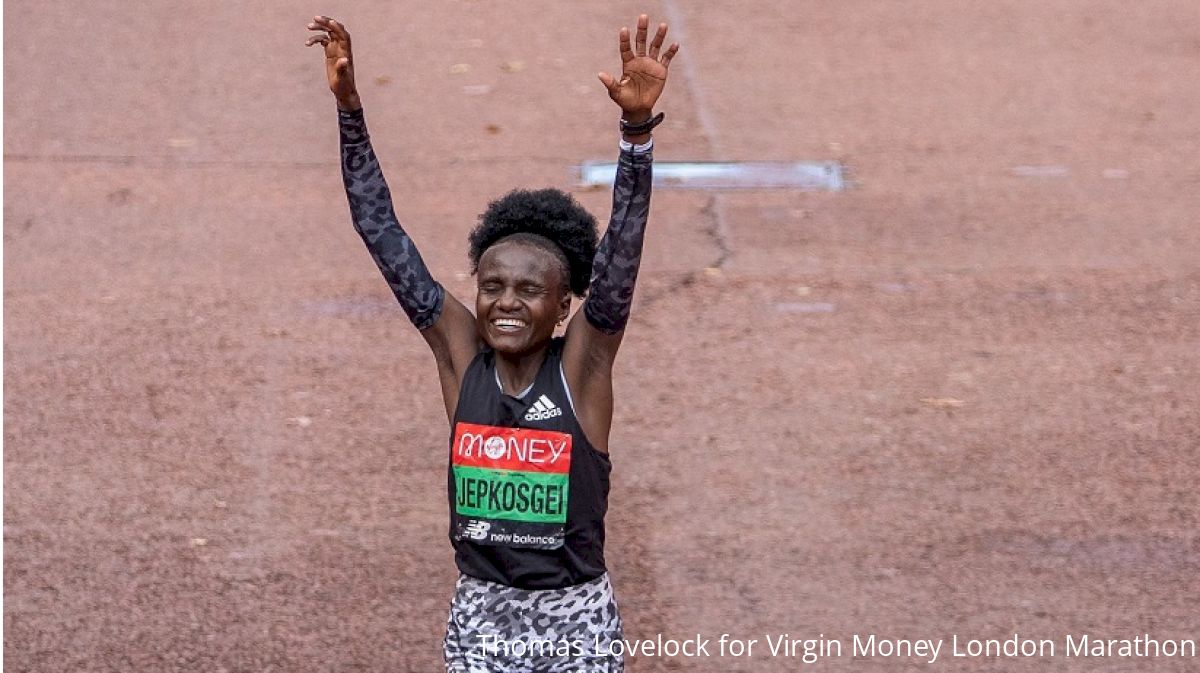 The second-ever fall edition of the Virgin Money London Marathon today ended with victories for Kenya's Joyciline Jepkosgei and Ethiopia's Sisay Lemma, both first-time winners. Jepkosgei, who won the 2019 TCS New York City Marathon in her debut, controlled her effort carefully before dropping the field with a 4:56 24th mile to win in a personal best 2:17:43. Lemma also made a late-race surge just before 40 kilometers to win going away in 2:04:01.
While there were no world or event records today, the depth in the women's race at the top end was astonishing. Five women broke 2:19:00 for the first time in history in one race: Jepkosgei, Degitu Azimeraw (ETH) 2:17:58, Ashete Bekere (ETH) 2:18:18, Brigid Kosgei (KEN) 2:18:40, and Lonah Chemtai Salpeter (ISR) 2:18:54. Kosgei, who won the Olympic silver medal in Sapporo on August 7, was the race's two-time defending champion.

In addition to their prize money and appearance fees, the top five women won a combined USD 395,000 in time bonuses. Jepkosgei, who won a USD 100,000 bonus for sub-2:18, would have received USD 50,000 more had she run 14 seconds faster. Still, her total payday including prize money was USD 155,000 not including her appearance fee, any personal bonuses her manager negotiated with race organizers, and any performance bonuses she might receive from her kit sponsor, adidas.

The men, who ran slower in relative terms, did not enjoy such a generous windfall. The top three earned a total of USD 150,000 in time bonuses, USD 50,000 each for breaking 2:05:00.

SENSIBLE START HELPED THE WOMEN

Race organizers had contracted three pacemakers to lead the first group of the elite women-only race this morning, and asked those women --Kenya's Irine Kimais, Judith Jeptum, and Betty Lempus-- to run at a 2:17-flat pace, targeting Mary Keitany's world record of 2:17:01 for an all-women's race. But the contenders let those pacers go, and were instead shepherded by the second group pacer, Ethiopia's Tsehay Gemechu, who led a dozen women through halfway at a more moderate 1:08:51. That group -- Ethiopians Azimeraw, Bekere, Zeineba Yimer, Roza Dereje, Alemu Megertu, Tigist Girma and Birhane Dibaba; Kenyans Jepkosgei and Kosgei; and Israeli Salpeter-- mostly stayed together through 25 km (1:21:19).

But by 30 km (1:37:29) the lead group was down to five: Azimeraw, Bekere, Jepkosgei, Kosgei and Salpeter. The pace had picked up, and the leaders were now on pace for 2:17:06 according to the official race tracker.

Soon, the first big casualty of the day was realized. Kosgei, perhaps still feeling some fatigue from the Olympic Marathon drifted off the back. In the official splits, she was only two seconds behind at 35 km, but she quickly faded from that point. Jepkosgei, Bekere, Azimeraw and Salpeter all remained in contention.

Just past 35 km, Jepkosgei made her bid for victory. She accelerated and within 1500 meters had an eight-second lead over Azimeraw. From there, she was never seriously threatened, although she was clearly suffering in the final 200 meters on the Mall. Her time was the fourth-fastest winning time in race history.

"London is the best race in the world and this is my greatest achievement," Jepkosgei was quoted by World Athletics. "I prepared very well in my training and I just kept my focus and tried to avoid any mistakes."

Back in tenth place, Charlotte Purdue was the first British athlete to finish, running a two-minute personal best of 2:23:26. She simultaneously qualified for the marathons at all three major championships next summer: Commonwealth Games, Europeans and Worlds.

"When adversity is only the the beginning," Purdue posted on her Instagram referring to the British Athletics decision to leave her off of the Tokyo Olympic Team.

LEMMA BIDES HIS TIME

Lemma, who had never won an Abbott World Marathon Majors event before, spent most of the race at the back of the lead pack, content to let the pacemakers and his rivals do the leading. Indeed, at every five-kilometer checkpoint through 35 km Lemma was running no higher than fifth place.

Meanwhile, defending champion Shura Kitata of Ethiopia immediately lost touch with the leaders and ran the entire race alone, finishing sixth in 2:07:51 his left knee strapped with tape. His time was surely fast enough to pick up his full appearance fee (most top races require a minimum time for full payment of appearance fees).

After the three pacemakers --Kenyans Benard Ngeno, Barnabas Kiptum and Sila Kiptoo-- took the leaders through halfway in a not-too-fast 1:01:25, Kenya's Titus Ekiru was the first to run into trouble. Swiveling his head back and forth to see who was around him, the 2019 Honolulu Marathon champion stopped at about 28 km. After a brief pause, he restarted, but quickly stopped for good.

From there, Vincent Kipchumba did most of the leading. The tall and broad-shouldered Kenyan, who finished second in London last year, seemed in control but it was actually Lemma who was in command. Still at the back of the lead pack at 35 km, Lemma used the 14:59 split for that segment as a springboard to come to the front then leap ahead.

"He is streaking away from Kipchumba and Geremew!" exclaimed commentator Rob Walker on the event's world feed broadcast.

Kipchumba and Ethiopia's Mosinet Geremew gave chase, but Lemma --whose form looked crisp-- eased away. He had a nine-second lead by 40 km, which grew to 27 seconds by the finish. Kipchumba again got second (2:04:28), and Geremew third (2:04:41). Fourth place went to Kenya's Evans Chebet in 2:05:43, while the highly-regarded Ethiopian Birhanu Legese, the third-fastest man in history, faded to fifth in 2:06:10.

After the race, Lemma did not speak to the media nor pose for photos. According to World Athletics, he was hustled out of the finish area by race organizers as part of their COVID protocols; Lemma had been in close contact with Kinde Atanaw, another Ethiopian athlete who had tested positive on Friday for COVID-19 and was forced to drop from the race. Although Lemma tested negative and was permitted to start, he was immediately returned to the athletes hotel today as a further precaution. His manager, Gianni Demadonna, playfully stuck Lemma's presentation bib on his chest and mounted the winner's podium.

"Today an unbelievable day for our agency; thanks to all," Demadonna posted on his Twitter account.

The top British finisher was track specialist Philip Seseman who came home seventh in 2:12:58 in his debut.

Today's race had about 40,000 starters which were released in 1000-runner waves to avoid crowding, one of the race's many anti-COVID protocols.

The Virgin Money London Marathon has been held every year since 1981. Today's race was the 41st running.