2021 Chicago Marathon
Chepngetich, Tura Win Warm and Windy Chicago Marathon
Chepngetich, Tura Win Warm and Windy Chicago Marathon
Ruth Chepngetich and Seifu Tura took home the titles at the 2021 Chicago Marathon.
Oct 10, 2021
by David Monti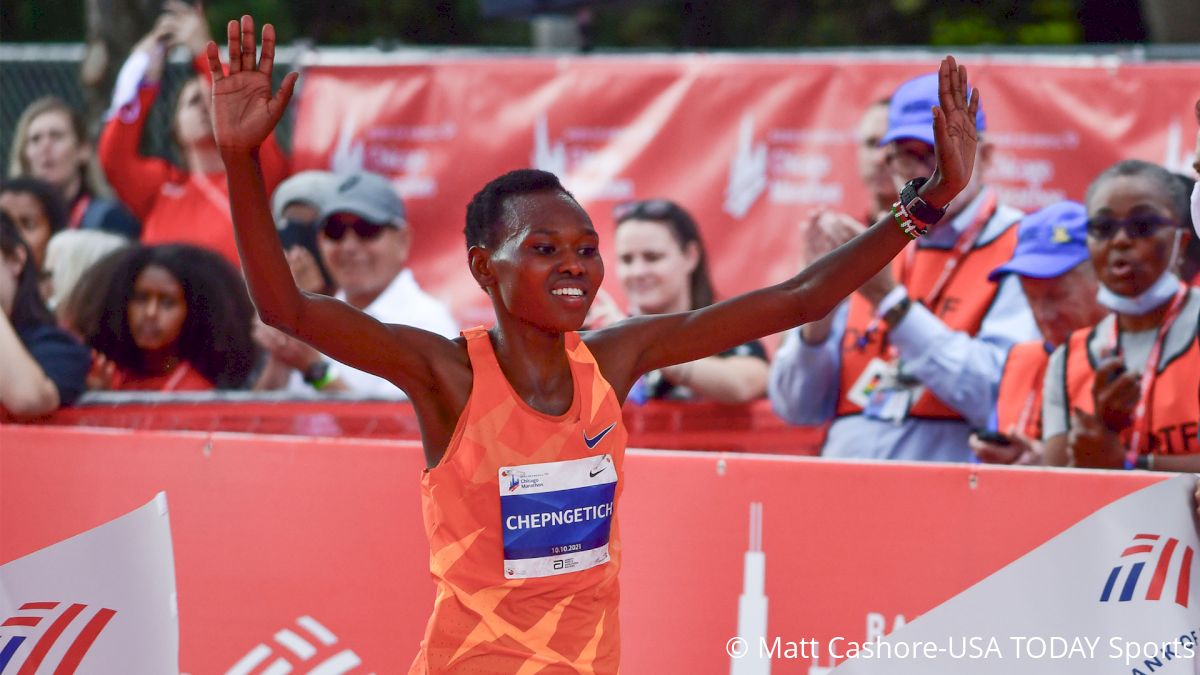 On a too-warm and windy morning in Chicago, Kenya's Ruth Chepngetich and Ethiopia's Seifu Tura ran to victory at the Bank of America Chicago Marathon, the first in-person edition of an Abbott World Marathon Majors event to be held in the United States in nearly two years. Their winning times of 2:22:31 and 2:06:12 were solid, but not dazzling. Mid-race temperatures of 75F/24C accompanied by sometimes strong winds made fast running difficult. Both winners earned USD 55,000 in prize money.
CHEPNGETICH BLASTS AWAY FROM THE START

Chepngetich, the 2019 World Athletics marathon champion, made her intentions clear right from the gun. Leaving the other women behind, she flew through the first 5 kilometers in a blazing 15:37, sub-2:12 pace. Another Kenyan, Vivian Jerono Kiplagat, was just five seconds behind, but by 10 km (31:22), Kiplagat was 27 seconds back and Chepngetich was still on pace for a 2:12 finish time. Less then 10 minutes later, Chepngetich dropped her only male pacemaker who couldn't handle the pace and had to drop out.

From there, Chepngetich raced through the streets of Chicago mostly alone. From time to time she was able to latch on to some male competitors, like a hiker jumping between stones while crossing a river. Although outside of world record pace by halfway (1:07:34), she was still on track for a fast time.

"The race was good, it was nice, but it was tough," Chepngetich said in the post-race press conference. "To push alone was not easy."

Indeed, the second half wasn't kind to the petite, 27 year-old who wears her hair cropped short. Her pace slowed through each passing 5-kilometer checkpoint. Although she had the race well in hand --her nearest rival was two and a half minutes back at 40 km-- she was clearly suffering, just trying to finish.

"This is a painful way to run a marathon," observed Olympian Kara Goucher on the NBCSN broadcast.

Chepngetich pushed herself up the race's only significant hill (with 400 meters to go), made the left turn for the final finish straight, and won easily. This was her first-ever race in the United States.

"This is my first time in United States and I must say I am happy for the win today," Chepngetich said.

The race for second was a spirited affair between two Americans, Emma Bates and Sara Hall. Hall, 38, had come to Chicago with hopes of challenging Deena Kastor's 2006 American record of 2:19:06, but she and husband/coach Ryan Hall shelved those plans when they realized that the weather wasn't going to cooperate.

"She was always more excited about winning the race than setting the American record," Coach Hall said during the NBCSN broadcast.

Hall, with a small group of men helping to pace her, was securely in third place at halfway in 1:11:37. Her top American rival, Keira D'Amato, was about 30 seconds back, while Bates was back in sixth place, 50 seconds behind. Hall said she was feeling the impact of the heat.

"You never know in these races," she said at the post-race press conference. She added: "I was trying to stay hopeful out there."

Meanwhile, Bates checked her halfway split (1:12:27), and felt like she needed to up her pace. She wasn't sure where she stood in the running order.

"I was getting a little nervous," she said because she couldn't see the other women in front of her. "I needed to pick it up."

Thus began the best second half of a race in Bates's career. By the 25-K mark, she was in fourth place, 39 seconds behind Hall, a gap which fell to 15 seconds by 30-K. Between 30 and 35 km, Bates passed Hall and was only half a minute behind Kiplagat. She was getting revved up by the cheers of the crowds.

"Having all those people lining the streets again gave me the energy to push on," Bates said.

Kiplagat was struggling, and Bates passed her with authority before 40-K. At that point she was solidly in control of second place, and wasn't challenged in the final two kilometers. She crossed the line in a personal best 2:24:20 on the back of a 1:11:53 second half and enjoyed her first podium finish at an Abbott World Marathon Majors event. She had been fourth in Chicago in 2019.

"To be able to not only podium but PR today was incredible," said Bates, 29, who admitted that she was dealing with hamstring and quadriceps cramps from about 16 kilometers. She also said that doing most of her training alone in Boulder, sometimes accompanied by her coach Joe Bosshard on a bicycle, helped her.

Hall came home third and wobbled on her feet after crossing the line in 2:27:19. She was proud of her race, and said that the American record was still on her agenda for the future.

"Absolutely, yeah," she told reporters. She added: "I knew that today wasn't the day to do that. I would have to be in sub-2:18 shape to try and do that today."

D'Amato (2:28:22) finished fourth and Kiplagat got fifth (2:29:14). In her debut, American Sarah Pagano finished eighth in 2:33:11.

TURA WINS WITH LATE-RACE CHARGE

The men's race was more of a classic race of attrition. Although the race went out very fast (14:36 for the first 5 km and 29:15 for 10 km), the contest settled down after the lone pacemaker dropped out after 15 km. A lead pack of seven formed: Kenyans Reuben Kipyego and Erick Kiptanui; Ethiopians Shifera Tamru, Seifu Tura, and Chalu Deso; American Galen Rupp; and Japanese Kengo Suzuki. They reached halfway in a good 1:02:29, but the pace had been slowing down since the pacemaker left. That was fine with Rupp.

"It's about winning and competing first and foremost," observed Rupp in the post-race press conference who was under national record pace at that point.

The seven-strong lead pack stayed together through 30-K before the race began to break up. Tura pulled Rupp and Kiptanui away from the four others, and the trio had a 29-second lead over Suzuki by 35-K. These would be the three men for the podium, but in which order? Tura gathered his energy and his thoughts and knew what to do.

"Sometimes in the race a development like this happens," he said through a translator. "I was prepared to fight to the end and do my best."

Kiptanui started to fade, and would have to settle for third in 2:06:51. Rupp did his best to stay with Tura, but the Ethiopian was full of running. Rupp was just nine seconds back at 40-K, but Tura was speeding up.

"Seifu ran unbelievable," Rupp said. "He definitely started to push and I was doing everything I could."

At the bottom of the little climb before the finish, Rupp was 15 seconds back and there just wasn't enough time left to close the gap. Tura, who checked his watch frequently, won in 2:06:12 to Rupp's 2:06:35. Khalid Khannouchi's 2:05:38 American record from London in 2002 remained intact. Rupp still sees that as a goal.

"Of course I want to get the AR one of these times," Rupp said. He continued: "It's all about that one day. There are a lot of variables which are out of your control. A lot of things have to go right."

Suzuki, the Japanese record holder, got fourth in 2:08:50 and and Tamru --who had done a lot of the early leading-- finished fifth in 2:09:39.

The wheelchair titles went to two Americans, Daniel Romanchuk and Tatyana McFadden. Romanchuk pulled away from main rival Marcel Hüg of Switzerland, on the final climb to win by one second in 1:29:07. McFadden dominated the women's race, winning by over a minute in 1:48:57. It was her ninth Chicago Marathon victory.