2023 Tokyo Marathon
Gelmisa and Wanjiru Win In Tokyo, Levins Breaks Canadian Record
Gelmisa and Wanjiru Win In Tokyo, Levins Breaks Canadian Record
Ethiopia's Deso Gelmisa and Kenya's Rosemary Wanjiru won the 2023 Tokyo Marathon, while Cam Levins broke the Canadian, and North American, record.
Mar 5, 2023
by David Monti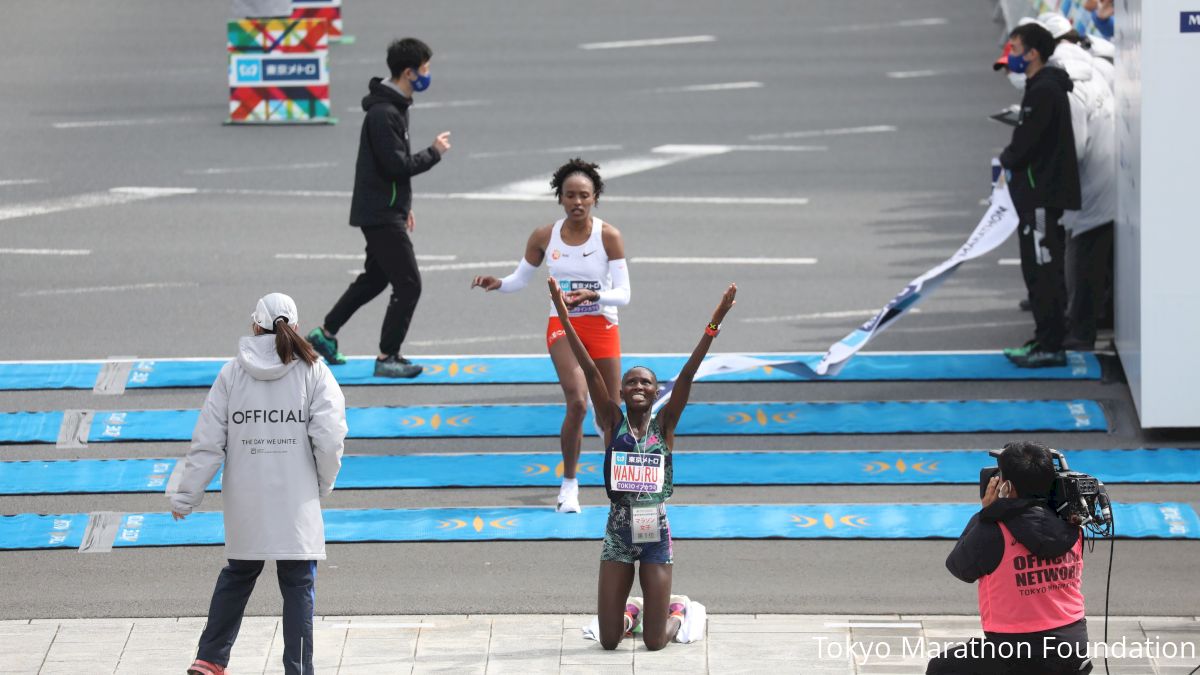 Ethiopia's Deso Gelmisa and Kenya's Rosemary Wanjiru won today's 43rd Tokyo Marathon, prevailing in suspenseful and fast races. Gelmisa, 25, eked out his victory in a three-man sprint, just edging compatriots Mohamed Esa and Tsegaye Getachew Kebede in 2:05:22. Wanjiru, 28, won in a classic race of attrition, running solo from 40 kilometers to the finish and breaking the tape in 2:16:28, the second-fastest time ever by a woman in a Japanese marathon.
Both races started out aggressively, and on the men's side a staggering 60 men ran the first 10 kilometers in under 30 minutes (2:06:35 pace). At the front, three Kenyan pacemakers -- Ledama Kisaisa, Amos Kurgat and Benard Kimeli-- recorded an official split of 29:21, on pace for a 2:03:51 finish. That was faster than race organizers had requested, targeting the Japanese national record of 2:04:56 set by Kengo Suzuki in Otsu in 2021.
Gelmisa was part of the early lead pack, but stayed tucked in. Other prominent athletes included Ethiopia's Sisay Lemma, Uganda's Stephen Kissa, Canada's Cam Levins, and Japan's Hiroto Inoue.
The three pacers kept up the hot tempo through halfway (1:02:07), and there were still 33 men within five seconds of the leaders. Kisaisa was the first pacer to drop out (just before 25 km) while Kurgat and Kimeli stayed in until 30 km. At that point (1:28:39) the lead pack was still on pace for a fast time, in the range of 2:04:41, still under Suzuki's record. Inoue, Suguru Osako, Kenya Sonota, and Ichitaka Yamashita were all still in position to break that mark.
With the pacers out, the pace began to slip and the athletes began to turn their attention to racing each other instead of the clock. Inoue, Osako, and Sonota were having trouble keeping up (Osako was seen rubbing out a stitch on his right side). Before 40 km there were still too many men in contention, so Kenya's Titus Kipruto put in a surge to break up the race. His move cut the lead pack to just six: Kipruto, Gelmisa, Esa, Levins, Getachew Kebede, and Deme Tadu Abate. Yamashita was 16 second back and was pulling away from Osako.
In the final meters Kipruto, Levins and Abate were out of contention for the win, leaving Gelmisa, Esa and Getachew Kebede to fight it out in the final sprint. Gelmisa had the center of the roadway, but as he sprinted for the tape he angled to his right to make it harder for Esa to get a good line to the tape. In the end, Gelmisa crossed first, but Esa was given the same time (2:05:22). Getachew Kebede got third in 2:05:25, Kipruto fourth in 2:05:32, and Levins fifth in a new North American record of 2:05:36. Levins took down Khalid Khannouchi's legendary 2002 record of 2:05:38 from the London Marathon.
"It was a really really tough race at the end," Gelmisa said in his post-race broadcast interview through a translator. The wind was an issue, but I'm really happy to win in my first time in Tokyo."
Although the Japanese record wasn't broken, Yamashita (2:05:51), Sonota (2:05:59), Osako (2:06:13), and Inoue (2:07:09) recorded excellent marks in seventh, eighth, ninth and tenth places, respectively. Both Yamashita and Sonota set personal bests.
Wanjiru only had the clock to race against from about 36 kilometers to the finish. It was at that point where she dropped her only remaining rival, Tsehay Gemechu of Ethiopia. Running with the upright form of a 5000-meter runner, Wanjiru scooted through the 5-kilometer segment from 35 to 40 km in just 16:03. That put Brigid Kosgei's course record of 2:16:02, the fastest time ever run on Japanese soil by a woman, within the realm of possibility. She couldn't quite get it, but her time of 2:16:28 was the second-fastest ever run by a woman in Japan, and the seventh-fastest time in history (#6 performer).
"Japan is my home," Wanjiru said, speaking Japanese in her post-race broadcast interview (she runs for the Japanese STARTS corporate team and has lived in Japan for years). As tears streamed down her face she added: "It makes me very, very happy to win here. I can't believe it."
Although she didn't win, Gemechu got a big personal best in second (2:16:56), and two more Ethiopians --Ashete Bekere and Worknesh Edesa-- took third and fourth in 2:19:11 and 2:20:13, respectively. Kenyan Olympian Betsy Saina --who now represents the United States after making a citizenship change in 2021-- finished fifth in a personal best 2:21:40. The top Japanese finisher was Mizuki Matsuda in sixth position in 2:21:44.
Another American, Lindsay Flanagan, finished eighth in 2:26:08 after being on pace for a sub-2:22 through the first 20 km. Although she didn't get a personal best, her time was under the 2024 Paris Olympic qualifying standard of 2:26:50.
Finally, 44 year-old Australian Lisa Weightman accomplished an extraordinary feat. Last Sunday, she ran a blistering 2:23:15 at the Osaka Marathon. Today, after a week of touring Japan with her husband Lachlan and her son Peter, she ran 2:31:42, good for 13th place.
"Insane after spending two days walking around Disneyland and eating junk food most of the week," her husband Lachlan joked in a message to Race Results Weekly just after the race.
The wheelchair races were won by the overwhelming favorites, Marcel Hug and Manuela Schar of Switzerland. They clocked 1:20:57 and 1:36:43, respectively.
- - - - - -
Today's Tokyo marathon kicked off the 2023 World Marathon Majors season. The next race will be the Boston Marathon on Monday, 17.
NOTE: This story was written remotely --Ed.