2023 DI NCAA Outdoor Championships
Leo Neugebauer Of Texas Breaks Collegiate Record To Win NCAA Decathlon
Leo Neugebauer Of Texas Breaks Collegiate Record To Win NCAA Decathlon
Leo Neugebauer of Texas set a number of personal-bests over the final five events to set numerous records on the way to winning the NCAA decathlon title.
Jun 9, 2023
by Joe Battaglia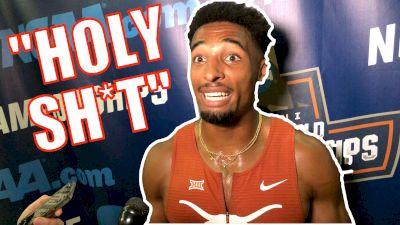 AUSTIN -- After trading leads with Kyle Garland of Georgia through the first six events, Leo Neugebauer of Texas pulled away with a number of personal-bests over the final five events to set a myriad of records en route to winning the decathlon with 8836 points in front of a home crowd on Day 2 of the NCAA Outdoor Track & Field Championships at Mike A. Myers Stadium.
Neugebauer's score broke the collegiate record of 8720 set by Garland last May. It also broke the meet record of 8457 set by Ashton Eaton of Oregon in winning the 2010 NCAA title and then equaled last year by Ayden Owens-Delerme of Arkansas, and broke his own facility record of 8457 from the Texas Relays in April.
Neugebauer also edged the German national record of 8832 set in 1984 by Jurgen Hingsen, and now ranks as the eighth-best performer in world history in the event.
"It feels amazing," Neugebauer said. "The fact that I was able to come out on top and with a record, especially here in Austin, I'm more than happy. My coach told me that (I broke the German record). That makes me the greatest of all time in the whole country – I can't even realize it yet."
ALL THE RECORDS! 🤘

German National Record ✔️
UT RECORD ✔️
NCAA RECORD ✔️
No. 8 in world history!

8,836 POINTS🔥🔥@le0thegerman is that dude!! 🤘 pic.twitter.com/dwG4KnQooB

— Texas T&F/XC (@TexasTFXC) June 9, 2023
Neugebauer, a junior, wrapped up the first day of competition with a personal-best in the 400m, concluding the first day with a five-event score of 4591 points, 21 more than Garland.
But the senior from Georgia made it abundantly clear that he will not be going down lightly.
On the first event of the second day, Garland stormed to victory in the 110m hurdles in a personal-best 13.54, picking up 1035 points to reclaim the lead with 5605. The time eclipsed the meet record for the decathlon 110m hurdles of 13.68 set by Ashton Eaton of Oregon in 2010. Neugebauer ran 14.10, good for 962 points and second-place total of 5553.
Subscribe FloTrack For More NCAA Track and Field coverage
2023 NCAA Track & Field Championships Live Updates
. @thedude0018 kicking off today with the PR (13.54) in the 110M Hurdles 😤🔥 Oh, by the way, that's also the fastest time by a Decathlete in NCAA history. 🔥

💻 ESPN+#NCAATF x @UGATrack pic.twitter.com/s5X5E7tHYm

— NCAA Track & Field (@NCAATrackField) June 8, 2023
From there, the men moved to the discus ring where Neugebauer flexed his muscle in the opening round, whipping the saucer out 55.06m/180-8, a personal best, to pick up 976 points and regain the lead with a score of 6529. The mark was also a meet record for the decathlon discus, breaking the previous mark of 53.31m/174-11 set by Lindon Victor of Texas A&M in 2017.
𝓛𝓪𝓾𝓷𝓬𝓱 𝓲𝓽 𝓛𝓮𝓸!

Neugebauer throws his PR in the discus, 55.06m 😤🤘

💻 ESPN+#NCAATF x @TexasTFXC pic.twitter.com/lyrJsW5eTD

— NCAA Track & Field (@NCAATrackField) June 8, 2023
Discus is not one of Garland's strong suits, and he managed a best mark of only 45.74m/150-1 and 782 points. His six-event total of 6387 now trails Neugebauer by 129 points, the largest lead either competitor has had.
The duel continued as action moved to the pole vault, historically a make-or-break portion of the slate, but both athletes were game.
Garland entered the competition at 4.41m/14-5.50 and needed two attempts to clear. Neugebauer entered at 4.61m/15-1.5 and also needed two attempts to get over. Garland cleared that height on his first try. Both athletes were clean over first cracks at the next two heights. With the bar raised to 4.91m/16-1.25, Neugebauer cleared his first attempt easily while Garland needed a third-attempt clearance to stay alive.
Things played out similarly at the next height, 5.01m/16-5.25. Neugebauer cleared easily and looked well on his way to padding his lead. But Garland showcased more flair for the dramatic, clearing on his final attempt to establish a new personal-best and stay alive. That raised the bar to 5.11m/16-9.25. Neugebauer sailed over on his first attempt, letting out a roar as he fell to the landing pad with a new personal-best.
Gassed by the previous two rounds, Garland could not manage to clear and exited the competition with 913 points and seven-event score of 7300. Neugebauer cleared his next height, 5.21m/17-1, on a third attempt before retiring at 5.31m/17-5. He earned 976 points, pushing his advantage over Garland to 205 points.
FIRE EM UP LEO!!

💻 ESPN+#NCAATF x @TexasTFXC pic.twitter.com/VKqlQZws9O

— NCAA Track & Field (@NCAATrackField) June 8, 2023
"The pole vault was the most emotional moment of my life," Neugebauer said. "I never cry, and I cried whenever I cleared the 5.20 bar. I ran away because I couldn't even control my body, it just wanted to take off. There definitely was a tear involved, but this just shows how much that means."
Neugebauer continued his PR tear in the javelin, establishing new bests on every throw culminating on his final attempt when he perfectly-timed his release with an approaching tailwind that carried the spear out to 57.45m/188-6, a more than four-meter improvement on his top career mark prior. Garland finished second to his rival at 55.46/181-11 but fell 30 points further behind heading into the culminating race.
Heading into the final event, Neugebauer needed to run faster than 5:10 in the 1500m to assure himself of at least the meet and collegiate records. That was never in doubt, even as he showed signs of the physical pain and fatigue this two-day competition had taken. As he rounded the final curve into the homestretch, he basically had a 30-second cushion to get to the finish. He crossed in 4:48.00, earning a final 631 points.
Garland, who immediately found Neugebauer after the race concluded and embraced his competitor, finished the 1500m in 4:43.27 and wound up second with 8630 points,