2023 Berlin Marathon
Eliud Kipchoge Can Answer All Questions With Rebound At Berlin Marathon
Eliud Kipchoge Can Answer All Questions With Rebound At Berlin Marathon
A sixth-place finish has left Kenyan great Eliud Kipchoge with three big questions to answer when he returns to the BMW Berlin Marathon on September 24.
Sep 12, 2023
by Joe Battaglia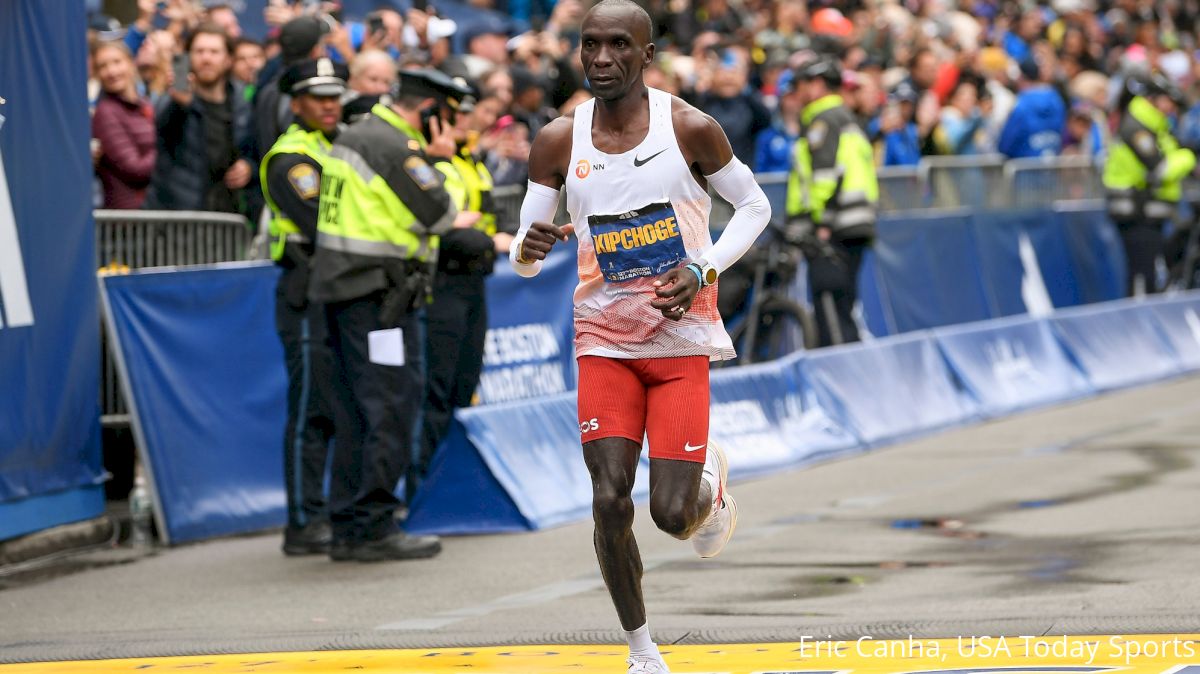 Gabriel Geay of Tanzania made subtle move into the first quarter of the 20th mile of the Boston Marathon, his third-ever race at the distance.
It wasn't a hammer drop.
It was a move we have seen Eliud Kipchoge cover hundreds of times before, dating back to his days winning World Junior Cross-Country titles as a Kenyan teen.
Even on a cold and damp racing day, it wasn't the type of move one would expect would send distance running's GOAT drifting off the lead pack and out of contention.
By the time Kipchoge made the left-hand, 90-degree from Hereford onto Boylston five other runners had either finished the race or were on their way. He would cross the finish line in two hours, nine minutes, and three seconds, by far the slowest time of his illustrious career.
It is a performance that has left behind three primary questions that Kipchoge will look to answer as he returns to the BMW Berlin Marathon for the sixth time on September 24.
Let Boston Be Bygone
The first, and most obvious question is can Kipchoge put that, "really difficult" sixth-place finish in Boston squarely and triumphantly in his rearview mirror?
That could be difficult for any runner to do, particularly one who has set such a preposterous standard of excellence. Since winning World Championships gold and silver medals on the track at 5000m Kipchoge has won 15 of the 18 marathons he has contested. He actually opened his media availability the day after Boston with an apology.
"I promised that I will run a beautiful race," he said, adding, "As a human, I was disappointed."
I live for the moments where I get to challenge the limits. It's never guaranteed, it's never easy. Today was a tough day for me. I pushed myself as hard as I could but sometimes, we must accept that today wasn't the day to push the barrier to a greater height. pic.twitter.com/hYadxV5yLE

— Eliud Kipchoge - EGH🇰🇪 (@EliudKipchoge) April 17, 2023
But Kipchoge is obviously not just any runner, and if recent history is any indicator, there is no reason to doubt his ability to bounce back.
In 2020, when he similarly finished a surprising eighth – ending a streak of 10 consecutive marathon victories – at the Virgin London Marathon, felled there by an issue with his inner right ear, he bounced back in 2022 in Berlin to establish the existing world record of 2:01:09.
His main competition to be the first to the Brandenburg Gate finish figures to come from fellow Kenyan Amos Kipruto, the 2022 London Marathon champion and runner-up to Kipchoge in the Tokyo Marathon. Kipruto has not beaten Kipchoge in any of their three prior head-to-head meetings.
From all indications on his personal and NN Running social media channels, there have been no hiccups, anomalies or niggles that have negatively impacted Kipchoge's preparations for this race.
"I have no control over what happened last April in Boston," Kipchoge said during a virtual press conference in July. "I have no business, actually, to think about the disappointment. I have to control what's going on now and prepare for Berlin."
Mission To Paris
Secondly, can he successfully use the flat, fast and familiar surroundings of the course and tailored pacing to provide him a comfortable venue to begin his preparation for the 2024 Paris Olympics, where he will look to become history's first three-time marathon gold medalist?
In 2022, Kipchoge used his world record run in Berlin as the springboard to winning gold in Tokyo in 2:02.40, joining him with Abebe Bikila (1960 and 1964) of Ethiopia and Waldemar Cierpinski (1976 and 1980) of East Germany as the only men to repeat at the Games.
"I would be the first man to win back-to-back-to-back," Kipchoge said. "I am really looking for that. That would be real, real history."
Much to the disappointment of U.S. distance running fans who held out hope that Kipchoge would press on his other stated goal of winning all six World Marathon Majors with an appearance at either the Bank of America Chicago Marathon next month, or the TCS New York City Marathon in November, that goal is taking a backseat to Kipchoge's pursuit of more history.
That drive could use an injection of confidence, and where better for Kipchoge to get it than on the roads of Berlin, which he has conquered four times in five previous tries and on which he has finished in average time of 2:02:77.
"Berlin is like home for me," Kipchoge said. "I think Berlin's streets are loving me, that's why I am going back there. All in all, is that I am preparing for the Olympics next year in Paris. And I saw the only race which I can go back to Kenya to prepare a good race is only in Berlin."
"I must return to my special place." #Back2TheStreets pic.twitter.com/Mdn4ooKtci

— NN Running Team (@NNRunningTeam) July 13, 2023
For The Record
The third question may prove to be the most difficult to answer.
Can the semi-mythical Kipchoge establish yet another new bar for what is possible at the 26.2-mile distance?
For the better part of the last decade, Kipchoge has been the undisputed standard bearer in the marathon. In 2018, he became the first man ever to break 2:02 at the distance, winning Berlin in a world-record 2:01:39. Then on October 12, 2019, he took on the Ineos 1:59 Challenge, running 4.4 laps of the Hauptallee in Vienna's Prater Park in 1:59:40, becoming the first human in recorded history to break the two-hour barrier over a marathon distance.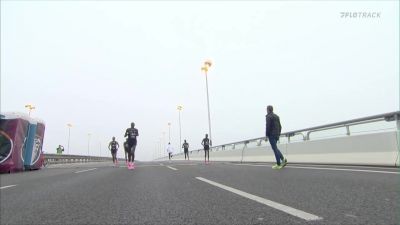 Unlock this video, live events, and more with a subscription!
Get Started
Already a subscriber? Log In
But now, a legitimate challenger to his crown has emerged in 23-year-old fellow Kenyan Kelvin Kiptum, who in 2022 won his debut at the Valencia Marathon in 2:01:53 and followed that in April with a victory in the London Marathon in 2:01:25, erasing Kipchoge's course record of 2:02:37 and becoming the second-fastest runner all-time.
Kiptum will be the featured runner in the men's field at the Chicago Marathon on October 8. He recently told the Kenyan news site People Sport that Kipchoge's world record is likely safe, "because I started late training and my body is not yet at its best form."
Throughout the Ineos 1:59 Challenge, Kipchoge proselytized the slogan, "no human is limited." While that zen-like attitude and mental approach to training is undoubtedly at the core of what has made Kipchoge so supremely successful, even he must acknowledge that approaching age 39, and with thousands of training miles in his legs, he won't be able to outrun Father Time forever.
Boston in April, and London in 2020, showed us that Kipchoge is human, after all.
In May, Kipchoge told the African news site Nation, "I always say records are meant to be broken and I hope Kiptum does that in the near future. He is a man with a big heart. The two-hour barrier is there for someone to run under, and I have always shown people the way and it can be done."
That said, he seems unincumbered by the idea of needing to one-up himself in Berlin just to tighten the grip on his legacy.
"Kelvin Kiptum has all power to do what he wants," Kipchoge said. "I have done enough. I trust that what I have done in the world will be respected. In any case, I wish him well. But I aim to make Berlin a good and beautiful race. I want to enjoy it for the sixth time. I want to run a good race and cross the finishing line by celebrating. I'm not in a rush for anything. Because I am the person to run under 2:00. If Kiptum runs under 2:00, he's always the second. I'll be the first one.
"So, I have no worries at all."