Create a free account to unlock this article!
Get Started
Already a subscriber? Log In
American Amy Cragg improved upon her ninth-place showing at Rio with a historic bronze medal at the World Marathon Championships early Sunday morning in London. She was the first U.S. medalist in the event since 1983. It was a hard-fought win, less than a second off the silver medalist Edna Kiplagat of Kenya and less than ten seconds off of the gold medalist Rose Chelimo of Bahrain.
Despite two heroic attempts to keep an honest pace -- first from Caterina Ribeiro of Portugal and a later more sustained effort from British hometown favorite Aly Dixon -- ultimately the pre-race favorites decided to bide their time to the very end in this race, maintaining a tempo slower than 2:30 marathon pace until just before the break at 35K. By that time, the lead pack had slimmed down to nine athletes: the three Kenyans in Kiplagat, Flomena Daniel, and Helah Kiprop; the three Ethiopians including Mare and Berhane Dibaba; the two Kenyan-born Bahraini athletes in Chelimo and Eunice Kirwa; and Amy Cragg.
After Chelimo made her gold-medal move around mile 23, Kiplagat was in hot pursuit and the Ethiopians and Kirwa began to fall back, leaving the battles for gold (between Chelimo and Kiplagat) and for bronze (between Cragg and Daniel) going on in parallel with just minutes left in the race.
Though Daniel got an early lead of a few meters, ultimately over the last mile Cragg was able to reel her in and come surprisingly close to a fading Kiplagat, who began to slow once she realized she had lost the gold medal to Chelimo.
​See our play-by-play of the race here!
Results: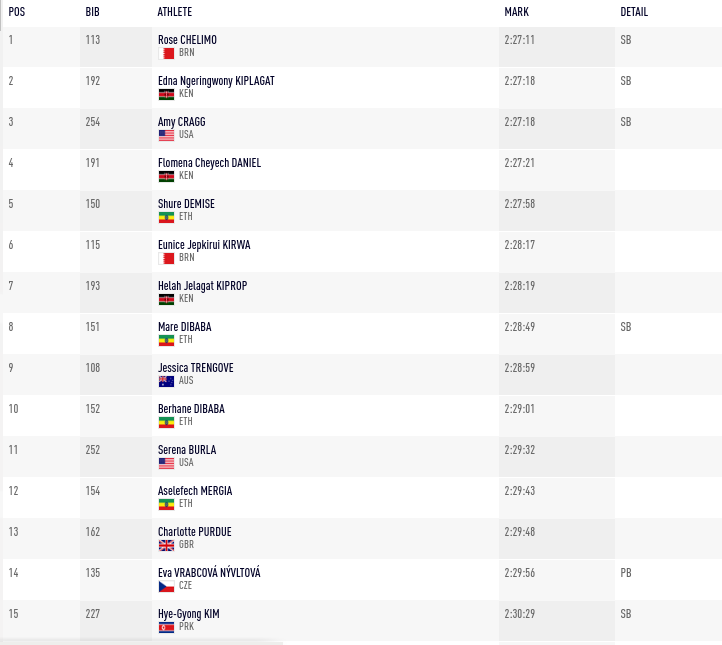 More to come!