2018 USATF Outdoor Championships
12 Crazy Things That Happened The First Day At USAs
12 Crazy Things That Happened The First Day At USAs
The 2018 USATF Outdoor Championships in Des Moines, Iowa, started out with stars scratching and not qualifying for the finals.
Jun 22, 2018
by Gordon Mack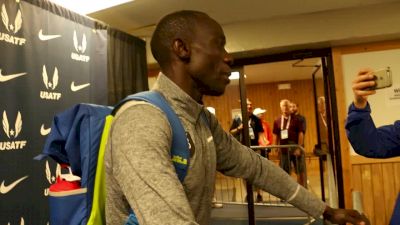 Day one of the 2018 USATF Outdoor Championships is in the books! If you missed any of the action, click here for a full play-by-play, and here for the full results. Below are our top 12 things that happened on Thursday.
1) Lopez Lomong ends eight-year USATF title drought
Lopez Lomong won a thrilling 10K in 28:58 with a 54-second last lap to outkick Shadrack Kipchirchir. This was Lomong's first title since 2010, which ended an eight-year drought. It's been 102 years since a U.S. man won the 1500m and 10K in his career.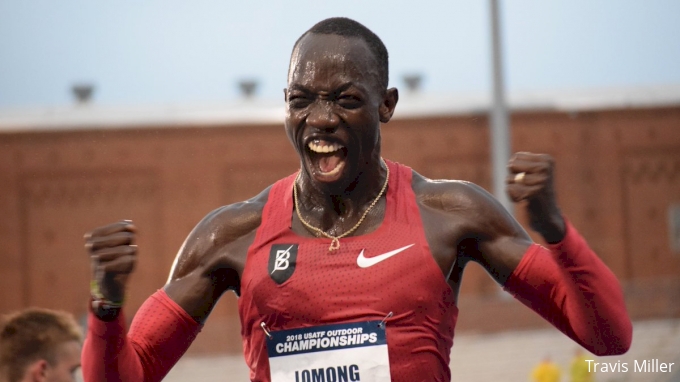 2) Molly Huddle crushes final mile of the 10K
Molly Huddle won the 10K today by closing her last 1600m in a jaw-dropping 4:38. With each lap, she got faster: 1:13/1:11/1:08/1:04. The insane closing speed led Huddle to her 27th U.S. title.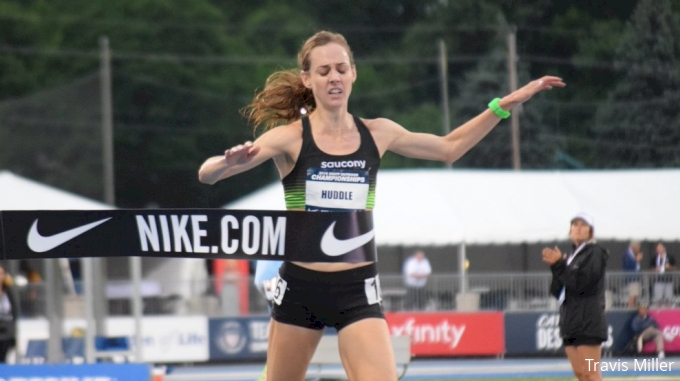 3) Robby Andrews Doesn't Make It Past Prelims
Defending 1500m champion Robby Andrews couldn't find another gear in the last 150 meters and ended up sixth in his preliminary round with a 3:43.89, which failed to qualify.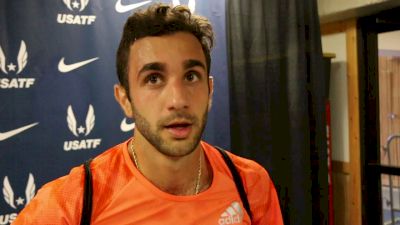 4) Sydney McLaughlin scratched at the last minute
Right when the hype of a Kendall Ellis vs. Sydney McLaughlin open 400m showdown reached its fever pitch, the former Kentucky Wildcat didn't show up for her preliminary heat due to an apparent quad issue.
BREAKING: @GoSydGo has withdrawn from today's race. Sydney warmed up for the 400m, felt tightness in her quad and decided to withdraw. #USATFoutdoors

— USATF (@usatf) June 21, 2018
In the 400m heat that Sydney McLaughlin scratched her 400H time (52.75) would've placed 2nd. #USATFOutdoors pic.twitter.com/7pauqhT31F

— Gordon Mack (@gordonmack) June 21, 2018
5) Mike Rodgers runs a new world-leading time in the 100m
The 33-year-old bested Houston's Cameron Burrell in the final strides of the 100m prelims with a 9.89 (+1.4 m/s), which is the fastest time in the world this season.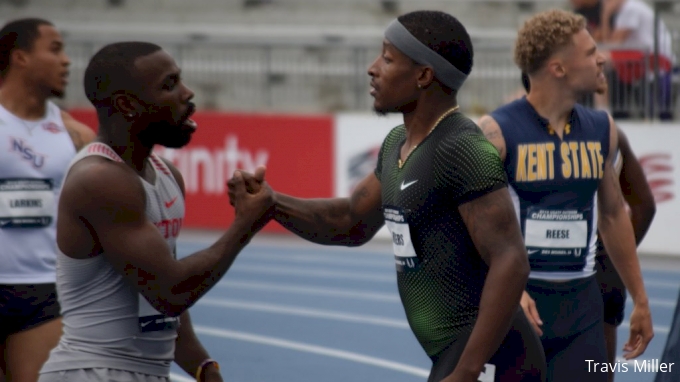 6) Two-thirds of last year's U.S. 800m world team scratched at the last minute
Two of the frontrunners in a packed 800m field, reigning indoor silver medalist Drew Windle and 1:43 man Donavan Brazier, unexpectedly withdrew from their heats of the preliminary round today.
Windle's coach Danny Mackey said this about the decision:
"Nothing acute, so it's tough to articulate, but he's just super worn down. I know he just won Portland but he looked off, then Monday in his Pre-race my gut was telling me to pull him. I think part of my job as a coach is to look down the road and think big picture so really I just wanted to protect him from getting sick or hurt and it felt unwise making him race this weekend. He's taking this week off and will hopefully get in a few diamond leagues."
Windle won the 800m at the Portland Track Festival handily in 1:47 two weeks ago—watch it here.
7) 2016 Olympians on the bubble for semis
In the women's 800m, Rio Olympian Chrishuna Williams was the last one in on time (2:04.05), while Boris Berian was the first one out on time (1:47.84) in the men's 800m.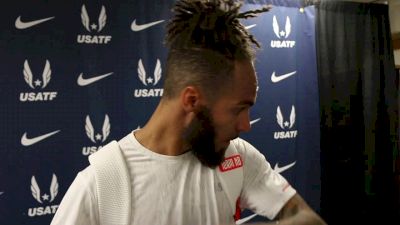 8) All the favorites in the women's 800m, 1500m, and 3K steeplechase qualified
Charlene Lipsey (800m), Ajee Wilson (800m), Jenny Simpson (1500m), Shelby Houlihan (1500m), Emma Coburn (3K SC) and Courtney Frerichs (3K SC).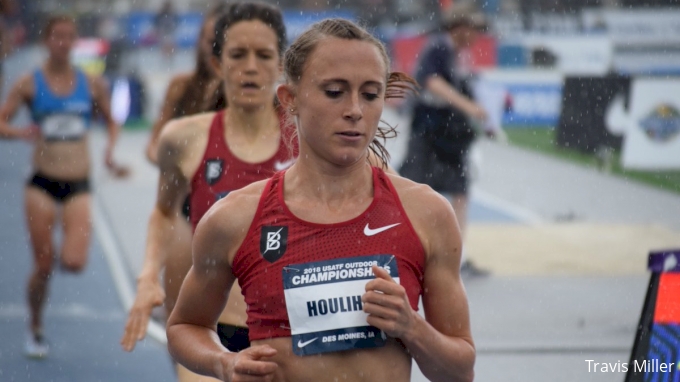 9) Men's mid-distance finals are stacked
Erik Sowinski (800m), Isaiah Harris (800m), Clayton Murphy (800m), Eric Jenkins (1500m), Drew Hunter (1500m), Craig Engels (1500m) and Matthew Centrowitz (1500m) are among the notables who qualified in the mid-distance events.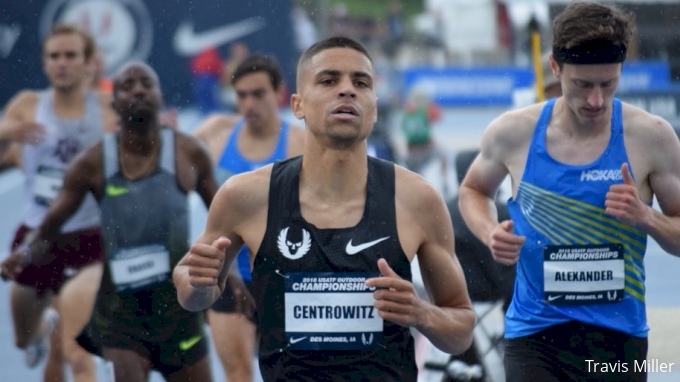 10) Kara Winger continues to grow her legacy
Kara Winger won her eighth U.S. javelin title, putting her second all-time for the most U.S. women's national titles in the javelin behind Dorothy Dodson (11 titles).
11) Stanford's Valarie Allman beat Arizona State's Maggie Ewen in the women's discus throw
If Allman had beaten Ewen at NCAAs, Stanford would've won the team title.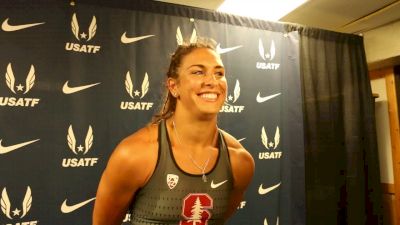 12) Keturah Orji resets triple jump meet record
Recently announced Bowerman finalist Keturah Orji won the triple jump with a 14.59m jump, which was good for a new meet record.