At 34, Stephanie Bruce Is Having Her Best Year Yet
At 34, Stephanie Bruce Is Having Her Best Year Yet
There's a reevaluation that happens when runners creep into their 30s. But that hasn't been the case for Steph Bruce, who's having a career season.
Aug 14, 2018
by Johanna Gretschel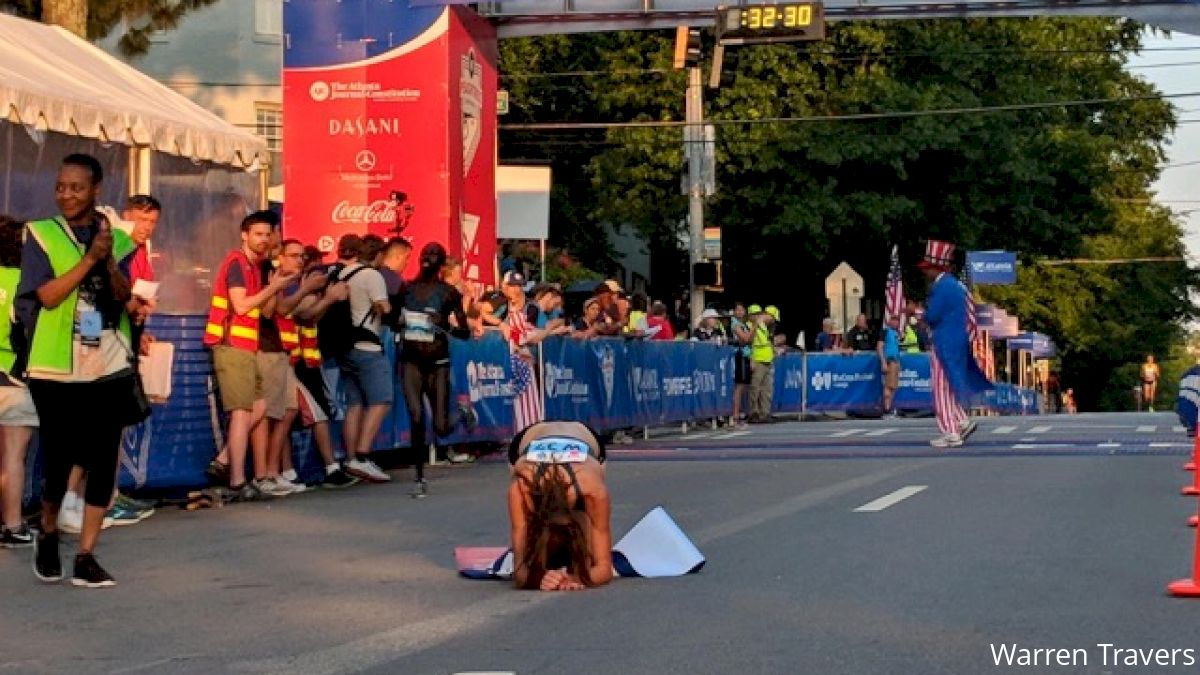 There's a reevaluation that happens when professional runners start to creep into their 30s. Sure, a marathoner might still be in the potential prime of his or her career, but the likelihood of continuing to improve in leaps and bounds decreases significantly with age—especially when you've never won a big one before.
But that hasn't been the case for Stephanie Bruce, who trains with Ben Rosario's HOKA ONE ONE NAZ Elite training group in Flagstaff, Arizona. When the 34-year-old mother of two won the AJC Peachtree Road Race in July—which doubles as the USATF National 10K Championships—she captured the first national title of her career with a late-race surge over teammate Aliphine Tuliamuk, the defending Peachtree champion and a nine-time U.S. champion.
"You envision things for so long—moments in your career of 'I can win'—and when it doesn't happen over and over again, that becomes your narrative," Bruce said over the phone a few weeks after the biggest victory of her career. "It becomes, 'no, you get second or third.'"
But the addition of Tuliamuk to NAZ Elite has paid dividends for both the profile of Rosario's group and for the fitness benefits to its members. The Kenyan-born athlete, a 13-time All-American at Wichita State who became a U.S. citizen in 2016, is a monster on the roads and was the prohibitive favorite for the Peachtree crown.
Rosario told her as much before the annual fourth of July race.
"Individually, I did talk to Aliphine about pushing pretty hard as she came down the hill toward 5K because, first of all, she can run downhills really well, and second of all, coming off the two national titles in May, you do get a bit of the intimidation factor," he said. "If you can get away, sometimes people—I won't say give up, but certainly, they are uncomfortable. She executed that very well and did push hard and create space, but when you do that, you do risk somebody hanging close enough that if you yourself end up getting tired from that push, they can get you.
"And it ended up that Steph was that person."
Bruce entered the road race flush with confidence after making her first podium at a USATF Outdoor Track Championship with a third-place finish in the 10K behind only Olympians Molly Huddle and Marielle Hall.
We chatted with Bruce in the mixed zone after her third-place run in the 10K at USAs: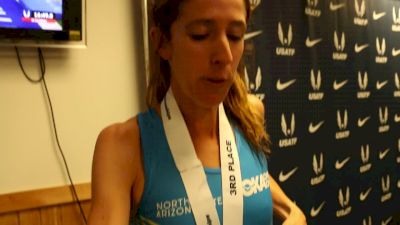 Bruce and Tuliamuk worked out together about five times in the early part of the summer—enough for each to know about the other's strengths and weaknesses.
"Sometimes she jokes with me that she's not speedy—she'll say, 'Steph, you're so fast,' and that played to my advantage," Bruce said. "I knew I had been gaining a lot of speed this season and I knew I could kick really well, so I was like, 'go past her and keep sprinting,' and I was lucky enough that I was able to pull away. I looked back a few times because you're scared when you're out front, but it was just a really great feeling."
The summer breakthrough came after two disappointing attempts at the marathon. Two consecutive top-10 finishes at Abbott World Marathon Majors would be a huge accomplishment for many athletes, but Bruce's 2:31 run in New York last fall and 2:32 finish in London this April left both athlete and coach feeling like she was just scraping the barrel of her potential.
"I would be feeling so, so good, and then it would happen in the taper," she said. "There's a difference between feeling sluggish during your taper and just feeling bad. I knew something was off. I felt bad in the first mile of London, and that's not a good sign—'this is gonna be a long race; I have 26 miles to go and I feel bad already.'"
That lethargic feeling hit Bruce last year, too.
After placing seventh at the IAAF World XC Championships in Uganda and dipping under 32 minutes in the 10K for the first time at Stanford in consecutive weeks, Bruce struggled to regain that rhythm for the rest of the spring and summer.
Blood work after this April's London Marathon revealed she has a gene, MTHFR, that does not allow her to convert folate or B12 into usable energy. To complicate matters, Bruce has had celiac disease since 2010 and is allergic to milk, eggs and soy.
"Because I have celiac disease, my gut doesn't absorb certain nutrients the same way that someone with a healthy gut does," she says. "I've been trying to eat more food sources for certain vitamins versus taking the vitamins; whereas before, I was just taking B12 and folate and we found out that my body was rejecting those and actually making me feel worse because of this gene I have.
"Every time I hear an athlete talk about iron levels and why they feel bad, I always wonder if they have this. I have to monitor my blood levels more often and I'm still so limited because of my allergies, so I have to make a conscious effort to eat healthier than I would normally. I haven't always been a big salad, vegetable, anti-inflammatory food type of person, but I'm trying to make more of an effort to eat those types of foods."
With nearly 72,000 Instagram followers and 14,000 Twitter followers, Bruce has amassed one of the larger social media followings for a U.S.-based distance runner—especially for one who had never won a national title or made an Olympic team. This is mostly due to the relatable candidness of her online presence, whether it's sharing photos of her postpartum body or anecdotes about balancing elite running with raising toddlers.
Rosario sees Bruce not only as a natural maternal leader of his crew—especially for new recruits Erin Clark, Grayson Murphy, Danielle Shanahan and soon-to-be fellow marathoner Alice Wright—but as an example of how to build a brand and a platform as a pro runner.
"Over the past couple years, so much of the attention Steph has gotten is from her willingness to share her journey," Rosario said, "which is great, of course, but now what happens is when she puts up a big performance, it blows up in a bigger way than it would for others because she has this big fan base that she worked hard to create.
"In that way, she's a model for everyone on our team and the entire sport because if you have a big performance and have no fans, it's like a tree falling in the forest. But if you have a big performance and your fan base is huge, the tentacles spread and it's a really, really huge deal."