2019 Chicago Marathon
Race Analysis: 2019 Chicago Marathon
Race Analysis: 2019 Chicago Marathon
We broke down the entire race, 5k by 5k, for both the men and the women.
Oct 13, 2019
by Johanna Gretschel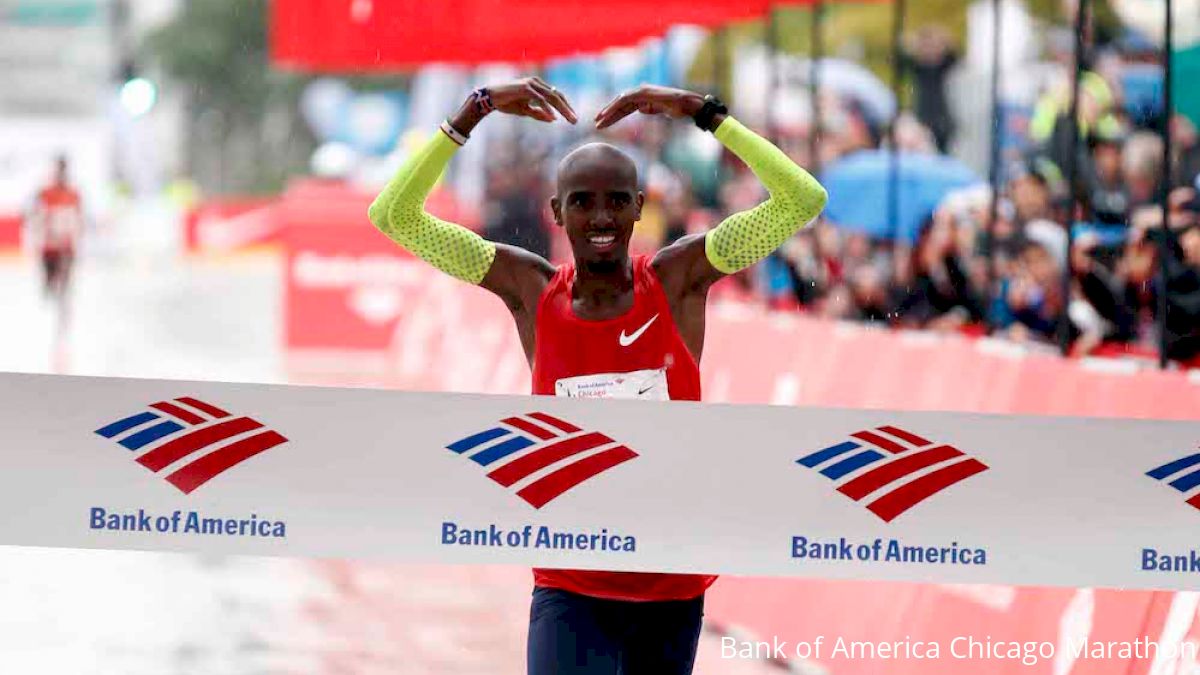 Unlock this article, live events, and more with a subscription!
Get Started
Already a subscriber? Log In
The Chicago Marathon begins at 7:30 a.m. CT. Check out our men's preview here and women's preview here and keep this page refreshed throughout the race for live updates.
Men's Race live updates
KM
ANALYSIS
5K
It's 41 degrees at the start and all the expected runners are here, including Mo Farah and Galen Rupp. Dickson Chumba leads the group through 5K in 14:45.
10K
Galen Rupp is hanging on at the back of the pack as Chumba leads the men through 10K in 29:27. American Parker Stinson moves into the top ten, about 90 seconds behind the lead group, with a 10K split of 30:58.
15K
Karoki leads with a 44:10 split as the group narrows to six men. Farah and his training partner, Bashir Abdi, are 10 seconds back in 44:23. Galen Rupp runs in ninth, splitting 44:29, while Andrew Bumbalough and Parker Stinson are right behind in 46:29-30.
20K
Chumba and Cherono are up front in 59:01 for 20K with a pack of six men total. Farah, Abdi and Rupp are 30 seconds off pace, though the American Rupp has made strides to catch back up to his former NOP training mate.
HALF
Chumba in 1:02:14 at the front as Farah and Abdi are now 40 seconds behind the top pack. Rupp is running with them in sight, another three seconds back of Farah. Minato Oishi of Japan moves into the top ten in 1:05:24, three minutes behind Rupp, with a slew of Americans following right behind in 2:10 pace.
25K
1:13:54 for Karoki, whose lead pack of six is still very much intact. Abdi and Farah are about a minute back now, and Rupp is another 10 seconds behind them with a 1:15:04 split. NAZ Elite's Scott Smith is 2.5 minutes behind Rupp and leads a slew of Americans who are still on sub-2:11 pace, including Stinson, Jerrell Mock, Jacob Riley, Bumbalough, Matthew McDonald and Brendan Gregg.
30K
1:28:58 for Chumba and the lead pack of six. Behind that group, Abdi has put eight seconds on training partner Mo Farah, who now has just five seconds on Galen Rupp. Could the former NOP teammates possible work together to narrow the gap? There's still a huge chasm between Rupp and the rest of the U.S. men, who split 1:33 (about three minutes behind) for the 30K.
35K
Debela leads the top pack through in 1:43:53, on pace for a quick 2:05:15. We're starting to see some separation as Chumba, who led many of the early miles, falls back by 40 seconds. Abdi, Farah and Rupp are each running in no man's land behind him, while the Americans are chugging along in a pack that splits 1:48:44, on pace for 2:11:05.

NOTE: Galen Rupp has reportedly dropped out shortly after this split. That means neither of disgraced distance coach Alberto Salazar's athletes will finish the race today, as Jordan Hasay dropped out after 5K.
40K
1:59:08 for Debela, who now leads a solid pack of four with Mengstu, Karoki and Cherono still in contention. Farah is over three minutes back in eighth place with a 2:02;28 split while Galen Rupp has officially dropped out.
FINISH
Great finish for Lawrence Cherono of Kenya, who outkicks Debela for the win, 2:05:45 to 2:05:46!
Women's Race live updates
| | |
| --- | --- |
| KM | ANALYSIS |
| 5K | Brigid Kosgei leads as expected, but the Kenyan is hitting nearly suicide pace. She hits 9:54 for two miles and 15:28 for 5K, which puts her at 2:10 for the marathon. She's trying to hit 1:08 for the half marathon, and they very well may break the world record at this rate. For the Americans, Stephanie Bruce is in ninth at 17:19, but podium favorite Jordan Hasay is all the way back in 22:20. Something's not right. |
| 10K | At 10K, Kosgei is still flying. 31:28 (2:12 pace) at 10K. The field is completely spread out as Ababel Yeshaneh is 30 seconds behind, then Burka another 30, then Saina, Weightman, Perez. Stephanie Bruce and Emma Bates split 34:45 through 10K together; Bruce's husband Ben is pacing the women for 2:26. |
| 15K | Brigid Kosgei splits 47:26 for 15K; she's slowing and on pace for 2:13:25 now. I wonder how much she'll regret that balls-out earlier pace. Yeshaneh and Burka are still over a behind Kosgei. Bates, Bruce and Flanagan are working together to hit 2:26 pace and are currently running in 7th, 8th and 10th, splitting 52:03 for 15k. |
| 20K | Kosgei hits 1:03:27 for 20K, the first checkpoint she hasn't slowed down so far. That means she's still on pace for 2:13:50, which would take nearly two minutes off Paula Radcliffe's world record. Yeshaneh is now a full minute back and is probably in a world of pain. |
| HALF | 1:06:59 for Kosgei at the half marathon. She's stil set to run under 2:14 and demolishes the expected halfway split of 1:08. Yeshaneh splits 1:08:22, which is also on track for one of the best-ever times (only Radcliffe has ever run under 2:17). Bates has moved into sixth place and leads a pack of women at 1:12:56, including Fionnauala McCormack of Ireland, as well as Bruce and Flanagan. |
| 25K | 1:19:33 for Kosgei, as Yeshaneh starts to slow and splits 1:21:36. Burka is only a minute out of third and is also on track for a sub-2:20. |
| 30K | 1:35:18 for Kosgei whose projected finish is now 2:14:02. A lot of time still separates the top three as Yeshaneh splits 1:38:28 and Burka splits 1:39:11. The American women are chugging along! I'm assuming Ben Bruce is still out there pacing for 2:26, as Emma Bates moves into fourth at the 30K (now on pace for 2:25:30), with Stephanie Bruce in sixth, Lindsay Flanagan in 8th and Laura Thweatt in 10th. Betsy Saina appears to have dropped out after running in fourth place through the half marathon mark. |
| 35K | 1:51:14 for Kosgei, still miraculously on 2:14:06 pace. She might actually do this thing! She reportedly split 15:56 for that last 5K, which is utterly mind-boggling. Bates looks great in fourth for her World Marathon Major debut, on pace for 2:25:30, with Bruce in sixth, Flanagan in eighth, Thweatt in ninth and Ward in 10th. |
| 40K | 2:07:11 for Kosgei. Still on pace! This might actually happen! |
| FINISH | KOSGEI 2:14:04 WORLD RECORD! |