2019 New York City Marathon
No Stopping Bryan Ehnstrom Or His Son, Inspiration To Run NYC Marathon
No Stopping Bryan Ehnstrom Or His Son, Inspiration To Run NYC Marathon
Hunter Ehnstrom has defied all odds after being born with spina bifida in 2018, and has inspired his father, Bryan, to run the New York City Marathon.
Oct 30, 2019
by James Lambert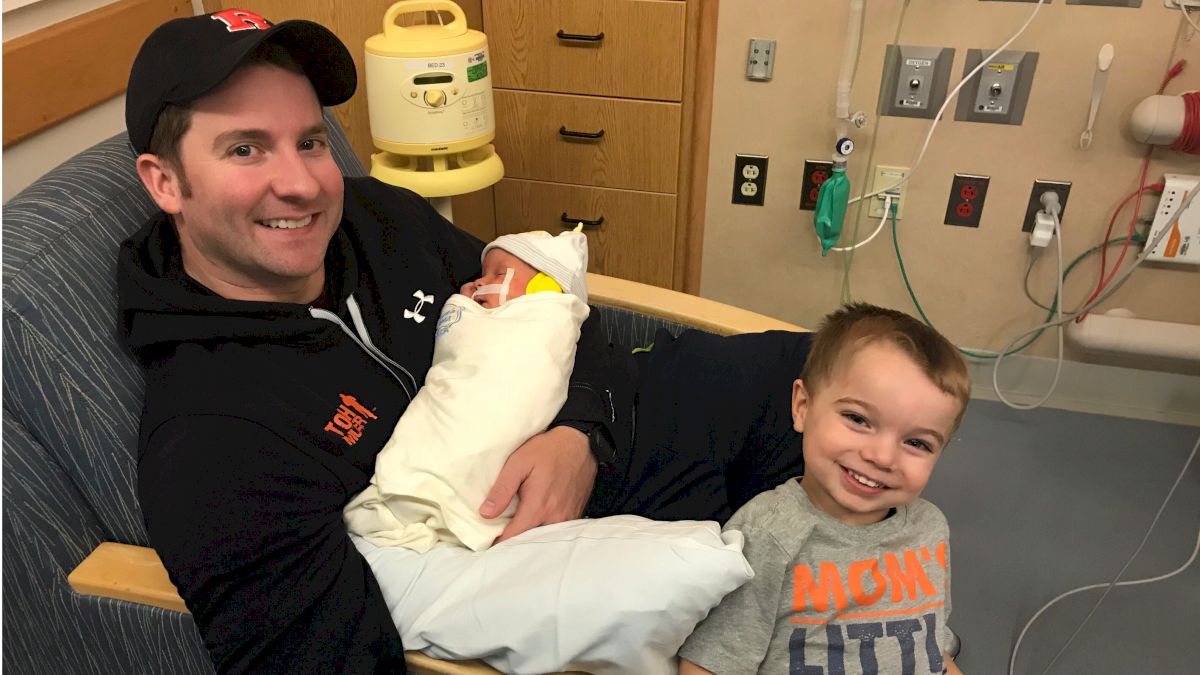 Running a marathon is something Bryan Ehnstrom has wanted to do for several years. But he always found a reason not to.
Not anymore.


Ehnstrom has found the ultimate inspiration to finally commit to taking on the 26.2-mile distance -- his son, Hunter.
Hunter, who was born with spina bifida on Sept. 13, 2018, has defied all the odds, shocking everyone with his remarkable development and resiliency.
Babies with spina bifida can be born paralyzed from the waist down. Hunter has feeling all the way to his toes.
Ehnstrom said Hunter has driven him to run his first marathon, and there's nothing that will stop him from crossing the finish line when he competes along with over 52,000 other runners in Sunday's 49th TCS New York City Marathon.
"I kicked around the idea of running a marathon since I was 12 years old, and I found every excuse in the world to not do it,'' said Ehnstrom, a 35-year-old teacher from Martinsville, N.J. "I had to go back to school for Masters, I just got married, my first son (Austin, now 4 years old) was born. I always had an excuse. Then when Hunter was born I told myself this kid has gone through so much, and he has a smile on his face everyday. He just keeps going above and beyond what anyone ever expected, so why can't I run 26.2 miles. So I am going to do it for him.''
Ehnstrom's powerful purpose for running his first marathon caught the attention of the New York Road Runners Club, who chose him to be part of Team #MovedMe, a group of some of the most inspiring runners in this year's New York City Marathon.
The individuals, families, and teams are selected as part of the marathon's It Will Move You campaign.
Ehnstrom, who teaches medical and exercise science and is an athletic trainer at County Prep High School in Jersey City, N.J., had some general knowledge of spina bifida.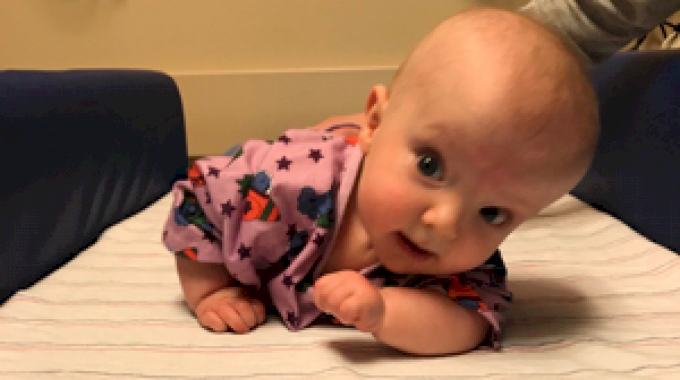 "I was kind of aware of spina bifida, but didn't know everything about it,'' said Ehnstrom.
Spina bifida is a birth defect in which an area of the spinal column doesn't form properly, leaving a section of the spinal cord and spinal nerves exposed through an opening in the back. It occurs in one per 2,000 live births in the United States and is the most common central nervous system birth defect.
Around 1,500 babies are born with spina bifida in the U.S. each year.
But there was hope for Hunter, who was diagnosed with spina bifida during an ultrasound in April of 2018.
The Ehnstrom's were informed about fetal surgery, which is performed on the baby during the pregnancy. During the operation, the opening in the back is closed up.
"We had no clue what fetal surgery was,'' said Ehnstrom. "So we met with the Children's Hospital of Philadelphia and we had to meet all their requirements. Only 33 percent of couples actually meet their requirements and have the surgery. The child needs to be severe enough that they can most success out of doing the surgery. If it's a mild case, they aren't going to put the mom and baby through a dangerous surgery where bad things can happen.''
After Hunter's case met the requirements, the Ehnstrom family relocated to Cherry Hill for three months to be close to Children's Hospital of Philadelphia where Rebecca was being treated.
Prior to the fetal surgery on June 15, 2018, doctor's said the best case scenario would be that Hunter would have feeling to his knees. But the surgery went much better than anyone imagined.
"His neurosurgeon told us before the surgery that they can't tell any parent what to expect,'' said Ehnstrom. "They don't know how the nerves are going to react and how much damage has already been done before the fetal surgery. But after he was born, they said his case is in the top five percent of best possible outcomes they had ever seen. It was almost like science was wrong! It really is a miracle.''
Hunter recently had his one-year check up.
"He's doing remarkable well,'' said Ehnstrom. "His scores are toward the top cognitively, and developmentally. He does like an army crawl, and won't get up on all fours yet, but we're working on that. We didn't expect half of this stuff. He's blowing us away. The physical therapist and my wife (Rebecca) and I feel he has a pretty good shot at walking one day.''
While Hunter was all the inspiration Ehnstrom needed to tackle his first marathon, he also found some added motivation when he saw U.S. Marine veteran Micah Herndon of Tallmadge, Ohio crawl across the finish line. Herndon's perseverance in Boston was driven by his friends, fellow Marines Mark Juarez and Matthew Ballard and British journalist Rupert Hamer. All were killed in Afghanistan when their vehicle, a part of a convoy Herndon was also in, hit an IED. Herndon will again run in New York to honor of his fallen comrades, and he will be one of Ehnstrom's teammates on Team #MovedMe.
"I remember telling myself that if that guy can crawl across the line, I'm doing it,'' said Ehnstrom. "I can't wait to meet him. I think I registered for New York a week after I saw that. Now he's one of the people on this team. When I meet him I am going to tell him that.''
Running isn't something Ehnstrom has always enjoyed.
When he was a baseball and basketball player at Southern Regional High School in New Jersey, it was something he was forced to do.
"I was a pitcher, so ran for stamina, and because I played basketball they ran you to death,'' said Ehnstrom, who graduated high school in 2002 before attending Kean University. "So I always kind of disliked running because of that growing up.''
But a check up when he turned 30 motivated Ehnstrom to put on his running shoes.
"I had a pretty bad blood test result with my cholesterol,'' he said. "I'm the kind of person that if you tell me there is something wrong I'm going to fix it. So I went home and found my running shoes and I went for a run. I did like four miles in 48 minutes. It was awful. I kept at it for a few months and started running 5K races and got even more addicted.''
Running helped Ehnstrom cope with all the anxiety and emotional distress he was feeling last year, especially during the very difficult week of Hunter's fetal surgery.
In addition to Hunter's surgery, Ehnstrom's grandmother, Florence, passed away at the age of 99 on June 17, two days after Hunter's surgery. Two days after that, his father, Carl, had surgery to remove a brain tumor on June 19. And all of that happened as Hurricane Florence was bearing down on the East Coast.
"Between the fetal surgery, my grandmother passing away, my father's surgery, and a hurricane, that was the most trying time of my life,'' said Ehnstrom, who gave Hunter the middle name Behrens, his grandmother's last name.
That's where running came to the rescue.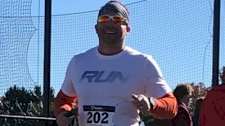 "Running was always the one thing that was always there for me,'' said Ehnstrom, who along with co-worker Mark Rogers added a running program to County Prep's intramural program that Ehnstrom runs. "Running helps me clear my head from all the stress and anxiety I was feeling. That's one of the things that I tell people. If you find something that you are passionate about, it will always be there to help you. When I was young, my grandmother, who was a runner, once told me the key to life is exercise. That always stuck with me, and low and behold she made it to 99.''
While Ehnstrom has maintained that nothing will prevent from taking the starting line on Sunday, he did have a scare this summer when he tore a hamstring while running on a treadmill. He was sidelined from running for a month.
After hearing about the injury, Ehnstrom's training partner Tommy Downes, a 2:19 marathoner who coaches cross-country at Dickinson High School in Jersey City, asked Ehnstrom if he thought he could still pull it off and run New York?
"I told him that the reason I am doing this is for my son,'' said Ehnstrom. " If I have to walk the whole 26.2 miles, I'll walk it. I am not missing that day. November third means everything to me, so if I don't do as well as I hoped, I don't care. I will be there no matter what.''
Ehnstrom said spina bifida isn't something a lot of people are familiar with. He's hoping to help change that.
"I'm doing this for Hunter and want to raise some awareness for him, spina bifida, and for fetal surgery,'' said Ehnstrom, who has targeted a time of around 3:40. "Not many people realize what families go through with this. You spend a lot of money, relocate, and uproot your lives for their children. October is Spina Bifida Awareness month. It's really a forgotten affliction. These guys are real fighters out there. They are known as Warriors!''
Although there are over 52,000 runners expected to race through the streets of New York on Sunday, Ehnstrom, who said several of his students are planning to come to the race to support him, may not be as hard to spot as you'd think.
"I want to help put spina bifida on the map,'' said Ehnstrom. "During the race I will be wearing a spina bifida awareness shirt on that says, "Some people wait their entire lives to meet their hero, I'm related to mine.'' Underneath that is says "Spina Bifida Awareness.''
Ehnstrom also said he'll be wearing a yellow long sleeve shirt and yellow shoes, which are the colors for spina bifida.
"I'll look like a highlighter out there,'' Ehnstrom joked. "But I'm sure it will motivate me even more and remind me while I'm out there that I am running for my son.''