2023 DI NCAA Outdoor Championships
Who Won On Day 1 Of The NCAA Track & Field Championships? See Results
Who Won On Day 1 Of The NCAA Track & Field Championships? See Results
The NCAA D1 Outdoor Track and Field Championships 2023 are being held at Michael A. Myers Stadium in Austin, Texas. Here are the results for Day 1
Jun 8, 2023
by Martina Gil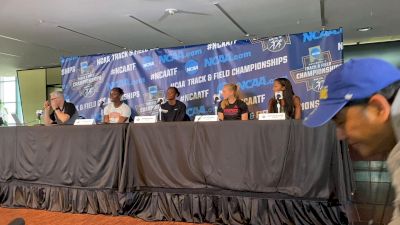 The 2023 NCAA D1 Outdoor Track & Field Championships began Wednesday, June 7, at Michael A. Myers Stadium at the University of Texas. Some of the best college athletes in the world are representing their programs this weekend, in Austin, Texas.
Day 1 of the NCAA Track and Field Championships featured the men's semifinals and finals.
The meet kicked off with an impressive performance as Harvard's Kenneth Ikeji threw a personal best of 77.92m/255-8 on his final hammer throw to earn the first national champion title of the 2023 NCAA Outdoor Championship meet.
Subscribe to FloTrack for access to more Track & Field coverage
Kenneth Ikeji's Victory Hammer Throw for Harvard at the NCAA Track And Field Championship 2023
That NCAA champion feeling 😤 @HarvardTFXC #NCAATF pic.twitter.com/KpsF1eM4nH

— FloTrack (@FloTrack) June 7, 2023
NCAA Track and Field Championship Results : Day 1
Track and Field Championship 2023 Results - Semi Finals
Men 4x100 M Relay - LSU
Men 1500 M - Joe Waskom | Washington
Men 3000 M Steeple - Abdelhakim Abouzouhir | Eastern Kentucky
Men 110 M Hurdles - Phillip Lemonious | Arkanas
Men 100 M - PJ Austin | Florida
Men 400 M - Justin Robinson | Arizona State
Men 800 M - Will Sumner | Georgia
Men 400 M Hurdles - Chris Robinson | Alabama
Men 200 M - Udodi Onwuzurike | Standford
Men 4x400 - Florida
Leo Neugebauer of Texas Leads Decathlon After Day 1 At NCAA Championships
Ky Robinson of Stanford Wins 10,000m At NCAA Outdoor Championships
Kyle Rademeyer Of So. Alabama Scores Upset Win In Men's Pole Vault At NCAAs
Carey McLeod Of Arkansas Wins Men's Long Jump At NCAA Outdoor Championships
NCAA Track and Field Championships 2023 Results - Finals
Men Hammer - Kenneth Ikeji | Harvard
Men Javelin - Tzuriel Pedigo | LSU
Men Pole Vault - Kyle Rademeyer | South Alabama
Men Long Jump - Carey Mcleod | Arkansas
Men Shot Put - Jordan Geist | Arizona
Men 10000 M - Ky Robinson | Stanford
Men Decathlon 100 - Leo Neugebauer | Texas
Men Decathlon Long Jump - Till Steinforth | Nebraska
Men Decathlon Shot Put - Kyle Garland | Georgia
Men Decathlon High Jump - Kyle Garland | Georgia
Men Decathlon 400 - Austin West | Iowa
The NCAA Track and Field Championship Schedule 2023
The NCAA DI Track and Field Outdoor Championship begins June 7-June 10. Take a look at the full tournament schedule. The men's and women's division will be competing throughout the entire day. Here is the full schedule for the daily final events.
NCAA Track and Field Championship Live Results
Live updates for the NCAA Track and Field Championship is provided by FloTrack. The FloTrack Podcast will be reviewing the week's event on a special Saturday morning edition.
How to Watch the NCAA Track and Field Championship?
The NCAA Track And Field Outdoor Championships are on ESPN2. Coverage for the first day begins at 7:30 p.m. Wednesday. Thursday coverage is at 8:30 p.m., Friday at 9 p.m. and Saturday at 9 p.m.
The entire meet, including afternoon events, is streaming on ESPN+.