Create a free account to unlock this article!
Get Started
Already a subscriber? Log In
Sunday April 15th Update: Jordan Hasay has withdrawn due to injury
-----
By now, the drought is a familiar refrain, trotted out again each April ahead of race day: An American woman has not won the Boston Marathon since 1985, when Lisa Rainsberger (then, Weidenbach) broke the tape in 2:34:06.
For the record, that's 33 years, so long that Rainsberger's daughter, Katie—an All-American at the University of Oregon—has long since grown into her own name as a runner.
This might just be the year, though, that ends the winless streak and an American woman tops the podium again.
Shalane Flanagan showed the world that an American can win a major by topping the field in New York last fall, Jordan Hasay did the improbable by taking third in her marathon debut at Boston just last year, 2011 runner-up Desi Linden brings her experience back to Heartbreak Hill, and one of America's all-time greats in Molly Huddle is officially all-in on the longest distance.
It also helps that the London Marathon is later this month, where Mary Keitany of Kenya will chase the world record, and which effectively splits the international field.
Below, we take a closer look at the elite rosters for the Boston Marathon and analyze their chances to win on Monday in Massachusetts.
The Americans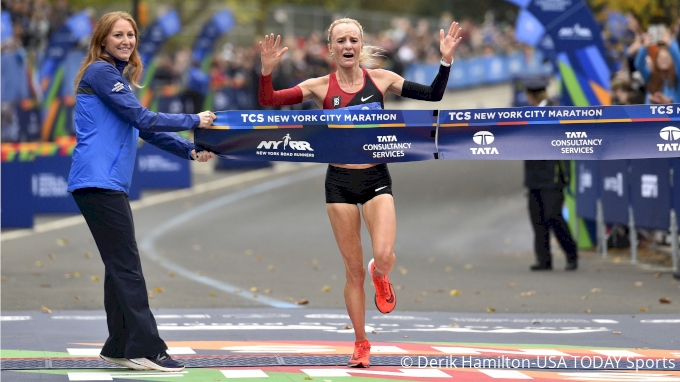 Shalane Flanagan
Age: 36
Personal Best: 2:21:14 (Berlin 2014)
Best Finish At A World Marathon Major: 1st (New York 2017)
Best Finish In Boston: 4th (2013)
Results This Year: 8:55, 1st place in 3K at UW Preview; 8:43, 2nd place in 3K at UW Invitational
Analysis: Shalane Flanagan is certainly the fan favorite—and the Nike favorite—for the win in Boston. The 36-year-old became the first American woman to win the New York City Marathon in 40 years (!) when she claimed the title in Central Park last November.
Consider, for a moment, the fact that the American title drought in New York was a good seven years longer than the current international win streak in Boston. Consider, too, that Flanagan's win came after she was waylaid earlier in the year with a stress fracture in her back. And she didn't beat a weak field—NYC runner-up Mary Keitany is the women's-only world record holder in the marathon with a PB of 2:17:01, and is chasing Paula Radcliffe's overall world record later this month in London.
Flanagan is a four-time Olympian, 2008 Olympic silver medalist in the 10K, 2011 IAAF World XC bronze medalist, multiple-time American record holder and U.S. champion—and the one thing left on her bucket list is to win the Boston Marathon. The Marblehead, Massachusetts, native literally decided against retirement after her New York win to chase the title one last time.
With Keitany heading to London, Flanagan's top international competition are women whom she defeated in New York—Edna Kiplagat, the reigning Boston Marathon champion who was fourth in NYC, and Mamitu Daska, who finished third in that race. Only two American women have ever defeated Flanagan in her eight years of running the marathon—Desi Linden and Amy Cragg, the latter of whom is not racing Boston.
All this is to say, there are a lot of reasons for U.S. fans to cheer for Flanagan, and a lot of reasons why she could win.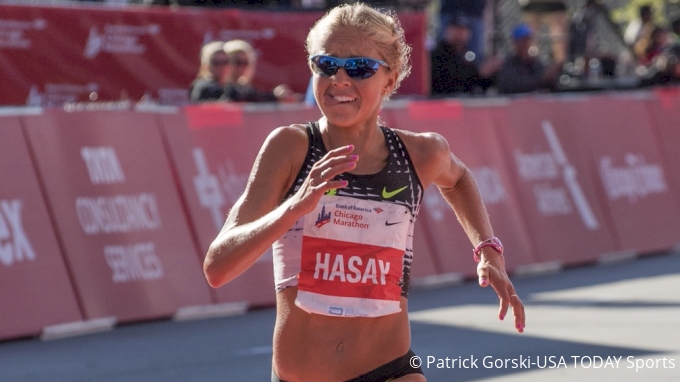 Jordan Hasay
Age: 26
Personal Best: 2:20:57 (Chicago 2017)
Best Finish At A World Marathon Major: 3rd (Boston 2017, Chicago 2017)
Best Finish In Boston: 3rd (2017)
Results This Year: 68:38, 8th at Houston Half Marathon; 48:40, 2nd at USATF 15K Championships/Gate River 15K; DNS at IAAF World Half Marathon Championships
Analysis: Jordan Hasay finally found her stride on the professional running circuit when she successfully transitioned to the marathon last year. The now 26-year-old took third in two consecutive world major marathons, Boston and Chicago, establishing a new American debut record of 2:23:00 in the first race and recording the second-fastest mark of all time, 2:20:57, in the second.
Hasay, like Flanagan, has a human element to her story, as it was her late mother's sudden passing that pushed her through her debut over the marathon distance.
While Hasay's hot 2017 jettisoned her status to the "Next Big Thing" in American marathoning, a low-key 2018 makes us unsure of her chances in Boston. She was handily defeated by U.S. rival Molly Huddle in her two races of the year, the Houston Half Marathon and Gate River 15K, and dropped out of the IAAF World Half Marathon Championships with plantar fasciitis.
The losses to Huddle in shorter distances aren't as concerning as the drop-out. Then again, the perfectly executed marathons of 2017 were practically the stuff of dreams for an athlete who had struggled to find her stride since graduating from Oregon. The World Half DNS may have been more of a precaution for Hasay, who told us after losing to Huddle at Houston that she had tunnel vision for Boston.
If Alberto Salazar gets his Nike Oregon Project protege to the line on Monday, then she has the goods to contend for a win. If there's any uncertainty about her health, we'd guess she won't start the race.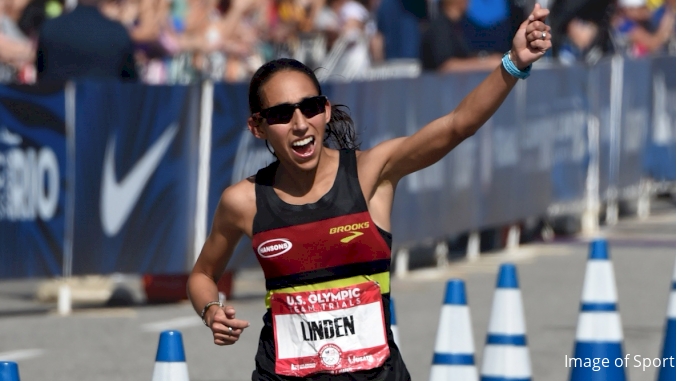 Desi Linden
Age: 34
Personal Best: 2:22:38 (Boston 2011)
Best Finish At A World Marathon Major: 2nd (Chicago 2010, Boston 2011)
Best Finish In Boston: 2nd (2011)
Results This Year: 20:44, 8th place at Campaccio Classica XC (6K); 22:28, 24th place (6K) at Great Edinburgh XC; 73:33, 8th in NYC Half Marathon
Analysis: Desi Linden has come the closest of the Americans to actually winning the Boston Marathon with a runner-up finish in 2011. Her time of 2:22:38 is still a personal best, but don't think that her heyday is long behind her. Linden's 2:25:06, fourth-place finish in Boston last year would have been the story of the women's race if Hasay hadn't run out of her mind for third. As it stands, that mark is the third-best of Linden's career.
Boston is a historically good course for Linden—the top four fastest times of her career all came from the Beantown race.
In her 2018 build-up, she dabbled with cross country and the NYC Half Marathon (her 71:05 was the fourth-fastest time of he career) but the results aren't necessarily indicative of how she will fare in a race over 26.2 miles. Linden is a runner who always seems to maximize her fitness level in the long distance race. Put it this way: The odds are good she won't blow up.
She has finished as the No. 2 American in every marathon since the 2015 Boston Marathon when she was tops for the USA with a fourth-place run in 2:25:39—and Shalane Flanagan was ninth in 2:27:47.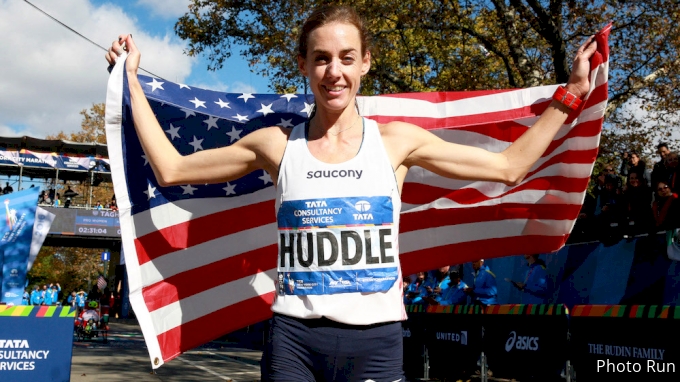 Molly Huddle
Age: 33
Personal Best: 2:28:13 (New York 2016)
Best Finish At A World Marathon Major: 3rd (New York 2016)
Best Finish In Boston: N/A
Results This Year: 67:25 American Record, 7th place at Houston Half Marathon; 47:50, 1st place at USATF 15K Championships/Gate River 15K
Analysis: Of all the above athletes, Molly Huddle has put together the most promising 2018 campaign so far. Breaking Deena Kastor's American record in the half marathon in Houston certainly indicates the potential for a great full marathon performance.
The two-time Olympian has enjoyed an unnerving amount of domestic success—she's won 26 national titles on the track and the road since 2008 and set numerous American records—but an international win has thus far eluded her.
The marathon could be the distance that finally takes her to the top of the global ranks, though for now she's the most unproven of the elite Americans racing in Boston. She has just one marathon to her name—a third-place, 2:28:13 finish at the 2016 New York Marathon. Of that field, only Aselefech Mergia of Ethiopia (sixth) will be in Boston.
The International Field

Edna Kiplagat
Nationality: Kenyan
Age: 38
Personal Best: 2:19:50 (London 2012)
Best Finish At A World Marathon Major: 1st (New York 2010, London 2014, Boston 2017)
Best Finish In Boston: 1st (2017)
Results This Year: 73:56, 12th at Marugame Half Marathon (Japan)
Analysis: Edna Kiplagat returns to Beantown as the defending Boston Marathon champion and should be respected as such. The 38-year-old has amassed 10 top-three finishes at world major marathons and IAAF World Championship marathons in her career, including two world titles and three Abbott WMM wins. She, along with fellow Kenyan Margaret Okayo, are the only women to ever win the Boston, New York City and London Marathons.
Still, she looks vulnerable after placing fourth behind Flanagan at the New York City Marathon last fall. She was also fourth at the 2017 New York City Half Marathon, nearly 80 seconds behind race champion Huddle.
In her only race of 2018, she was a distant 12th in 1:13:56 at the Marugame Half Marathon in Japan—more than two minutes behind the top American, Sara Hall, who placed sixth in 1:11:25.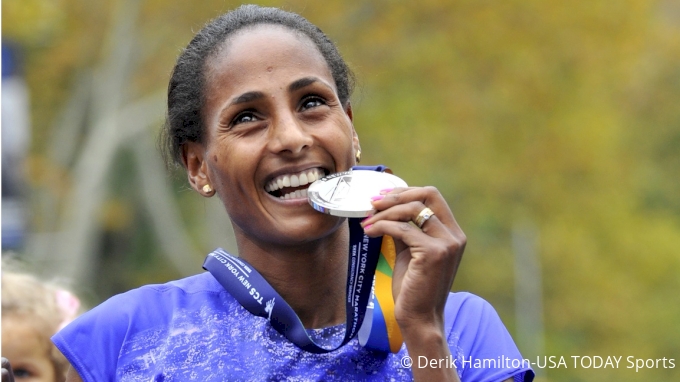 Aselefech Mergia
Nationality: Ethiopian
Age: 33
Personal Best: 2:19:31 (Dubai 2012)
Best Finish At A World Marathon Major: 1st (London 2010)*
Best Finish In Boston: N/A
Results This Year: N/A
Analysis: In five appearances at Abbott World Major Marathons, Aselefech Mergia has finished no worse than sixth (2016 NYC) and racked up three top-three finishes (2010 London, 2015 NYC, 2017 London), including a win at the 2010 London Marathon. She owns the fastest personal best in the field at 2:19:31, via the 2012 Dubai Marathon—a race which she has won three times.
Mergia also earned back-to-back global championship medals in the half marathon (silver) and marathon (bronze) in 2008 and 2009, respectively.
Her last marathon was a 2:29:43, 12th-place finish at the World Championships, where she finished behind two Americans (Amy Cragg was third, Serena Burla 11th) and Edna Kiplagat, who was second and whom will race in Boston. Her spring marathon was better—third in London behind only Mary Keitany and Tirunesh Dibaba, who ran the fastest women's-only marathon times of 2:17:01 and 2:17:56.
Mergia is overall a consistent performer at major competitions and should be among the leaders in Boston.
*2010 London Marathon winner Liliya Shobukhova was stripped of her titles and banned from the sport in 2013 due to abnormalities in her biological passport, i.e. blood doping. Runner-up Aselefech Mergia assumed the title.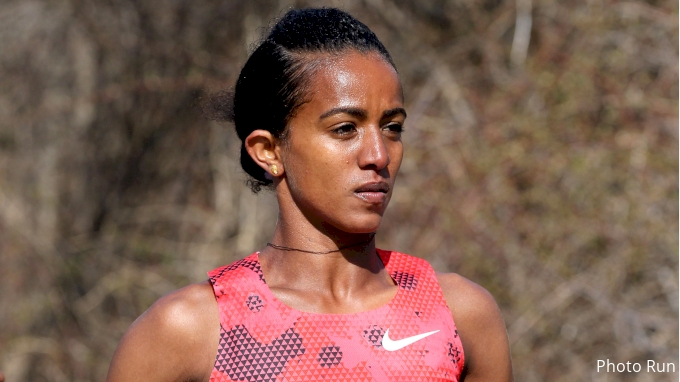 Buzunesh Deba
Nationality: Ethiopian
Age: 30
Personal Best: 2:19:59 (Boston 2014 COURSE RECORD)
Best Finish At A World Marathon Major: 1st (Boston 2014)*
Best Finish In Boston: 1st (2014)
Results This Year: N/A
Analysis: Buzunesh Deba has returned to the Boston Marathon every year since her historic 2014 win* and course record of 2:19:59. She's placed third, seventh, and seventh in consecutive years and despite her status as the only woman to break 2:20 on the course, the now 30-year-old has not broken 2:30 in Boston since 2015.
Her second marathon in 2017 was in New York, which yielded an 11th place, 2:32:01 performance, behind four Americans—Shalane Flanagan, Allie Kieffer, Kellyn Taylor, and Stephanie Bruce—and two international women who will compete in Boston—Edna Kiplagat and Mamitu Daska. She also ran the Philadelphia Half Marathon in 2017, where she was fourth in 71:43—behind Jordan Hasay and Caroline Rotich, both of whom will race in Boston.
Deba certainly has top-tier credentials but she will not be favored to win again this year.
*2014 Boston Marathon winner Rita Jeptoo was stripped of her titles and banned for four years after testing positive for EPO in 2014. Runner-up Buzunesh Deba was upgraded to champion, and her 2:19:59 stands as the course record in Boston.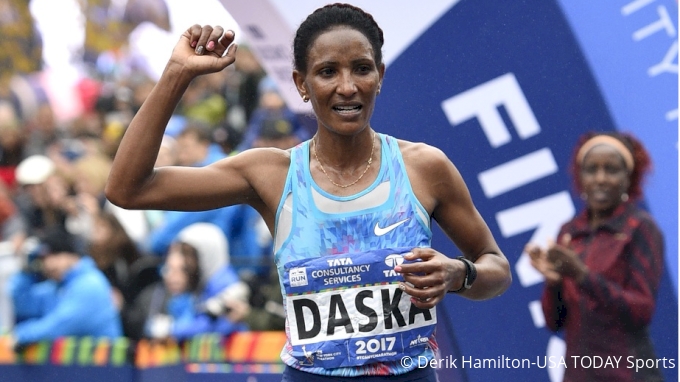 Mamitu Daska
Nationality: Ethiopian
Age: 34
Personal Best: 2:21:59 (Frankfurt 2011)
Best Finish At A World Marathon Major: 3rd (Berlin 2009, New York 2017)
Best Finish In Boston: 10th (2016)
Results This Year: 72:50, 4th at NYC Half Marathon
Analysis: Mamitu Daska ran to her best finish at an Abbott World Major Marathon in nearly a decade at this past fall's New York Marathon, where she was third in 2:28:08 behind Flanagan and Mary Keitany, and ahead of Kiplagat.
It's hard to say how Daska might perform in Boston. She's raced in Beantown twice, to a 12th-place finish in 2013 and a 10th-place finish in 2016.
Her season-best half marathon in 2017 was a 69:01, fifth-place performance in Houston. This year, her build-up included a 72:50, fourth-place finish at the NYC Half Marathon—one of the slower times of her career. Then again, the NYC Half in March is much closer to marathon race day than last year's January half/November full marathon.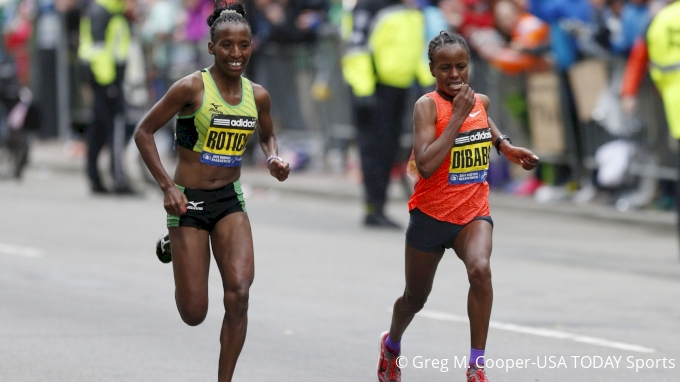 Caroline Rotich
Nationality: Kenyan
Age: 33
Personal Best: 2:23:22 (Chicago 2012)
Best Finish At A World Marathon Major: 1st (Boston 2015)
Best Finish In Boston: 1st (2015)
Results This Year: 73:38, 10th at NYC Half Marathon
Analysis: Caroline Rotich's kick to outlast Mare Dibaba for the 2015 Boston Marathon crown was a career-defining moment for the Kenyan, who attended school in Japan and lives and trains in Albuquerque, New Mexico. The beauty of that race makes her two consecutive drop-outs in Boston since then even more devastating than the average marathoner's DNF—or perhaps, more understandable.
Dibaba would go on to win the marathon world title later that summer and Olympic bronze the following year, while Rotich hasn't won another major title since then.
She was most recently 10th at the New York City Half Marathon behind several of her rivals who will race in Boston, including Americans Serena Burla and Desi Linden and Ethiopia's Mamitu Daska.
Let's hope she can finish the race this year.
Watch Caroline Rotich outkick Mare Dibaba to win the 2015 Boston Marathon: