It's become commonplace for the London Marathon to be a staging ground for fast times. The fields are filled to the brim with the best runners in the world, and the race directors take great care to ensure that there are able pacesetters to ensure that the pace goes quickly. So even when the forecast on Sunday was for warm temperatures, the focus on world records never wavered.
This wasn't Boston, where the cold weather forced race plans to be scrapped, altered, and rearranged. Nobody seemed to pay the warm conditions any mind. Instead, the race started as quickly as always. And for the men, it was quicker than it has ever been. The first mile was a preposterous 4:22 as the leaders passed 5K in 13:48 (1:56 marathon pace).
At the halfway mark, the lead group that included Eliud Kipchoge, Kenenisa Bekele, and Mo Farah among others was right at 1:01:00. The pre-race plan was to hit 61 minutes for the half-marathon, but in those conditions and with that fast of a series of opening miles it was a prescription for some massive collapses.
Eliud Kipchoge and Shura Kitata were the only ones able to keep it together. The two broke away from Farah before 30K and made it a two-person race. Kipchoge was his typical serene self over the latter miles. He wasn't able to keep the world record pace, but he managed to move away gracefully from Kitata for the third London Marathon victory of his career.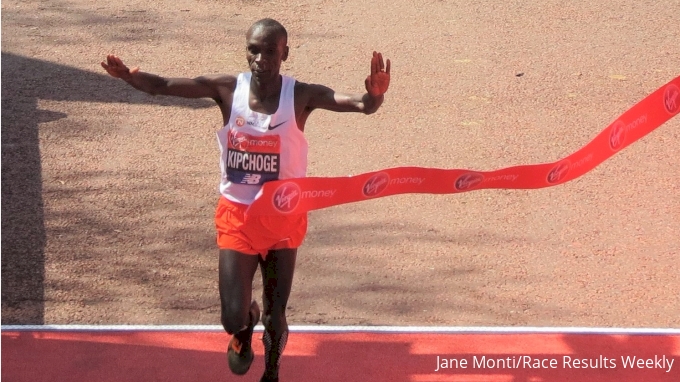 After Sunday, Kipchoge's resume got even stronger. He has now won eight marathons in a row and nine of the 10 he has run in his career. His dominance is unlike anything we've seen in this era of the sport. His best time is eight seconds off the world record and he's never run in New York or Boston, but even without those things, it's easy to call him the best men's marathoner of all time.
And like all greats, it's isn't just that he piles up wins, it's how he has transformed the distance that makes him a fixture of history.
Sammy Wanjiru is rightfully credited with changing how the marathon was run. His attacking style in the Beijing Olympics showed no fear of the distance and ushered in an era of runners who raced aggressively (a style that has produced fast time as well as epic DNFs). Kipchoge has taken this a step further. He deals with fluctuating paces, unpredictable weather, and tough competition and always, somehow, stays in command. The variables of the marathon don't seem to impact Kipchoge and the sheer totality of the miles never knock him off course. It's as if the marathon is a step down in distance for him. He runs the marathon like he could go farther and faster if he chose.
One more note on Kipchoge's brilliance: forget the eight-race win streak (nine if you count the Breaking2 race). How hard is it to get eight straight marathon build-ups right? Never mind being in shape to run 2:04, it's monumentally difficult just to get to the start line healthy two times a year for five years.
Mo Farah hung on for third place in 2:06:21. It was a U.K. record and a great race for Farah. Running 2:06 is difficult and it is especially hard after a 61 first half. It will be interesting to see his progression from here. Nobody is in the same category as Kipchoge at the moment, but Farah is positioned to be in that next group behind him.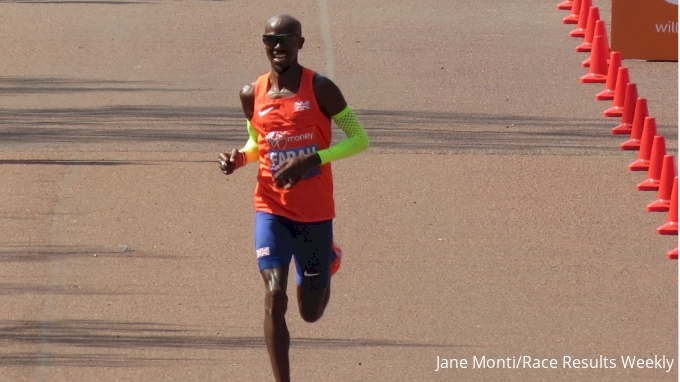 The women's race had a feeling of predictable unpredictability. With warm weather, the world record pace that Mary Keitany and Tirunesh Dibaba asked for seemed like a death sentence. The smarter plan was to stay away from that group and run something more manageable. Though Keitany hit halfway slower than she did last year, 2:15 pace was too much to ask in the heat. Dibaba fell off the pace and Keitany began to struggle.
Vivian Cheruiyot, who ran with the third pace group in the early miles, swooped in to take advantage and race to a 2:18:51 win. Cheruiyot is an established figure on the track, but this was her breakthrough performance in the marathon.
Credit goes to Keitany, who knew that with a field this difficult aiming for Paula Radcliffe's world record would make her susceptible to losing the race. Nonetheless, she went after it and still managed to finish the race in fifth place with a time of 2:24:27. In general, the DNFs were much more rare in London than Boston. Tirunesh Dibaba was the highest profile runner not to finish, but most of the elites suffered through the late miles and finished.
No Rest For Yuki
Six days after his upset victory in Boston, Yuki Kawauchi was, of course, racing again. He finished 14th in the Gifu Seiryu Half Marathon in Japan on Sunday, running 1:04:35. He admitted after the race that he was tired, which means we may have finally figured out the limits to Kawauchi's endurance.
Also last week, Kawauchi announced that he will leave his day job at the end of the fiscal year, freeing him up to take sponsorship money. It's not entirely clear what effect this decision will have on his racing career. Japanese sponsorship dollars are accompanied by strict directives from teams about where they compete, but if anyone has earned some freedom to make their own decisions it is Kawauchi.
Jager, Houlihan Back On The Track
Evan Jager ran his first race of the outdoor season (and third race of 2018) in the 5000m at the Bryan Clay Invitational in Azusa, California. Jager was on his way to a comfortable victory until the final 100 meters when Isaac Kimeli of Belgium began closing what looked to be an insurmountable gap. Jager held on to win in a time of 13:24.77, but the last few meters sure were interesting. Kimeli ran a personal best of 13:24.92 in seconds.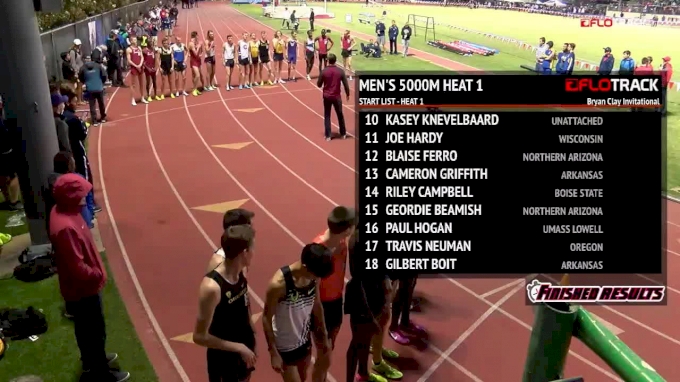 Unlock this video, live events, and more with a subscription!
Get Started
Already a subscriber? Log In
In the women's race, Shelby Houlihan continued to look rock solid in the 1500m. Houlihan ran 4:06.07 to lead a Bowerman Track Club one-two-three finish with Colleen Quigley running 4:07.01 and Kate Grace taking third in 4:08.82. After a great indoor season, it will be fun to watch Houlihan outdoors. A PR looks inevitable in the 1500m, but how much time can she knock off that 4:03 from 2016?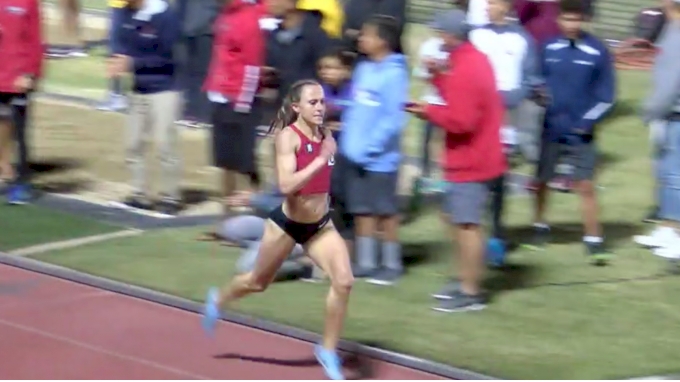 Unlock this video, live events, and more with a subscription!
Get Started
Already a subscriber? Log In
World Leads At Mt. SAC From Baker & McNeal
Ronnie Baker ran 9.97 at Mt. SAC, the fastest time in the world this year and the first man to break 10 seconds in 2018. In all the (much deserved) hype around Christian Coleman, don't forget about Baker. He ran 6.40 and 6.44 this year in the 60m, all-time performances that didn't get their due cause they came in the same races as Coleman. His 9.97 is a personal best and a sign that Baker is transferring his indoor success to the 100m. Baker also came back and ran the 200m. He ran 20.62 to finish second to Fred Kerley's 20.48.
Brianna McNeal (nee Rollins) now has the top two times of 2018 in the 100m hurdles. McNeal ran 12.62 at the Stanford Invitational at the end of March. On Saturday at Mt. SAC, she dropped almost two tenths off that mark, running 12.43 for a big win. Since the U.S. women's hurdling team is so strong, it might be easy to forget that Rollins missed all of 2017 due to a suspension. Now that she's back, and just as good as before, the U.S. has another woman capable of running in the 12.2s.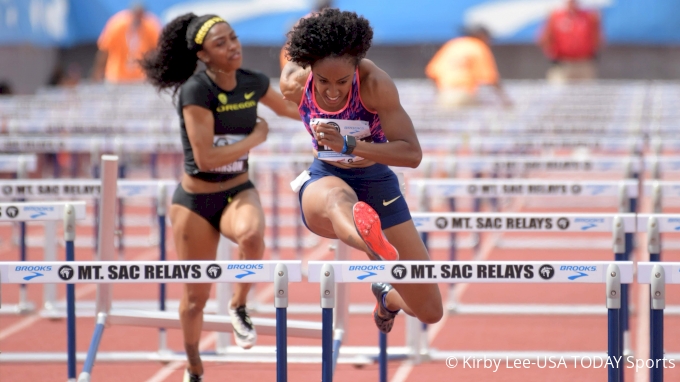 Collegians got the better of the professionals in the women's 100m and men's 110m hurdles. USC's Twanisha Terry ran 10.99 and San Diego State's Ashley Henderson posted an 11.06 to best Jenna Prandini's 11.09. In the hurdles, David Kendziera of Illinois got the better of Aries Merritt, 13.47 to 13.49.
In mid-distance action, Kaela Edwards won the 800m in 2:01.06. It was a personal best for the 24-year-old. Last week, her training group in Boulder, Colorado officially added Dominique Scott-Efurd to a roster that already included Emma Coburn and Aisha Praught-Leer. The men's 800m saw a bit of an upset as Jesus Tonatiu Lopez of Mexico ran 1:47.07 to beat Nike Oregon Project's Clayton Murphy who ran 1:47.22. Quamel Prince (1:47.32) and Erik Sowinski (1:47.71) finished third and fourth.