'Olympic Dreams': Alexi Pappas On Pyeongchang Film Project, Tokyo 2020
'Olympic Dreams': Alexi Pappas On Pyeongchang Film Project, Tokyo 2020
Alexi Pappas and her fiancé-film partner Jeremy Teicher were invited to Pyeongchang to make short films around the 2018 Winter Olympic Games.
Apr 25, 2018
by Johanna Gretschel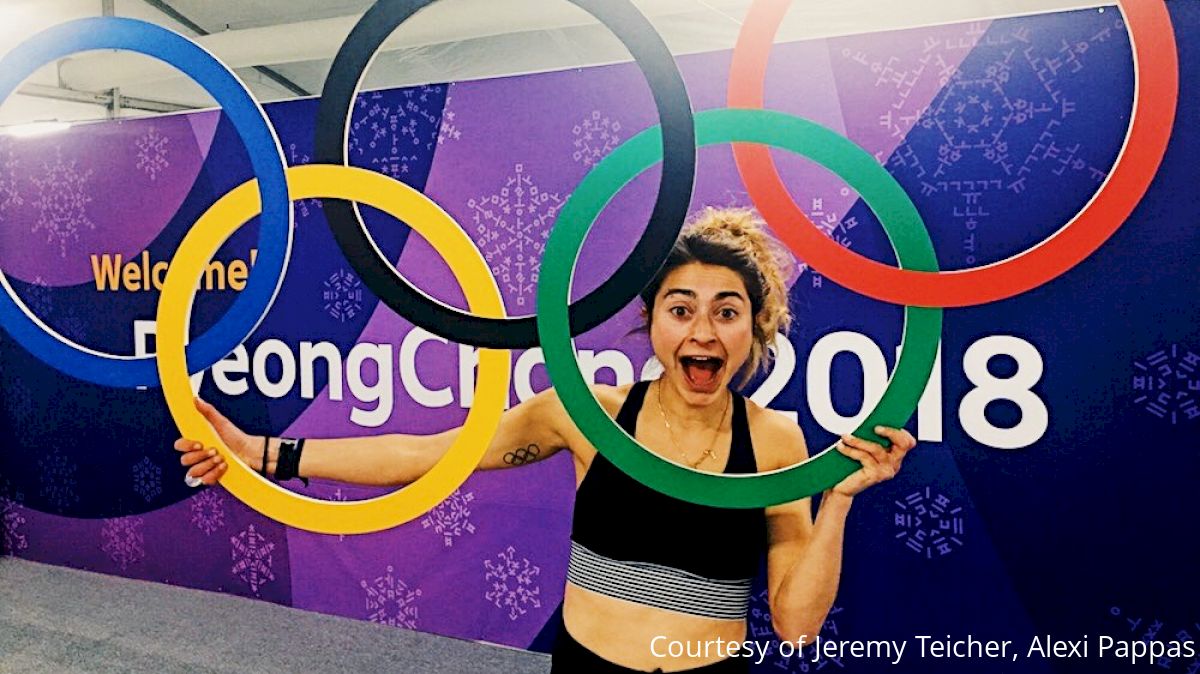 Most track fans hardly need an introduction to former Oregon Duck Alexi Pappas, who represented her grandmother's native Greece in the 10K at the Rio Olympic Games, whose poem-filled Twitter feed reads like the Rupi Kaur of distance running, who studied film as an undergraduate at Dartmouth and then co-wrote and co-directed the semi-autobiographical film "TrackTown" with her fiancé-slash-creative partner Jeremy Teicher ahead of the 2016 U.S. Olympic Trials.
If you still haven't seen "TrackTown," it's currently streaming on Hulu and on select American Airlines flights, where International Olympic Committee (IOC) President Thomas Bach happened to catch the film last fall. He was immediately enamored with Pappas' plucky lead character, Plum, and invited Pappas and Teicher to join the Olympic artists-in-residence program at the Pyeongchang Winter Games in South Korea, where they were tasked with writing, directing and producing a series of short films about the Olympic experience.
The couple teamed with professional comedian Nick Kroll to write the fictional shorts, "Olympic Dreams," which follows Pappas as a cross-country skier named Penelope navigating her way through Pyeongchang. Kroll plays a volunteer dentist named Ezra who establishes a romantic connection with Penelope after her race does not go as planned. Like "TrackTown," much of the charm of "Olympic Dreams" lies in the authenticity of the voice—Pappas is a real-life Olympian who drew from her own experiences in Rio as well as the experiences of winter Olympians whom she interviewed to create the script.
A few weeks after the Games concluded, we caught up with Pappas and Teicher about the project, their upcoming nuptials, and Pappas' debut marathon this fall. You can watch the five-episode series "Olympic Dreams" here.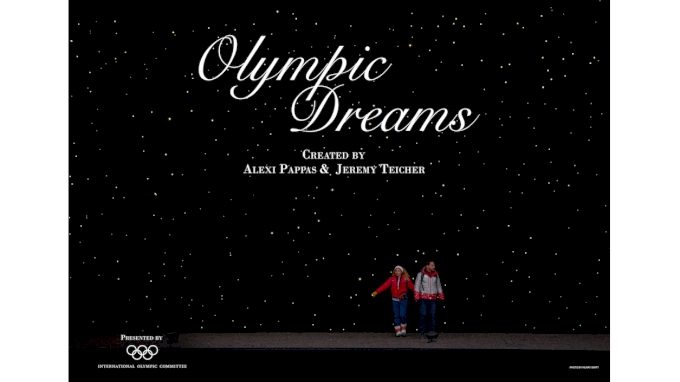 FloTrack: How were you approached to do this project?
Alexi: It first took being an Olympian myself and having the chance to meet the president of the [IOC], Thomas Bach, at a party celebrating the 2028 bid for the Olympics in L.A. That was a lot of fun to meet him in person. On his flight back from that event, he randomly came across "TrackTown" on his American Airlines flight—which has been an outlet for us to show the film to people who might not otherwise find it—so he saw TrackTown and called me basically the next day, told me he loved it, and (asked) what [was] I doing in February.
He asked if I wanted to be part of this artist in residency program with Jeremy.
It was in the late fall, so it actually was the quickest turn-around Jeremy and I have ever had in envisioning a project and executing it, so it was certainly an exciting winter.
FloTrack: What was the idea process like?
Alexi: Jeremy and I sat down and watched some of our favorite movies.
I also thought back to my experience in Rio, where I saw athletes from sports that I had never even seen ever in my life, and met them and had the chance to have dinner alongside them in such an intimate environment. We definitely wanted to capture life inside the village, which was one of my favorite parts of the Olympic experience. But also, I met a lot of volunteers when I was in Rio, which was really pleasantly surprising for me—the interaction between the athletes and volunteers.
We envisioned this film project where an athlete would meet a volunteer, which was very true to my experience, and have a little wrinkle in time adventure with him and also meet a ton of other athletes along the way.
FloTrack: I read in another interview that a volunteer asked you out when you were in Rio?
Alexi: I was in the gym—and the gyms in the village are open for [both] athletes and the volunteers who are living in the village. One of the volunteer doctors struck up a conversation with me near the pull-up bar. We exchanged numbers. He was curious about how my race went because I hadn't competed yet, and after my race, he was very friendly and persistent and—that didn't go nearly anywhere compared to, you know, our film project's relationship, but it was the inspiration.
What was so fun was we actually connected—I called him when we prepared for this project to ask him [about his experience] and he was so generous to share what it was like to become a volunteer doctor and his impressions of meeting all these Olympic athletes. So when Nick Kroll was playing the volunteer dentist, he was really equipped with the real facts of what it feels like to be a volunteer at the Olympics.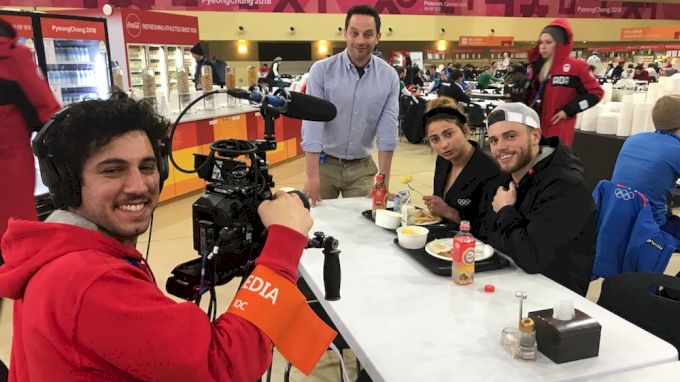 Jeremy Teicher, Nick Kroll, Alexi Pappas and U.S. Winter Olympian Gus Kenworthy pose during the "Olympic Dreams" shoot
FloTrack: What did Nick Kroll bring to the project?
Alexi: It was super collaborative with Nick; he had a writing credit with Jeremy and myself. The whole script was tightly outlined but very improvised due to the on-the-go and organic nature of the places we were filming. He was a dream collaborator for a few reasons. One, he has such a strong improv background himself. Two, he brought such a curiosity and appreciation for the Olympic Games and for the athletes themselves; he truly understood what was special about creating a fictional film within a real Olympic village and in the back scenes of Olympic events. Three, I think his attitude was one of determination, just like Jeremy and I, and also openness—we were very flexible. When we saw a bunch of athletes climbing on an Olympic rings statue, we stopped and grabbed that shot.
Jeremy: When we met with Nick and even before that, when we were speaking with his agent and with our casting team, too, to find the perfect person to play this role—we were looking at whose work we like, and who we thought would be the best creative fit, but the other big piece was, who is going to be down to be part of a three-person team making a really ambitious movie, in an environment where we are often not fully going to have control? So who is going to be a really positive team player? And Nick was so on board with that.
FloTrack: You watched some moves to get prepared. Some of the tone reminds me of TrackTown — the funny, awkward dialogue, and some of the mannerisms. What are your influences?
Jeremy: It's kind of cool now that we've had the chance to make enough films to develop our own style, so it's cool to say that, yes, it is like "TrackTown" in some ways and no matter what we make, that kind of tone will come through. In this one, a big influence was "Lost in Translation." We knew we wanted to tell the story inside the village, we knew we wanted to have a relationship and contrast these two different experiences—an athlete and a volunteer—and explain why each of the two of them [is] there. Alexi thought of "Lost in Translation," and it seems like such a clear parallel. You have two people who are going through a transitional time in their [lives] in an environment that is foreign to them. That was our biggest influence from a story perspective.
Because we're doing a movie in a real place, we have to borrow a lot of documentary techniques in order to achieve the scene.
"City of God" is a big inspiration because they shot that in a real location, [though it] is super different from a tone point of view.
Alexi: For me, I had seen relatively recently "I, Tonya," and one of the things that I loved about the movie was how it focused a lot on her relationships and I like when a film is set in a very specific setting, like in her world, or for us, in the Olympics' cross country skiing world, but you come away with feeling like it's a story about people. So I loved that movie for that reason and how authentic it felt. It really felt like they tried, as we've tried, to peek into a world that not everyone has seen and make something where the athletes themselves would be proud to show their friends and family this world through this film.
FloTrack: Did you run into any issues with people not understanding why you were filming?
Alexi: It was actually more of a feeling of curiosity and familiarity with the athletes, because the Winter Olympics are much smaller than the Summer Games. In the dining hall, where we ate every day and where all the athletes eat every day, they started to recognize us and know that "this is the film crew" and it felt more like a small college campus than anything else, to me.
When I would approach athletes to ask if they would do cameos in the movie, I would introduce myself as a Summer Olympian doing this artist in residency program, and they were all—unless they were literally competing that day—every athlete I asked to be a part of this, was so excited to be a part of it. And either because they were excited to be a part of a fictional film project, or they recognized Nick Kroll and were excited to be in a project with him.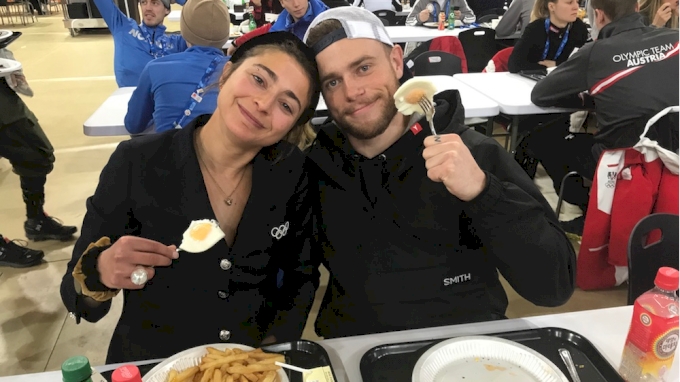 Alexi Pappas and Olympic freestyle skier Gus Kenworthy pose during "Olympic Dreams."
FloTrack: Are all the extras athletes?
Alexi: All of them were competing in this Winter Games and all of them we met at the Winter Games, basically. There were a few we organized ahead of time, Gus [Kenworthy] for example—I loved meeting Gus because he is another athlete, like myself, who wants to be an actor in the long run and loves his Olympic endeavors but also has these long-term goals of doing theatrical things in the future. To connect an athlete I could identify with was really special.
Jeremy: Other athletes, we would literally walk up to them in the dining hall and ask what are you doing right now. And would get them in the film a couple minutes later. Everyone in the film, everyone who speaks, was an athlete or a volunteer. Nick and Alexi were the only "outsiders," if you will.
Alexi: Morgan Schild (who plays Penelope's hallmate in the athlete village) was really special because we met here while we were shooting a party scene. After that, we went out and spent some time with her, we did karaoke with her and the whole mogul team. That was really fun for me because after my own Olympic Games, I didn't really go out in Rio. It was such an emotional peak for me that I wanted to be very low key with my family and friends who were there and my coach. This Games, I was able to be more social and meet more athletes. When you work with non-actors, which Jeremy and I have before in TrackTown, we kind of have an eye for someone who might be good in this scenario, and Morgan was really, really excellent and I think she had a great time acting.
FloTrack: The character that you played is pretty true to your own experiences in Rio?
Alexi: The character that I played is a reflection of my experience in Rio, but I also spent some time on Skype with some professional Olympic cross-country skiers. One, Erica Flowers, I went to college with and is a professional skier. On Skype, she told me all about what a cross-country skier is like, and she helped me figure out what event I would have done based on, like, I'm a long distance runner and what is believable here.
Jessie Diggins, who won the gold medal in Pyeongchang, was super kind to me. She put glitter on her face and so she was the inspiration for the glitter that my character puts on. Just like TrackTown, my character was a collage of my experience as an Olympian and also the experiences that I was able to absorb from the Olympians that I met and prepared for ahead of time.
I was playing a cross-country skier which is similar but different than a long distance runner and it was important to me that she reflects their true experience.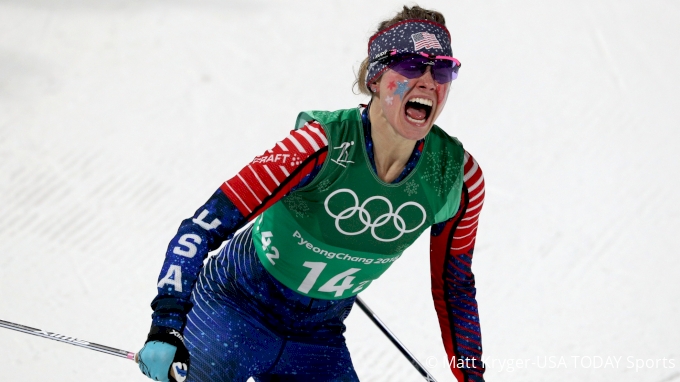 Jessie Diggins reacts to winning the women's team sprint with U.S. partner Kikkan Randall in Pyeongchang. Diggins and Randall are the first American cross-country skiers to win an Olympic gold medal. Pappas drew inspiration from Diggins' penchant for wearing glitter during competition.
FloTrack: Can you speak a little bit on the experience of being at the Games, the excitement of making it to an Olympics, being an Olympian, and then that feeling of when your event is over?
Alexi: I feel like before your event and before you debut, it's like your whole life has, in so many ways, led up to this moment. It's almost like when you first meet a role model that you've looked up to for a really long time or have only seen from afar on television and you meet them in person for the first time and they either exceed your expectations or fall short.
For some people that I know, their Olympic experience is not as glittery as what they've daydreamed about. For me, it exceeded my expectations and I think that's because I was really present and open about what came at me so if something was challenging, I took it on as an adventure.
For this character, Penelope, I think she is a little disappointed in how her race goes and that's partly why when it's over, she feels like, "What do I focus on now?" because she's always had a focus, and that's why she turns her attention to meeting other people and specifically, Ezra the dentist.
FloTrack: Did interacting with athletes and inhabiting this character in a totally different sport give you any new perspective on your own running?
Alexi: Oh my gosh. Totally. I felt like going there and being a part of this project with the IOC was really amazing for me because when you go to your first Olympics, you feel like you're earning your wings in a way, you're becoming an Olympian and it's such a process of growth, like a butterfly coming out of its cocoon that it's been preparing for so long.
Going to South Korea, I really went in a position where I felt like I had… I became that, but I really needed to look at it in a more artistic way and I needed to present it suddenly, instead of just being it, and so I felt like [the project] reinforced my gratitude for being a part of this thing that is so much bigger than myself. And especially when you are competing, it requires a certain focus that is important so you can perform well. Going there and not having a competition allowed me to really have eyes open and recognize that one, all Olympians can get along because every Olympian I met I felt like I was kindred with, and two, I felt so excited to go back to a Games and . . . bring all of the belief that I got from being around all these Olympians and do more. Do more next time I go, and do what I'm going to do in 2020.
I came back feeling a new sense of why I'm training for the 2020 Olympics because you always have that feeling of, "Wow, this is four years of my life that I'm dedicating to one race, is that OK? How long do you do this?" And I totally came back feeling like, "Yes, this is absolutely what I'm doing," and it's 100 percent worth it and it's an amazing tradition to add to.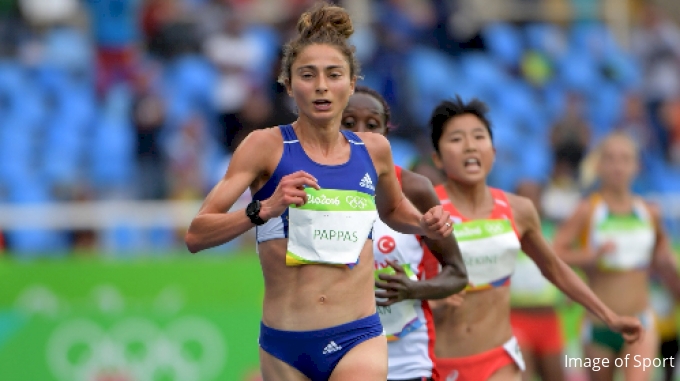 Alexi Pappas placed 17th in the Rio Olympic Games 10K in 31:36.16, a new Greek national record
FloTrack: How is your own running going? Were you able to train while you were in South Korea?
Alexi: Andrew Kastor is my coach now, and he is so wonderful because he understands that as athletes, we are complete beings and whatever combination of things makes us toe the line and perform well is unique to us. His wife, Deena Kastor, she's a mom now and wrote a book and all these things some might see as distractions or challenges, she sees them as strengths.
Coach Kastor realizes that my creative work is an emotional boost for me and is part of why I toe the line and believe in myself and what I'm doing.
When I got this opportunity, I said, "I know this is when we're starting to get into track and it's not super ideal timing," and he was like, "No, this is a once-in-a-lifetime opportunity, you've got to go."
So he set it up so that I wasn't doing super, super intense training while I was there. I was meant to maybe do the New York City Half, but that was just after [Pyeongchang] and we decided that I can continue training in Korea but it wasn't smart to try to put two peaks at the same time. Making a film is really a peak just like a race might be. I went there and ran every morning, even taking some time off during the more intense, hard shooting days.
It was about maintaining fitness while I was there and really getting a good film. As athletes, one of the most important things is to be where you are when you're there. When you're at practice, taking off your creative hat and being fully there as an athlete and when practice is over, end practice and consciously don't carry practice through the whole day. That has been important for me, and I think is important for any athlete to know we can't train 24 hours a day. Jeremy is such a wonderful teammate because he takes the big lead on editing and working with our IOC contact to put the films out. So now I'm pretty focused here as an athlete on preparing for some track later this summer and hopefully a fall marathon, which would be the first marathon of my life and hopefully my event for Tokyo.
FloTrack: Do you have specific races targeted yet?
Alexi: I'm racing a half marathon in Indiana in May and that will be more of a hard workout. I'm going out there with Meb and spending some time with athletes there. Probably my first real race will be to get on the track in June, probably out in Portland, Oregon, then head to Europe. I'll race the Greek national championships in July and hopefully the European Championships which are in Berlin in August.
I'll try to qualify for Europeans [by hitting the time standard] at the Portland races, actually, because the national championships in Greece don't go above the 5K.
Then I'll come back and really stay put in my incubator to prepare for that fall marathon. It's a long view for me, it's not a peak anytime super soon, which is nice and important I think when you're preparing for your first marathon.
FloTrack: You haven't competed since entering a few road races in the fall of 2016. Why did you take such a long break after the Olympic year?
Alexi: I actually took the first and longest break I've taken since I went to college, which has really really been amazing actually. Before I went to Dartmouth, which was 10 years ago, I took two years off running—which wasn't entirely my choice—and focused on soccer and government and theater because our coaches wanted us to specialize [in track] when I was a sophomore in high school.
That felt devastating at the time but I just wasn't ready to focus on one sport when I was 16.
At Dartmouth, I found a team that was so exciting to me and the camaraderie was like what I had in soccer in years prior so I felt OK and good about being a single-sport athlete. I was not in shape to contribute to the team points but I had had those two years where my body really grew into a female athlete. You know, I get 30 to 50 messages a day from girls and boys who are going through... everything from pre-race nerves to being confused about what's going on in their body. Your body needs to become an adult and I think sometimes when athletes pound mileage at 16 years old, that can hurt them later in life.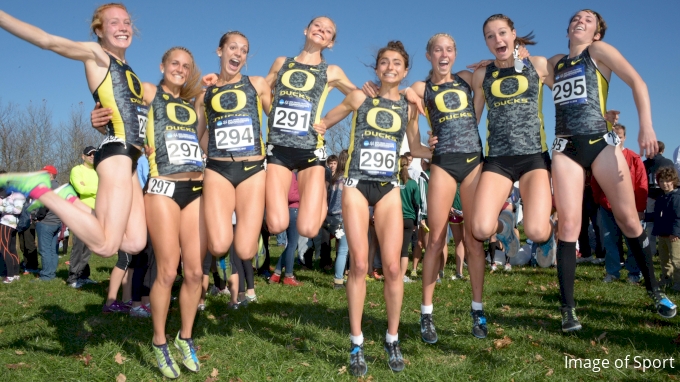 After four years at Dartmouth, Pappas (#296) used her fifth year of eligibility at the University of Oregon, where she helped the Ducks win the 2012 NCAA DI XC Championship with an eighth-place individual finish.
That [unintential] break was, for me, what fueled the next eight years of injury-free, complete running.
After the Olympics, I had my first injury of my life and that was due to needing a break. It was an overuse thing and I needed to take some downtime. In college, I was moving up every year, I did the 800m freshman year, then 1500m, then steeplechase and then I didn't even try a 5K until indoor track at Oregon [my fifth year] and didn't try a 10K until the year before my Olympic debut. So I've been somewhat of a late bloomer in the sport.
Taking this break in the last year and having time to, one, make a bit of a transition to the marathon in a more relaxed way, and two, not constantly be asking myself to peak in new events, is what my body really needed. And now I feel like I'm obviously really hungry for that fitness that I want when I debut in the marathon but I also feel really grateful to be around a team and coach and environment where I'm going to be rejuvenated in a way that I needed and that I probably would not have given myself.
You know who I really look up to for that is Shalane [Flanagan]. She had her injury, which took her out about a year ago, and then attributed her win in New York to that break. I talked to her over the summer and, she said, "You are going to be great and I had no idea what kind of break I needed until I had it," and I feel the same way now. I am so grateful that she set that example for us athletes; to know, to see someone go through [a serious injury] and to come out even better and happy and I am really grateful to Shalane for that, honestly.
FloTrack: When did you move to Mammoth?
Alexi: It's been a transition but I would say a little less than a year ago. I'm excited to race for Mammoth Track Club coming up. So it kind of went hand-in-hand with that transition from the 10K up to the marathon shortly after Rio.
FloTrack: Was that always your plan—10K in Rio, then looking to move up to the marathon for 2020?
Alexi: It was always something that I knew I was set, and doomed, to do! I'm so excited and nervous in a good way for the marathon. I've long had Deena Kastor as a mentor and, oh my gosh, I'm so excited for her book, I have a quote on the sleeve of her book! I'm so honored about that because Deena's grown for me from a mentor to a teammate and, oh my gosh, to be on her team and train alongside her and to have her brightness, her wisdom and her determination —because she's still crushing it!—by your side is like, I can't believe that I get that privilege.
I love Oregon, I love training there, but I really didn't quite have all the women pushing me. I had a lot of male teammates. Here, I feel like there's a pack of women just as good or better pushing me, and that's something I think we need to grow, is to be around the people we wish to become.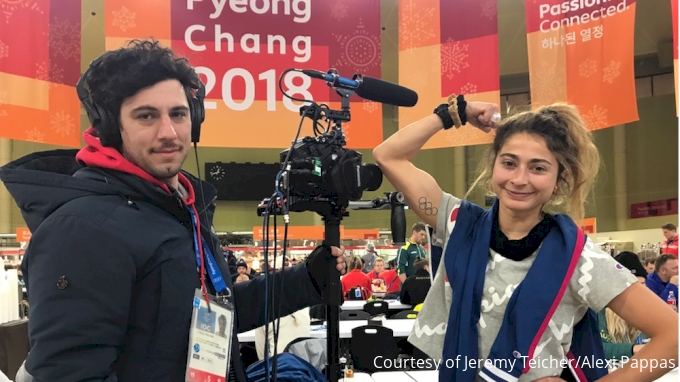 Teicher and Pappas pose during filming in Pyeongchang.
FloTrack: And Jeremy, you live in Mammoth too?
Jeremy: Yes. Alexi and I live together and are getting married in June.
Alexi: That's the other thing about this time, is, "Let's get married." For him, Mammoth is such a short drive to L.A. for our film work. He was there yesterday with me for some meetings. Mammoth is a pretty isolated mountain town, but it's so easy to get to the city where all this film work is happening.
FloTrack: How did you pop the question?
Jeremy: It was actually on the drive from Eugene to Mammoth, where she was doing some altitude training for Rio. My plan was to do it on the drive, it's this really cool scenic drive and I really wanted to do it before the Olympics and before she headed down to her training camp, so I had one day to do it—and the Jeep broke down in the middle of nowhere. We got towed to a Super 8 Motel in—what was the name of the town?
Alexi: Susanville.
Jeremy: Susanville, California — I proposed in the motel room.
Alexi: He proposed in a Super 8 Motel room. And that is something I really value about Jeremy, is that, well, you didn't do it at the Olympics. It was important to him to do it during his own time, let our relationship have its own moment. And now we're very fond of Super 8 Motels and every time we go by one, we give a nod.
FloTrack: Where did you guys meet?
Alexi: We met at Dartmouth when I was a sophomore and Jeremy was a senior. We met at a party. I had a very balanced college life and if I didn't, I wouldn't have met the love of my life.
FloTrack: What was the next film project in the works if the Olympic opportunity hadn't materialized?
Alexi: We have a few projects always going—for example, I am working on a book with a pretty major publisher to be announced. It's not yet super public but it's totally fine to say I'm working on a book of essays.
Jeremy: We have some other film and TV projects in the works, but it's a little early to announce that. It's a possibility that the Olympic story can become more than a short. So that's what we're exploring right now.
This interview has been edited and condensed.