2018 Chicago Marathon
Why Chicago Could Be Jordan Hasay's Best Race Yet
Why Chicago Could Be Jordan Hasay's Best Race Yet
Jordan Hasay is in a much better place these days than she was three months ago in Boston.
Aug 7, 2018
by Johanna Gretschel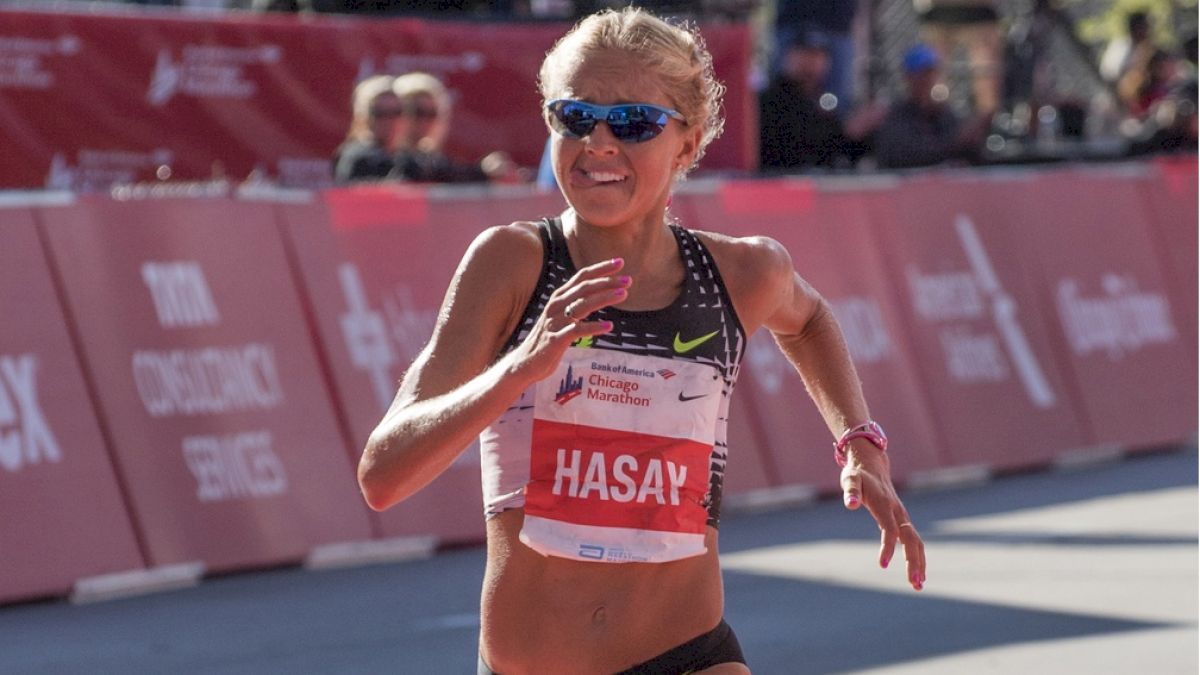 Jordan Hasay is in a much better place these days than she was three months ago at the Fairmont Copley Plaza, where she sat incapacitated on a bar stool and watched Des Linden win the Boston Marathon.
The 26-year-old Hasay was supposed to be on the start line that morning, playing the part of the young upstart alongside a deep American field that included Shalane Flanagan, Molly Huddle and, of course, Linden—one of whom, pundits declared, was sure to break the U.S. women's 33-year title drought at the nation's oldest marathon.
But Hasay withdrew from the race a scant 16 hours before start time, citing a stress fracture in her calcaneus—the heel bone.
Unfortunately @JordanHasay has a stress reaction in the heel and will not be able to run. "Despite my team working to give me every chance to make it to the starting line, I won't be able to join you. I'll be cheering everyone on and hope you enjoy this historic race." pic.twitter.com/zwhXERrQBX

— Boston Marathon JH (@jhboston26) April 15, 2018
The admission was shocking considering that just days earlier at the press conference, she reassured media her foot was "doing great" and "feeling 100 percent" after withdrawing from the IAAF World Half Marathon Championships with plantar fasciitis the previous month.
Many found it strange that she chose to have an MRI done the day before the Boston Marathon.
Now, she says had a first MRI 10 days before Boston, which showed a slight stress reaction.
"We were so close to the race and I was able to run on it with minimal pain, so we figured there would be no long-term danger to my career by running on it for one race," Hasay said of her team's internal dialogue after the first MRI. "So I continued running, doing workouts, and then—with the taper—resting more, so it was starting to feel better and better. Last minute, my coaches and doctors wanted to get one more [MRI] to be really sure."
This time, the fracture line in her bone was "so obvious" that her team had no choice but to shut things down.
"I do have a high pain tolerance. Anyone in the sport has to. I didn't want to hide anything from the media—I was telling the truth. [My foot] was feeling good. I had done a workout the day before, actually, and I had no pain but I think I just blocked it out.
"When you're an elite athlete, once you start running, you feel better, and obviously, I wanted to toe the line so bad and had done the entire build-up and was super, super fit. There was a lot of adrenaline that was helping me through to that point."
After the diagnosis, she briefly thought about flying home to Portland a day early, but opted to stay in Boston to watch the race with her family. That's how she ended up on a stool at OAK Long Bar + Kitchen inside the opulent Fairmont Copley Plaza—the official hotel for the Boston Marathon.
Seated alongside U.S. distance-running legend Joan Benoit Samuelson, with whom she had risen at 5 a.m. to send off the B.A.A. runners, her acupuncturist ("we wrote out the treatment and progression plan for the next month so I felt like I was being productive while watching the race") and family members, Hasay watched Linden make history.
"It was neat to be there from the perspective of a fan," she said. "When Des won, everyone was really emotional. The bartender there, Des knows her really well because she always goes there for burgers after the race. I'm a big fan; I love Des. I met her my first summer I turned professional and she was so cool and down to earth.
"It's an inspiring story that she's come back again and again and if anyone was going to be the first to win, I would have wanted it to be her. Obviously, I wanted to be out there but it gives me motivation to go out and win—Des was the first American to win in a long time and it sets the tone for us to go win it and defend it as Americans."
Hasay has already come pretty close to winning a major herself. Her two marathons were transcendent both for her own running career and American marathoning as a whole.
In 2016, she couldn't crack the top eight in the 5K or 10K at the U.S. Olympic Trials, but by the end of 2017, her 2:20:57 marathon personal best made her the second-fastest woman in American history. The rookie placed third in both Boston and Chicago, both of which are Abbott World Marathon Majors with enough prize money to attract the top athletes in the world.
Despite the month-long layoff from running after withdrawing from Boston, Hasay still has Deena Kastor's 2:19:36 American record on her mind for this fall's appearance at the Chicago Marathon. The race features fellow top Americans Amy Cragg (2:21 PB) and Laura Thweatt (2:25 PB) amongst its entrants.
"This year, I'll definitely be trying to shoot for the win, but also trying to run fast," she said. "That American record is definitely in my sights."
She's logged full mileage—around 100 miles a week—since late June, with a 25-mile long run and about 20 additional miles per week on an underwater treadmill.
"Workouts went really well at first—you're not tired yet from mileage, so you get in a good speed workout initially," she said. "I had a two-week period where everything kind of hit me. I was back at 80 miles that week when I started to struggle. I would have progressed more slowly—five-mile-a-week jumps—but we ended up jumping up to 95 and 100 pretty quickly because sometimes, if you're tired, you're just like, 'ugh, I'm not even at my full volume,' so I felt, mentally, it was worth it to just run more.
"The Netflix watching has gone up and you appreciate naps more, but I feel better being back on my normal routine."
Hasay tries to think of bad workouts as a race-day simulation.
"As I've gotten more mature, I've started to think about bad workouts as, 'actually, this is good, because this is how I'm going to feel in a marathon.' You don't want to dig a hole, but if you actually slow down the pace, that's more how you'll feel in a bad race, so you end up getting the mental benefit."
She has such a high pain tolerance that her coach, Alberto Salazar of the Nike Oregon Project, doesn't trust her to do workouts by herself.
"Before Boston, I was in California for two months straight and at this point, he wants me to be two weeks on, two weeks off with him in Portland just because I'm really, really optimistic. Even when I feel bad, I'm always like, 'I felt fine,' I'm never like, 'I feel terrible,' so he has to be able to see my face and form to know if I'm actually hurting or not."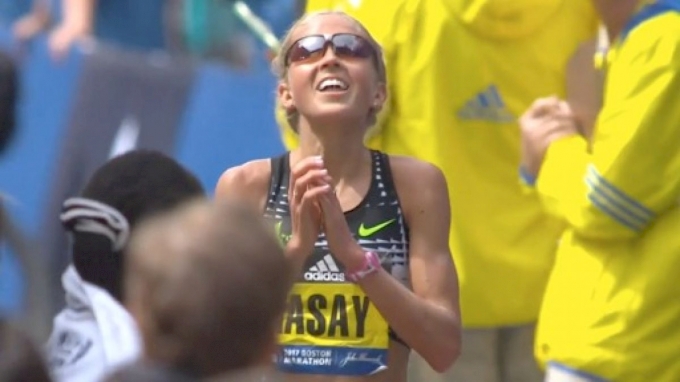 Jordan Hasay after surpassing the U.S. marathon debut record by three minutes at the 2017 Boston Marathon.
The thing she misses most from her month-long running layoff is the ability to work out hard every single day.
"If you're swimming and biking, it's just a different recovery," she said. "You can go really, really hard and then recover and go straight to the pool the next day. This layoff honestly gave me the confidence to take a really long break—three weeks off instead of my usual two—and I think that will help me with my longevity into 2020 and beyond."
Hasay's youth and track record certainly make her a favorite to make the 2020 Olympic marathon team. By the time the Trials roll around, she will be 28 while Flanagan will be 38; Cragg, 36; and Linden and Huddle, 35.
Flanagan, the 2017 New York City Marathon champion, and Cragg, the 2017 World Championships bronze medalist in the marathon, are the only active U.S. athletes to ever run within a minute of Hasay's best time.
"I had wanted to run Chicago before I was even in Boston, which ended up being good because my family could say, 'don't blow Chicago—just take your month off and you won't lose a beat.' Whereas if I had to get surgery, I'm out for a long time and we're already getting close to 2020. When you think about it, I only have three marathons left if I end up doing two in 2019. It's coming up pretty quick."