2019 Chicago Marathon
Brigid Kosgei Smashes Paula Radcliffe's World Record At Chicago Marathon
Brigid Kosgei Smashes Paula Radcliffe's World Record At Chicago Marathon
Brigid Kosgei smashed Paula Radcliffe's world record at the Chicago Marathon in 2:14:04.
Oct 13, 2019
by Johanna Gretschel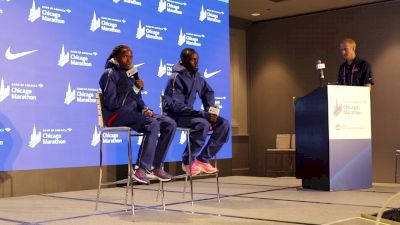 Brigid Kosgei of Kenya one-upped Eliud Kipchoge on Sunday in Chicago, as the 25-year-old closed out an impressive week of marathon performances with an unexpected and brilliant new world record for women in 2:14:04.
ladies and gentlemen, your new world record holder Brigid Kosgei! 2:14:04! #ChicagoMarathon pic.twitter.com/aWR1mq7gPs

— Johanna Gretschel (@jojo_shea) October 13, 2019
Paula Radcliffe's 16-year-old world record of 2:15:25 had stood since the 2003 London Marathon, and no other woman has ever run under 2:17. Radcliffe's Chicago Marathon course record of 2:17:18 was the originally stated focus for Kosgei ahead of the race, but she and her pacers started off hot and were able to hold on to surpass Radcliffe's greatest feat.
"I am feeling good and I was happy because I was not epecting to run like this," Kosgei said after her historic run. "People are cheering and I get more energy and the morale to kick and keep kicking. I am happy again for the people of this place."
"I think we always know that time is gonna come [for the record to be broken]," Radcliffe said on the broadcast after the race. "I think when I saw how fast Brigid was running the first half of the race, she would get it [as long as she kept that pace]... It'll always be my personal best."
Kosgei seemingly went out at suicide pace with an opening two mile split of 9:54 and 5K split of 15:28, which projected her finishing time at 2:10. A bonk seemed inevitable, but the 2019 London Marathon champion settled in to a more reasonable pace and hit halfway in 1:06:59, about one minute ahead of schedule. For comparison's sake, Radcliffe split 1:08:02 for the half marathon en route to her world record run.
Here's a side-by-side comparison of Radcliffe vs. Kosgei's splits, per IAAF and Chicago Marathon:
| | | |
| --- | --- | --- |
| SPLIT | RADCLIFFE WR (2003) | KOSGEI WR (2019) |
| 5K | 15:15 (3 MILES) | 15:28 |
| 10K | 32:01:00 | 31:28:00 |
| 15K | | 47:26:00 |
| 20K | 1:04:28 | 1:03:27 |
| HALF | 1:08:02 | 1:06:59 |
| 25K | | 1:19:33 |
| 30K | 1:36:36 | 1:35:18 |
| 35K | | 1:51:14 |
| 40K | 2:09:29 | 2:07:11 |
| FINISH | 2:15:25 | 2:14:04 |
The world record anoints Kosgei as the greatest female marathoner in the world in her 12th career marathon. Though the time was unexpected, she had also run the fastest-ever half marathon in world history, 1:04:28, at the Great North Run in September. The time is considerably faster than the world record of 1:04:51, but is not eligible for record-setting purposes because the race is contested on a point-to-point course.
Kosgei is undefeated in 2019, including wins at the London Marathon and the Houston Half Marathon. She won the Chicago Marathon and placed second at the London Marathon in 2018, and was also runner-up in Chicago in 2017.
Kosgei's hot early pace split the women's elite field fairly early on. Yeshaneh Ababel of Ethiopia held on for runner-up honors in 2:20:51 ahead of countrywoman Gelete Burka, who ran 2:20:55.
Kenya's Betsy Saina ran in fourth position behind those three women until halfway through before dropping out, giving American Emma Bates an extra boost in the standings as she finished an impressive 2:25:27 for fourth place in her second ever marathon and first appearance at a World Marathon Major. Ireland's Fionnuala McCormack was fifth in 2:26:47, as four more Americans made the top ten: Stephanie Bruce (6th, 2:27:47), Lindsay Flanagan (7th, 2:28:08), Laura Thweatt (8th, 2:29:06), Taylor Ward (10th, 2:30:14).
Jordan Hasay, a three-time podium finisher at World Marathon Majors, reportedly suffered a hamstring injury during the race and dropped out shortly after 5K, where she recorded a pedestrian 22:20 split. Hasay's coach, Alberto Salazar, was banned from the sport for four years on doping charges last week, and her training group, the Nike Oregon Project, was subsequently disbanded in what has been a tumultous few weeks for the athlete, who originally planned to chase the American record in Chicago.