Remembering Gabe
Gabe Grunewald Passes Away After Decade-Long Battle With Cancer
Gabe Grunewald Passes Away After Decade-Long Battle With Cancer
Today, Gabe Grunewald, who inspired so many runners and non-runners alike as she battled cancer for more than a decade, passed away at the age of 32.
Jun 12, 2019
by Jennifer Zahn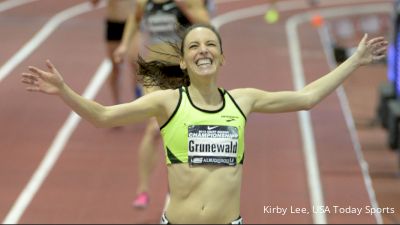 Foreword: Our sincerest condolences go out to Gabe Grunewald's friends and family. The FloTrack staff got to know Gabe over the many years we followed and covered her athletic career and fight against cancer, and it was nothing short of an honor to help share her story.
In Gabe's memory, we'd like to encourage you to donate to a cause she held near to her heart: Brave Like Gabe, the foundation she created to raise money and awareness for rare cancer research.
From June 12 to June 20, FloSports will match up to $10,000 in donations made through our GoFundMe campaign for a total of $20,000 dedicated to the Brave Like Gabe Foundation.
Donate here so we can match your contribution.

---
On Tuesday, Gabriele (Gabe) Grunewald, who inspired so many runners and non-runners alike as she battled cancer for more than a decade, passed away at the age of 32.
Grunewald was moved to end-of-life care and into her home in Minneapolis on June 6 after going to the hospital in May to treat an infection in her liver. Her condition worsened since then as complications arose.
Her husband, Dr. Justin Grunewald, shared a beautiful letter for her on Instagram on June 6 as he updated the community on her status.
"At the end of the day, people won't remember the PRs run or the teams qualified for," he wrote, "but they will remember that hard period in their life where they were losing hope but they found inspiration in a young lady who refuses to give up."
A native of Perham, Minnesota, Grunewald (née Anderson) was diagnosed with adenoid cystic carcinoma at 22 years old while competing collegiately for the Gophers in 2009, but that didn't stop her from continuing to excel as a runner. As history would eventually prove, not much could.
The day after she learned she had cancer, she laced up her spikes and raced the 1500m at the 2009 Sun Angel Classic at Arizona State—and finished with what was a two-second PR at the time.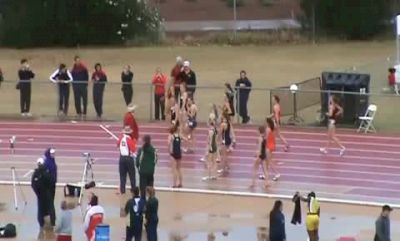 Despite undergoing radiation and surgery to remove her salivary gland, Grunewald, who first started at Minnesota as a walk-on, remained undeterred. She finished runner-up in the 1500m at the 2010 NCAA Division I Outdoor Track & Field Championships by kicking hard to pass Jordan Hasay just a few meters before the line. She went pro later that year, signing with Brooks.
Watch our interview with Grunewald after her runner-up Division I finish: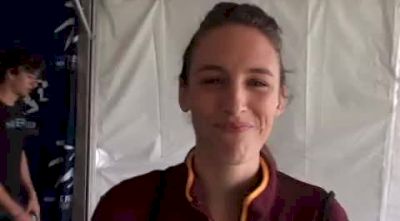 2010 also brought her a second cancer diagnosis—this time, in her thyroid gland, which would eventually require another surgery and radioactive iodine therapy. After further treatment, Grunewald stayed dedicated as ever to competing at a high level, taking third in the mile at the 2011 USATF Indoor Championships.
The following year, she narrowly missed an Olympic berth after taking fourth in the 2012 U.S. Olympic Trials 1500m final. Riding that momentum, Grunewald went on to run a lifetime-best 1500m at the 2013 Monaco Diamond League meeting in 4:01.48—at the time, the 11th-fastest mark in U.S. history, and currently No. 12. In 2014, she earned the U.S. national title in the 3000m, which came with a spot on the world team.
Watch Grunewald run her 5K PR, 15:19.01, at the 2015 Stanford Invitational: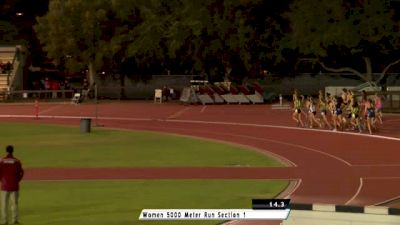 After five cancer-free years, her health circumstances became dire again in 2016 after doctors detected a large tumor in her liver—a metastatic recurrence of adenoid cystic carcinoma—that required surgery to remove both the growth and half of her liver. It was her third cancer diagnosis.
The procedure left her with a 13-inch abdominal scar that she bore proudly as she raced in a sign of solidarity with other cancer survivors.
"It's important to not feel alone in these hard situations," Grunewald told FloTrack in 2017. "It's cool to have people open their mind to the fact that they may be going through cancer, but they can't give up on their life and their dreams. Ultimately, that's the message that I want to send."
Read: 2016 Human of the Year: Gabe Grunewald
Her fight would not end there. A March 2017 scan revealed additional tumors in Grunewald's liver, her fourth bout of cancer.
Despite being prescribed a rigorous treatment regimen, one that could not include surgery due to the location and amount of the tumors, Grunewald continued to run professionally.
Pre-treatment, she opened her season in 1500m at the 2017 Payton Jordan Invitational on May 5.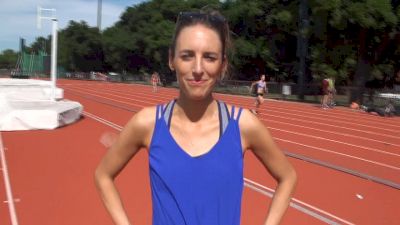 At the end of the month, Grunewald contested the 1500m at the 2017 Prefontaine Classic, where she said she was humbled by the amount of people who had reached out to her to share their stories—including one woman with a large scar who said Grunewald inspired her to run in shorts for the first time in five years.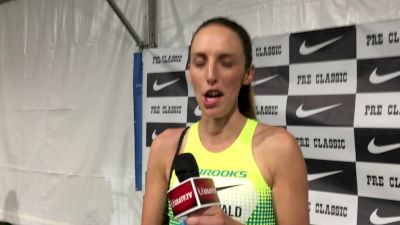 The same week she began chemotherapy in June, she competed in the 2017 Music City Distance Carnival 1500m.
"My life is going to be worse if I don't run," Grunewald said. "I owe it to myself and my supporters to see what I can do."
Grunewald went on to compete many more times that year, and lined up at the 2017 USATF Outdoor Championships in the 1500m during an off-week for her chemotherapy. Although she did not qualify for the final (the first time that happened in the seven years she'd been competing at the U.S. national level in the 1500m), her impact on the meet was nothing short of inspirational.
Read: Gabe Grunewald Ends Inspirational Season In First Round At USAs
Really cool moment after heat one concludes, as all of the ladies circle around Gabe Grunewald who continues to inspire all. #USATFOutdoors pic.twitter.com/nerBdxb8qm

— FloTrack (@FloTrack) June 23, 2017
"I'm just overwhelmed," Grunewald said to the crowd. "It's so great to see the sport I love getting behind the fight against cancer. [USTAF had recently announced a new partnership with the American Cancer Society]. Obviously, it's very relevant to my life right now. I'm in the middle of my fight and I want to stay connected to the sport and that's why I ran today.
"I don't think I would've made it to this starting line [without all the support of the running community]. I started chemo about three weeks ago and it's been getting tougher and tougher for me to run every week. I just hope that my struggle and perseverance inspires people to keep pushing through in their own lives."
In our last interview with Grunewald at the 2017 USATF Outdoor Championships, she was as magnanimous as ever as she expressed appreciation for her competitors' support.
That year, for her exceptional bravery and community impact, Grunewald won the Game Changer of the Year Award sponsored by T-Mobile and FloTrack.
This video by David Bracetty is dedicated to Grunewald's 2017 season:
The 2017 USATF Outdoor Championship 1500m final was Grunewald's last professional race. The recurrence of cancer in her liver required further immunotherapy, chemotherapy, and clinical trials that prevented her from competing from 2018 to 2019.
Of course, that didn't stop Grunewald from sharing her positivity and hope with the world. In 2018, she founded the Brave Like Gabe Foundation to raise money and awareness for rare cancer research.
Nearly eight weeks ago, Grunewald commemorated her decade-long fight against cancer with an Instagram post that outlined her journey from year to year—it's truly remarkable to reflect on how much she accomplished and persevered through since 2009. Imagining the strength of character and physical ability required to excel in any of those years is humbling, let alone 10.
Gabe was so, so brave.